For my most recent trip to Las Vegas, which was longer than any trip previous to it, I had a number of things I had for consideration from my Vegas "first" list that I wanted to pursue.
One of those was to ride one of the roller coasters in Las Vegas. Another was to visit the famous (but showing its age) Circus Circus before the completion of its sale to Phil Ruffin, owner of Treasure Island, which was announced a few weeks back, but after my visit.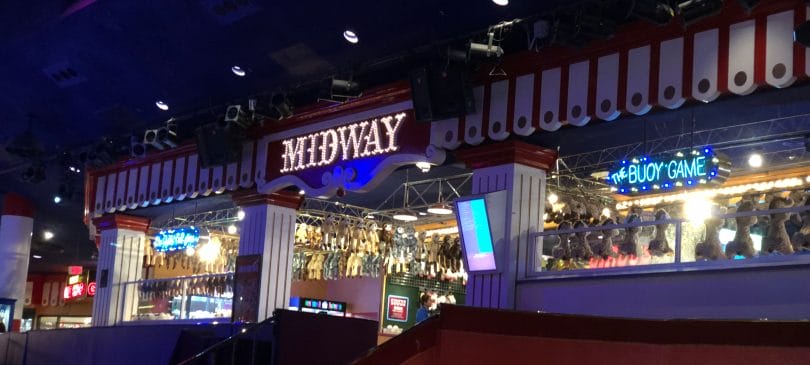 Since Adventuredome, a portion of Circus Circus, has two roller coasters, it seemed like the right stop. This would allow me to check out Circus Circus before any investments, just like I got to see the Trump Taj Mahal in Atlantic City before it was transformed into the Hard Rock.
I made the mistake of taking the monorail to Sahara and walking from there, instead of taking the bus or walking from where I was staying at the time (which was ultimately closer than Sahara), but ultimately I made it to Circus Circus.
At the time, the property was still owned by MGM, since the sale hadn't closed, but they had intentionally kept it out of its Mlife program, and was choosing not to invest too much in the property. Some theorized that it was a cash cow; others figured it wasn't doing enough to warrant the investment. Either way, the property was a fascinating mix of rundown and up to date.
It was also a mix of family friendly and 21+ Vegas, with the second floor devoted to a variety of family friendly activities such as circus acts, a large, well-equipped arcade, a carnival midway and a stage area where various circus acts performed – quite a robust line-up given the location and age of the property, and how quiet it was overall the day I visited. Downstairs was focused on gambling, and there was a very careful mix of new and old machines.
This was the first property on the strip I'd entered in years that still had coin slots (which, after putting $1 in, I was able to play for an insane amount of time, so that was fun to do for the first time in many years). But they had modern games like The Simpsons and the newer Wheel of Fortune machines, so it wasn't all old school favorites.
Next door was Slots-a-Fun, which definitely was all old school – the newest game that was in there I venture was 10 years old, and much of it was even older. The two properties are connected with one players card; Slots-a-Fun used to have table games with low minimums, but now-a-days it's just a slot parlor adjacent to Circus Circus.
Then, of course, there was Adventuredome. To enter, you have to pass through a photo area; I heard one of the guys saying "it's free to enter, but you have to take a photo." Nice try. They let me through without making me take a picture, but I'm sure some buy them – it's the same people who do photos at other locations like Stratosphere.
Adventuredome is effectively a mini amusement park in a pink glass dome. There are two roller coasters: Canyon Blaster, a classic Arrow Dynamics roller coaster, and El Loco, an S&S roller coaster that was closed earlier in the year after a death on the ride, but has reopened since.
I had watched a video talking about the rides there that had recommended Canyon Blaster, so I opted for it. It was probably one of the roughest rides I ever had on a roller coaster. They had applauded it for being fast and smooth, and to me it was neither. But, at least I checked it off the list.
I contemplated riding the other one, but having just spent $12 to get a less than mediocre ride, I decided I'd had enough for one day.
Phil Ruffin has already begun to promise investments in the property, such as a theater and a pool complex. When asked if he was going to charge for parking, he was quoted as saying that's a stupid idea. So like Treasure Island, it's unlikely Circus Circus will charge for parking anytime soon. He also said he doesn't want to ruin the family-friendly reputation it's developed over the years, both from an affordability perspective and the property's amenities.
Meanwhile, there has been hints the table games rules are starting to get improved already, which Treasure Island generally has as well; this could bode well for the future of the property's gaming overall.
It will probably look more like an evolution than a revolution post purchase. But that's what he did with Treasure Island, and that property has continued to hold its own. Overall I was happy I took a little time out to see Circus Circus – it was an interesting place, and I expect at some point I will return.