For a couple of years now, a couple of friends of mine and I have teased each other about playing Crystal, an Aruze mechanical 5-reel game.
The bulk of the Aruze mechanical 5-reels have a number of things in common – they're incredibly bright, loud, obnoxious, have complicated bonus rounds that it has to verbally explain, etc. Yet casinos all over have them, and players keep playing them.
In 2019 I began to give some of them a chance. And during my most recent trip to Las Vegas, I really put some play into them. I was pleasantly surprised by the game play aspect of the games. There are a few varieties of them, but many fall into a pattern that are highlighted by games such as The Gold and Crystal. The one I ended up playing most often, for merely personal reasons, is Howling Wolf.
The games are filled with mostly bars and 7s, which pay mixed and in that way aren't unlike other low volatility games such as Quick Spin. They also contain some wild multipliers. Then there's the bonus symbols.
To put it bluntly, these games love to fuck with you. Get three or more bonus symbols and they'll speed up the reels, slow them down, send them around again, all sorts of things to get you hyped up. Sometimes it'll land, sometimes it won't, but unlike many games that start to hint at something it's not a guarantee of anything.
There's the CHANCE spins, where it will either give you an almost hit or a hit, and it could be a line hit or a bonus if it hits (but not before the machine lights up, a voice yells CHANCE, and the machine does more crazy light shows and anticipation spinning).
Combined with the mixed pays, time on device is usually pretty good because it seems to be having as much fun with itself as it is with you, if that's such a thing. The designers at Aruze perhaps were having too good a time when this line was designed.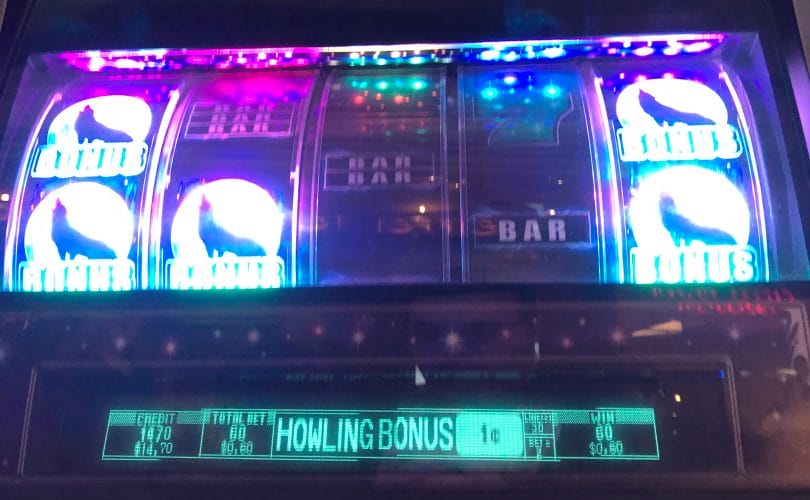 On all the games in this format, get five or more bonus symbols to trigger the bonus. Regardless of the number, you start with 7 spins, but earning more bonus symbols does improve your bonus. For each symbol starting with 5, you get a prize selection from the top box. 6 symbols gets you 2, 7 gets 3, etc.
Then, during the free spins, each time you land a bonus symbol, it pays you the total of the prizes selected in the top box, times the number of bonus symbols collected. There's a couple of larger prizes that can be hit, and if you keep getting bonus symbols you end up with a very nice bonus.
There's also the possibility of a retrigger, which gets you the prizes for the bonus symbols you've collected, which can be significant if you've already selected good prizes.
But then, you get to select additional prizes based on the previous formula of 1 prize for 5 symbols, 2 for 6, etc. And finally, you get 5 extra spins to continue landing line hits and collecting bonus symbol prizes.
It's a well-constructed bonus round, and the obnoxious level gets ratcheted up. On Howling Wolf it's full of wolf howls, a guy's voice quietly counting the spins (common to many Aruze games), and the game loudly counting the bonus symbols and proudly (and also loudly) proclaiming how many bonus symbols you've received:
"ONE MOON THREE MOONS! YOU'VE WON THREE MOONS!"
A friend of mine and I who were in Vegas together for the most recent trip took great pleasure in shouting this out together and making fun of it throughout the trip. It was just so unnecessary, yet it was hard not to have fun with it.
The only major difference I was able to spot on these games was the top prize selections differed a bit in amount on some vs. others. I don't think all of them had multipliers, so it was mostly some subtle volatility differences, but not of the games were particularly tough.
On one session of Howling Moon I won over 250x my bet on one particularly strong bonus. I did have a couple of good 50x bonuses as well on the game series during my time playing them.
If you need a game to wake you up late at night, turn up the lights and sound and have it assault your senses. If you like games that will wind you up, the suspense spins will keep you going. And if you like a decent low volatility slot, they succeed there as well. These Aruze machines are a bit bizarre, but they also do a pretty good job – no wonder they're everywhere.