As one of the local casinos I've been visiting for much of my adult life, I've got a lot of varied experiences at Mohegan Sun, which even with the growth of other casinos around the country remains in the top 10 in terms of size.
The property, which has been around about 25 years, is probably one of the best examples of a master plan executed correctly. Despite changes and evolutions to their plans, the property remains one of the most consistently themed and maintained. Entering a newer section doesn't seem vastly disconnected to an older section, unlike the nearby Foxwoods, which many times feels like each section was designed in isolation from each other section.
Mohegan Sun used to have three casinos, the third of which opened in 2008, the Casino of the Wind. Interestingly a couple of years ago that casino, and the businesses inside and around that space, all closed. Much of the equipment in that section was largely the same for the last few years, and along with some other smaller casino spaces that have been removed, the likely reason was to de-emphasize some of the gaming spaces as competition came online in the form of MGM Springfield and Encore Boston Harbor.
Other downsizing has taken place over time, but the evolution of the property has generally been based on where the demand is; one thing I can say is generally true is that during higher volume times, Mohegan Sun is incredibly busy.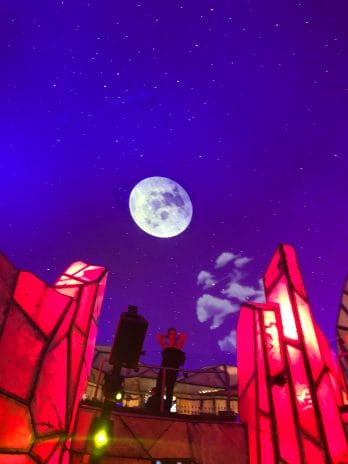 There's still two massive gaming spaces in Casino of the Earth and Casino of the Sky, each huge round spaces with tons of gaming options including slots, table games and so on. In the last couple of years some significant upgrades have been happening to major parts of the gaming space; hundreds and hundreds of new games and machines have been brought in to both sides of the property. Newer areas are also more often arranged in circular pods instead of longer rows, a nod to people being more comfortable with more space nowadays.
The two casinos are connected by a shopping area, which also has entrances to the Hotel Lobby, which in turn offers access to both hotel towers; and the Mohegan Sun Arena, where the Connecticut Sun plays, along with concerts and other big events. The second floor of the shopping area includes clubs and nightlife opportunities to enjoy, along with many of the more formal sit down dining options. The shopping area is not nearly as expansive as Foxwoods, which has a full outlet mall, but there's still some good options to partake.
The Wolf Den, which has a concert space inside the Casino of the Earth, has live music during busier nights, while Casino of the Sky has an accurate representation of the stars in the sky as well as the moon.
Since the pandemic shutdowns and re-openings, Mohegan Sun has been fully smoke free indoors in common spaces. While it was initially announced as temporary, during a visit in late 2022 I noticed announcements regularly confirming the facility was non-smoking, and the non-smoking sections are no longer signed as such, significant as that confirms the casino is fully non-smoking.
One big side effect of a solid master plan is it's pretty easy to get from one end to the other of the entire property in about five minutes (presuming you know your way around; it can be a bit confusing if you're new). The same can't be said for Foxwoods, which sprawls out through a complex of buildings with hotels and casinos, connected by various hallway connectors.
Mohegan Sun's comp program works like many others at tribal gaming operations I know – you earn comp dollars based on your wagers, and you earn faster on slots vs. video poker. There's no counters to tell you how you're doing, but it's roughly $175 per tier point for slots, and double the slot number for video poker. Comp dollars accrue at nearly the same pace, but accrue faster if you're a higher tier, starting at 10% for Ignite and increasing from there.
Mohegan Sun does have some full pay video poker at lower denominations that don't earn you comp dollars, so keep an eye out for those stickers, but that's only a small subset.
Comp dollars are therefore relatively easy to earn vs. Caesars Rewards or the Vegas MGM Rewards model. On the other hand, tiering up requires a lot more play; even with point multiplier offerings regularly running you have to do a lot of coin-in to even reach their second tier level.
I've found table games to be quite challenging to earn points for some reason. I seem to earn on Craps at a fraction of the pace that I do at Foxwoods consistently. As such, while I enjoy the property, I don't tend to invest as much energy there.
On the bright side, comp dollars earned at Mohegan Sun can be used at a growing number of Mohegan-managed properties across the country, including Mohegan Sun Pocono in Pennsylvania, Resorts Casino Hotel in Atlantic City and Virgin Las Vegas. So unlike their competitor in CT, they at least have affiliations that stretch their value.
I also can say that periodically I've received promotions from Mohegan Sun to visit Resorts in Atlantic City, which have proven quite generous – often the offers are better than what I get for my home casino. I had a similar welcome offer arrive when Virgin Las Vegas opened up, with good offers following after a drop-in visit. As such, if you're a player who likes to travel, it's a detail to keep in mind.
Mohegan Sun is a beautiful property with great gaming, dining and entertainment options. It's definitely worth a visit. But if you play for comps, definitely monitor what you're getting vs. elsewhere.