The Buffalo series shows no signs of slowing down, and Buffalo Gold, a sequel to Buffalo, has been popular enough in its own right that it's garnering its own sequels, such as Buffalo Gold Revolution.
The latest sequel is Buffalo Gold Max Power, which introduces a couple of new wrinkles, including a game mechanic that's become wildly popular with online casinos but are still finding their way onto casino floors.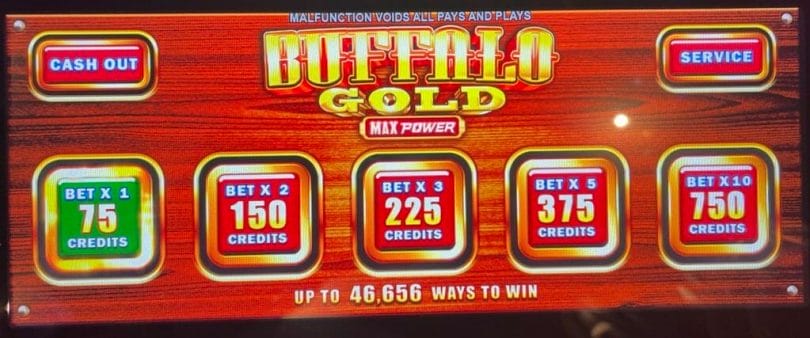 Like Revolution, the bets have increased here to 75 credit increments, vs. 40 on the original Buffalo and 60 on Buffalo Gold. In return you get two important changes.
Both changes are pretty immediately apparent for fans of the Buffalo series when you look at the reel set.
Addition of a Sixth Reel
Normally, Buffalo games are five-reel games. This one adds a sixth reel. This introduces some changes:
Since the line pays between this and the original Buffalo Gold otherwise are the same, the addition of a sixth reel means six of a kinds pay even more, although they're of course that much harder to accomplish.
Wilds still do not appear on the first or last reel, but this means they can now appear on four middle reels vs. three.
Like the original Buffalo Gold, wilds can have x2 or x3 multipliers on the base game, and like any Buffalo game will definitely either have x3 or x3 multipliers. This ups the multiplier potential to x81 from x27, meaning getting four multipliers will yield even more massive payouts than they would before.
Just the addition of the sixth reel alone amps up the volatility of this game given the mere 15 credit addition, but there's another element that pushes it even further
The Max Power Feature
An increasing number of online slots have games with irregular reel heights. A standard Buffalo game has 4 spaces on each reel, with an all ways pays of 1,024 ways to win.
With Max Power, on any given spin a reel can be 2 to 6 spaces tall. This means a worst case scenario of 32 ways to win, but a best case scenario of 46,656 ways to win.
Given a range of 2-6, the midpoint for each reel is 4, so for practical purposes the game will probably more often than not fall relatively close to that standard 1,024 ways to win, but some of the biggest wins and pays will likely come out when the reels squeeze in those extra spaces, stacking those symbols and multipliers even more.
Free Games with Gold Heads
Free spins trigger when three or more coins land on a given base game spin:
3 coins: 8 free games
4 coins: 12 free games
5 coins: 20 free games
6 coins: 25 free games
As you can see, like everything else, 3-5 remain as normal, so the 6th reel catching a coin as well just bumps the count up higher.
The bonus structure works the same as standard Buffalo Gold – as you get gold buffalo heads the counter increments, and the other animals will change to buffalo heads as you hit various milestones, which are the same as the previous game.
Retriggering gets you the same numbers as above, except 2 coins also retriggers for 5 more free games, just as with any other Buffalo game.
Conclusion
This is definitely a volatile one, but the payout potential is huge. If you like your Buffalo tough but potentially lucrative, this is going to be one to seek out.
Buffalo Gold Max Power Slot Videos
RandomSlots features the game and its pay table:
TheBigPayback got a five symbol trigger bonus:
VegasLowRoller devoted a full session to the game: