As part of the merger between Caesars and Eldorado, the company agreed they would make $400 million in investments in Atlantic City properties within a few years of the merger as part of their promises during the approval process there. A capital fund was setup as part of the process.
In a press release that came out earlier this week, the new Caesars announced the first phase of this work, a $170 million room remodel program that brings fresh updates to both Caesars and Harrah's. The rooms will begin to be available this summer. Caesars says the inspiration for the rooms were inspired by the beach and bay of Atlantic City.
For Harrah's, their oldest rooms in terms of the last renovation, in the Atrium Tower, are getting some serious attention. The all-suite tower is seeing a substantial revamp that goes well beyond the standard set by the Harrah's standard room being used for remodels in the previous rounds. The colors seem warm and look gorgeous.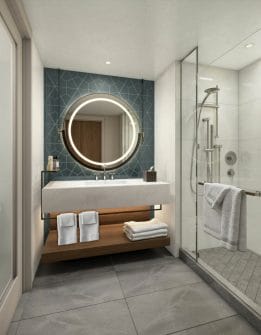 The Atrium Tower was built in 1986, and the rooms were long in need of an update, but other towers had been given priority under the previous Caesars regime, probably aiming for bang for the buck investment. The three towers updated previously
However, the Atrium Tower indicates a strong investment as part of the capital fund and shows Eldorado is going to continue to move their properties forward in Atlantic City, which remains a highly competitive market. Harrah's rooms play off the upscale and vibrant feel of the property, and also its marina locale.
For Caesars, the focus will be on their suite product as well, although the press release indicates that some rooms will get updated also.
Here, too, there is a clear step up in the room quality with a modern Roman aesthetic mixing with the beach, ocean and boardwalk also lending inspiration.
For Caesars, the last major room updates are roughly 15 years ago at this point, and of the three properties Eldorado owns is most due for some attention, so this is a great start and sets the stage for further investment as Eldorado continues to invest its capital fund into these projects.
With Bally's getting investment now that it's under new ownership, and the recently announced $15 million in updates being made to Ocean Casino Resort, it seems like Atlantic City is beginning to see a new wave of investments made to keep properties thriving as things start to return to normal.