I recently sat down and played the 7-Up mechanical 3-reel slot machine from Aristocrat, set up in my casino as a $1 denomination, 3-line game. With a $3/spin setup that's not particularly heavy for $1 denomination, but the flip side to that is it's not easy to get paid.
The pay table is pretty simple – other than two lemon/line symbols, or two spin symbols, you need three of a kind to pick up a win, which is not all that easy on a three line game. The 7-up symbol is a 7x line multiplier, so you know right there you've got a volatile game on your hand (if the Aristocrat logo didn't warn you).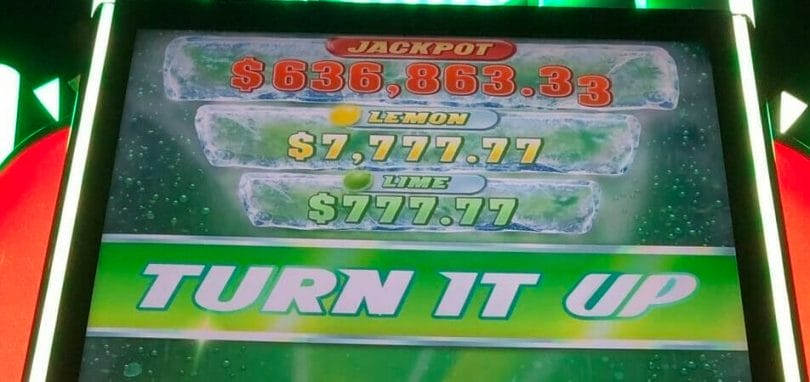 The game features three jackpots, the Lime, Lemon and the linked Jackpot progressive. The Lime being over 100x the wager certainly means it's not going to be easy to hit, let alone the other two, but they're there. You can win the Lemon or Lime on the wheel spin; the Jackpot can be won via max bet on payline 1, or on the wheel.
For my attempt on the game, I put $100 in and struggled to get much in the way of line hits – no multipliers came out for me except a single one that gave me a bit more time to watch my money drain away. Right before the $100 was through, though, I did manage a wheel spin, which triggers when you get three wheel spin symbols on a wagered payline.
The wheel includes credit prizes, two free games types, the Lemon an Lime jackpots as well as the top jackpot. I got the 7×7 Up Free Games, which has a 7 free game model and each game the multiplier increases, starting with 1x on the first spin, growing to 7x on the last.
The Stacked 7-Up Free Games gives you an increase chance of lining up the triple 7 symbol, either mixed or same color, in each of the 7 free spins.
In my case I got about a $50 win, getting me a bit over half my money back, and I opted to cash out there, cutting my losses after getting a hard-earned bonus.
For those who like games with potential, this certainly has it, but you also should make sure you give yourself enough runway to make it through droughts as it can be tough.
Watch and Learn
Here's Aristocrat's promotional video for the slot machine:
Here's an example of the game in a 5-line format from Albert's Slot Channel, featuring multiple wheel spins and both free spin bonuses: