Some links in this article include affiliate links, which provide a commission if a purchase is made. Affiliate links have no impact on our recommendations.
Golden Gate is the oldest hotel on Fremont Street in downtown Las Vegas, and also happens to be the smallest, but it has its fans and understandably so.
Its location is across from newly opened sister property Circa and next door to Plaza, so it's in pretty good company, and as an anchor of the Fremont Street Experience certainly thrives today.
So let's take a look at the historic property, which has seen a good amount of investment in recent years, to talk about what makes it special.
The Casino Floor
Golden Gate isn't a big property, but it does have a decent selection of slot machines, including a newer room added in recent years to replace what was formerly La Bayou casino and a former restaurant space. They've also upgraded the high limit area. The Golden Gate has gotten regular attention and investment from its owners, the Stevens brothers, over its time under their ownership.
There's almost 400 slot machines now, and a handful of table games, with table limits that tend to be pretty friendly for lower budgets. My last visit there in September saw table minimums of $10, which given COVID times was pretty wonderful to still find. Sister property The D had $15 minimums when I was there, so it certainly was nice to have a balance.
Like The D I wasn't hugely enthusiastic about the Video Poker pay tables, but they have a few pay tables that aren't too bad – but when you're downtown and have a lot of competition on that front, that's something worth noting.
Hotel Rooms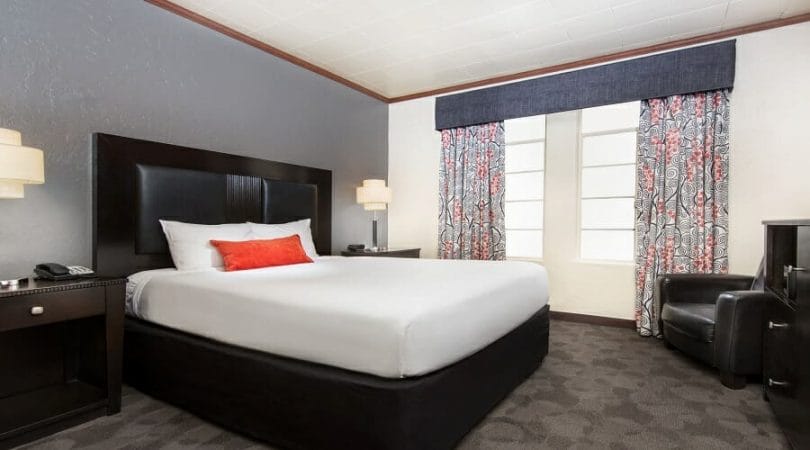 Golden Gate's hotel rooms have seen some attention in recent years too, with a color scheme that looks familiar to The D, its sister property, so that should help from a comfortability level. The beds are queens, so a bit smaller than you'll find at many other properties, and worth noting if you prefer a king sized bed.
Less seemingly modern is the bathrooms, with dated mint tile as the dominant color. The bathroom feels less like a hotel bathroom, but then again it is a budget option in an area designed and known for value, so this may not be a big deal to many.
And the room rates for Golden Gate are generally affordable, although they also feature a $30 resort fee, which brings them up somewhat close to budget Strip properties.
Comp Program
Golden Gate shares a comp program with Circa and The D in the One Card, which allows you to earn points at all three properties towards higher status. Your points and comp dollars are pooled across all three properties and can be used at any of the three, a nice touch.
My offers for free slot play come unique from each property, but my dining offers are combined for all three, and hotel rooms seem to factor in play from them all but I get a choice of where I wish to use them. This is a pretty good balance, encouraging play at all the properties to get free play perks but also still letting you take advantage of benefits at all three.
The points earning speed and amount needed to tier ($30,000 in slot coin-in to reach the middle tier) means most casual players won't come close to tiering up, to get such meh perks as free parking (easily achieved in other ways at other downtown properties). But this is the only unified casino program in Downtown when it comes to one card across multiple properties, so that does still give it an advantage for those who want to concentrate play and offers.
Other Notes
Golden Gate participates in the coupon books provided by Las Vegas Advisor and American Casino Guide, which can yield some exceptional value or at the minimum help stretch your gambling budget. I've also had some of my better offers come from the Golden Gate from previous play.
The atmosphere can be fun and lively in more normal times, with dancing dealers and a party vibe. But the small space doesn't make it feel overwhelmingly so.
Golden Gate is one of those places worth checking out while on Fremont Street!
Book Now
You can book rooms at the Golden Gate Las Vegas through vegas.com, which offers a Best Price Guarantee. If you find a lower price while booking or within 24 hours, contact them and they'll match it! Vegas.com routinely runs promotions on hotel rooms as well, making them a good place to check.