My recent write-up about a Life of Luxury session where I got two bonuses in a spin reminded me I haven't yet written about one of my favorite old school Life of Luxury games, which I've played for many years at New York-New York and was still there when I last visited this fall.
Alpine Adventure is a theme in the series I can't recall ever seeing before visiting New York-New York for the first time in 2015, and while the number of these machines were halved with the shift to pods instead of rows of machines, one of the Alpine Adventure machines has hung on.

The game itself is one of those old school games with good line pays, so there's a reasonable chance for good hits along the way, especially if you manage five of a kind. This is possible even with a max bet of 240 credits, $2.40 at penny denomination.
However this game was also developed in an era where you could define your line counts, so if you really wanted to you could play as little as one penny per spin.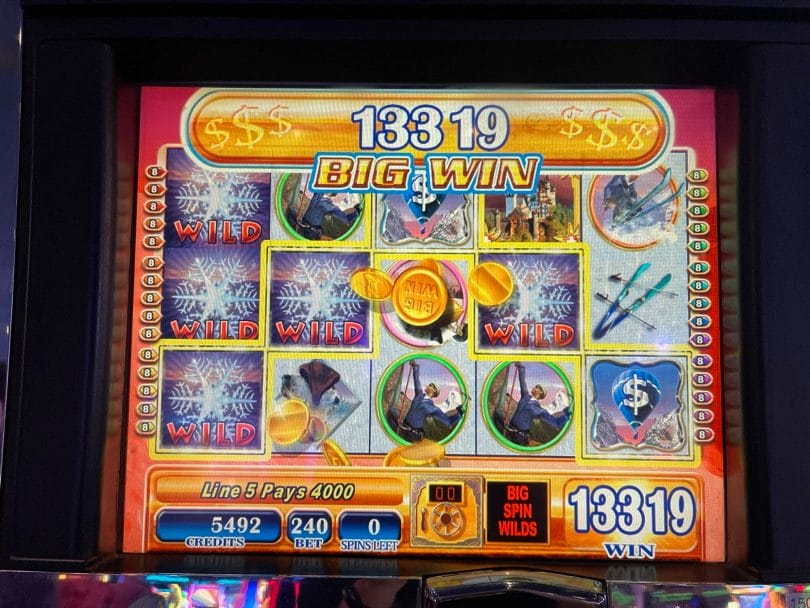 In that 240 credits it packs in two bonuses. One is the Alpine Adventure Bonus for this specific game, which is a free spins bonus, and triggered when you land three or more bonus symbols. The free spins work in two parts.
First, you get five spins, and as you do you collect wild snowflakes, which go into the vault. Then, you get a sixth and final Big Spin, and for each wild snowflake you collect, it will be placed on the final Big Spin, usually leading to some pretty good line hits when it all lines up correctly.
It's not the easiest bonus to get but it's usually pretty helpful when you do.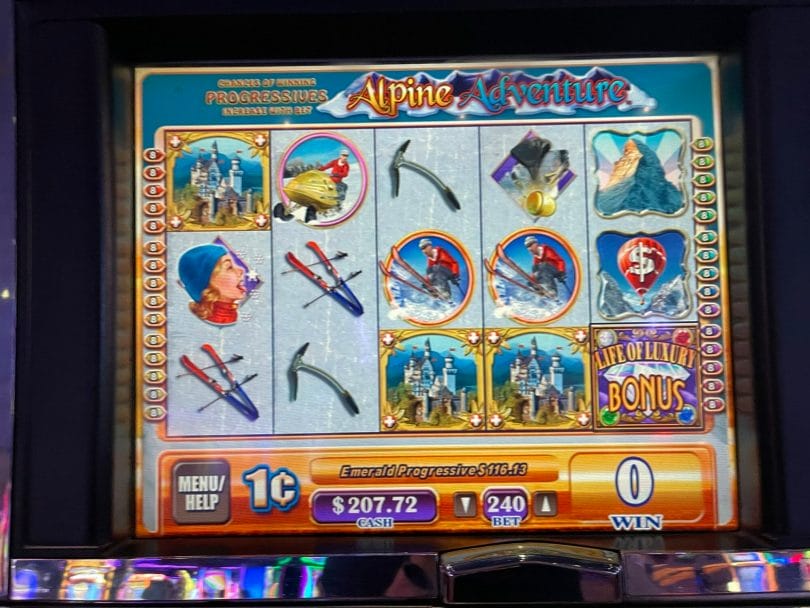 Then there's the Life of Luxury bonus, triggered when you land the Life of Luxury symbol on reel 5. This is also a free spins bonus, with 10 free spins (retriggers are possible in this bonus).
Here, you have a chance at the progressives, and your chances are proportional based on your bet. If you max bet, and land a gem, you win the matching progressive automatically. There's one gem for each reel, with reel 1 being the smallest Opal progressive, reel 2 the Ruby progressive, and so on.
If you are not betting max, you have a chance at winning the progressive, proportional to your bet. So if you're betting 90 credits, you have a 3/8 chance of winning the progressive if it lands during the bonus, for instance.
No matter whether you win the progressive or have a chance at one, you get to pick from eight gems for a credit prize, which is awarded along with the progressive if you win that too.
You do have the chance of landing the same gem more than once; if you land the same gem and win the prize twice, the second time the prize is the reset value of the progressive, plus the credit prize won during your pick.
The progressives definitely aren't as massive as many games today, but the flip side to that is more pays spread around the game. I find it quite fun to play and hope it sticks around a bit longer at New York-New York.
Alpine Adventure Slot Videos
RandomSlots did a session on the game, and the video includes the Alpine Adventure Bonus and the pay tables:
Here's a video from Bizick's Cards, Slots & Such that shows the potential of the Alpine Adventure Bonus: