I recently had the opportunity to play Beast Uncaged, which is an extension of the Beast series of games by Everi. Fortunately, what made Beast special is still part of Beast Uncaged, so fans of the originals will enjoy the new versions.
In fact, other than the new secondary themes with their own free games styles, you won't notice too much of a difference.
There are progressives available at higher bets, and flat jackpots at lower bets, when you get four or five coin symbols, which also serve as the bonus symbol. These are all ways pays games.
There are three themes, Buffalo, Gorilla and Rhino, but the basic idea works the same. The core base feature is the Beast Respins feature. If you get five of a kind of an animal symbol, the sixth reel unlocks and you spin hoping to extend the sequence.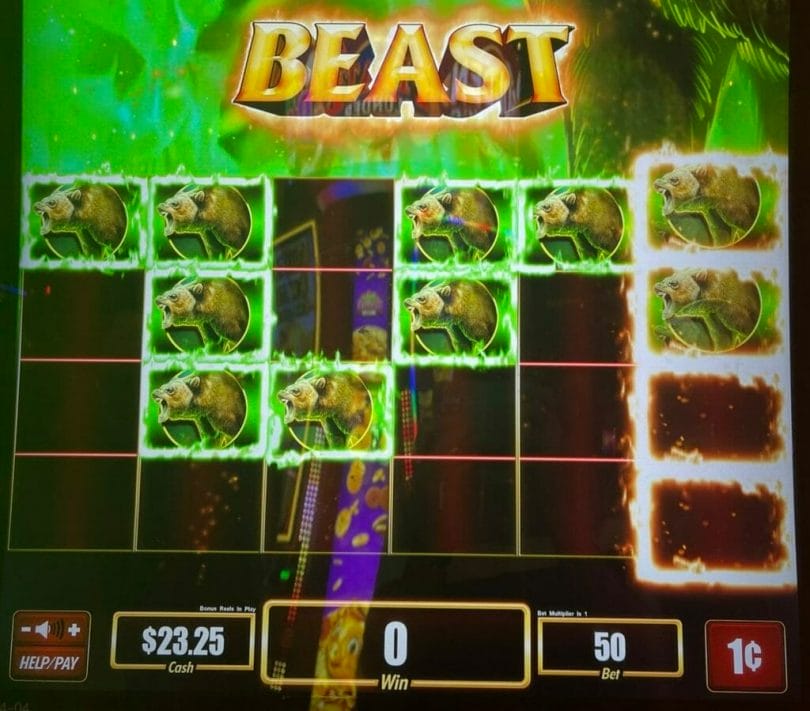 Each time you land another symbol, another reel unlocks, giving you a chance to build the win even more (up to 10 reels). Further improving the pays are x2 and x3 symbols on the bonus reels.
Three or more coins get you free spins. (Four or five, as noted above, also get you a jackpot.) During the free spins, each theme has its own variation on the free spins:
Buffalo: This follows the original Beast Buffalo version by having special locking buffalo symbols that add a free game and locks a buffalo into that position for the rest of the bonus. This can help increase the Beast mode opportunities by making five of a kinds easier to achieve.
Gorilla: On random spins within the free spins, the five reels will expand vertically to increase the number of ways available for that spin.
Rhino: Before any free spin, random rhino symbols can be added to the reel strips, increasing the chances of a five of a kind and Beast mode.
This can help increase the chances of a five of a kind to trigger Beast mode, which is also possible in the bonus.
Beast Uncaged Videos
Here is a video from RandomSlots featuring the Gorilla version:
Diana Evoni played the Buffalo theme earlier this year and had great luck with the bonus: