Among the older games I love to find when roaming around the casinos, especially when visiting places like Mandalay Bay in Las Vegas, is Brazilian Beauty, another vintage WMS game from their G+ series.
Like many G+ games, there's potential in both the base game and the bonus round, thanks to the way the game is designed, leaving opportunities to get some decent wins throughout the game.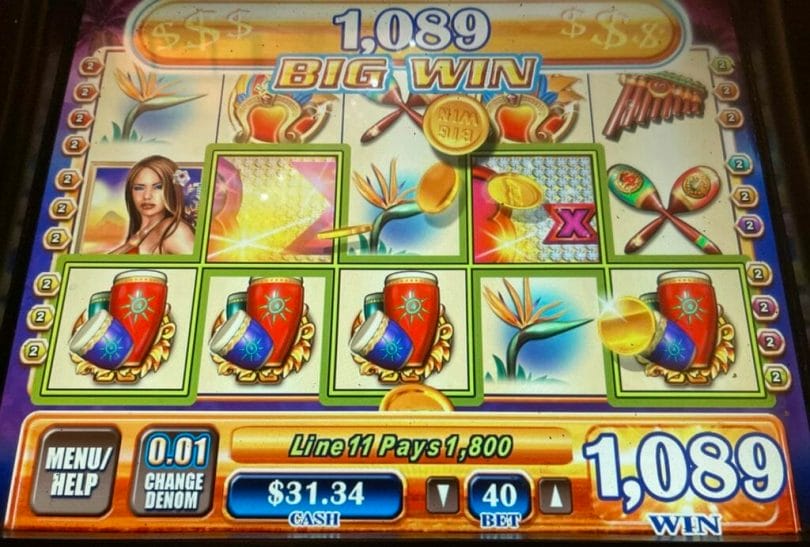 One thing that makes this game interesting is the inclusion of 3x multiplier wilds on reels 2 and 4. When paired with five of a kinds, it can get some pretty decent wins for just a line hit. A 45x line hit can be seen above, for example.
The free spins work a bit differently than many. First off, three or more bonus symbols trigger the bonus. Any reels without a bonus symbol respin, giving you a second chance to land more. Once the respin is complete, free spins are awarded based on the number of bonus symbols collected:
3 bonus symbols: 10 free spins
4 bonus symbols: 15 free spins
5 bonus symbols: 20 free spins
During the free spins, each time the Brazilian Beauty symbol appears, it's collected. Every two collected increases the Brazilian Beauty prize. If you collect 20 during the free spins, you get 300x your prize (it then continues to collect, but the prize increments returns to what you got for the first two and so on).
Retriggers are also possible during the bonus, adding the same number of spins you got upon the initial trigger. You usually need a retrigger to collect 20 beauties or more. But you get a 100x beauty prize at 16, and 200x at 18, so you can still do quite well if you fall a bit short.
Those 3x multipliers are still around for the bonus spins, however, and so you can still get decent momentum from both the free spins and the beauties if all lines up well.
While the bonus can be a bummer at times, the potential is there and when you get 20 spins and/or a retrigger it can get quite exciting. As such, it's a game I love to play to this day whenever I spot it, given its potential and the number of good wins that tends to follow.
Brazilian Beauty Slot Videos
Here is some live play and a bonus from Beam Me Up Slotty:
Here is another bonus round, this time with a retrigger: