There was a lengthy period of time where my time playing Ainsworth games was limited and rare. I've come around to them, in part because of some diversity in their game types in recent years.
I've long been a fan of their Thunder Cash game, and I've written about Quick Spin as well. Quick Spin is a low volatility game, unusual for them, and today's game is another – Pac-Man Wild Edition.
I've always loved playing the various Pac-Man versions in the arcades, particularly Ms. Pac-Man, which has been a lifetime favorite, so I was excited to see a game that brought Pac-Man into the casino floors. (More recently a skill-based Pac-Man was launched by Gamblit Gaming; I'll talk about that in a separte post in the future.)
The base game features 30 lines on a 5×3 reel set. The game's minimum bet is 60 cents, but it's treated as a 2x line bet. I presume this was ultimately done to push up the minimum bet per the licensed game approach many game companies take today. The game has capped out at $3 a spin everywhere I've seen it.
Forward-facing Pac-Men are wild, and side facing ones count as a bonus symbol.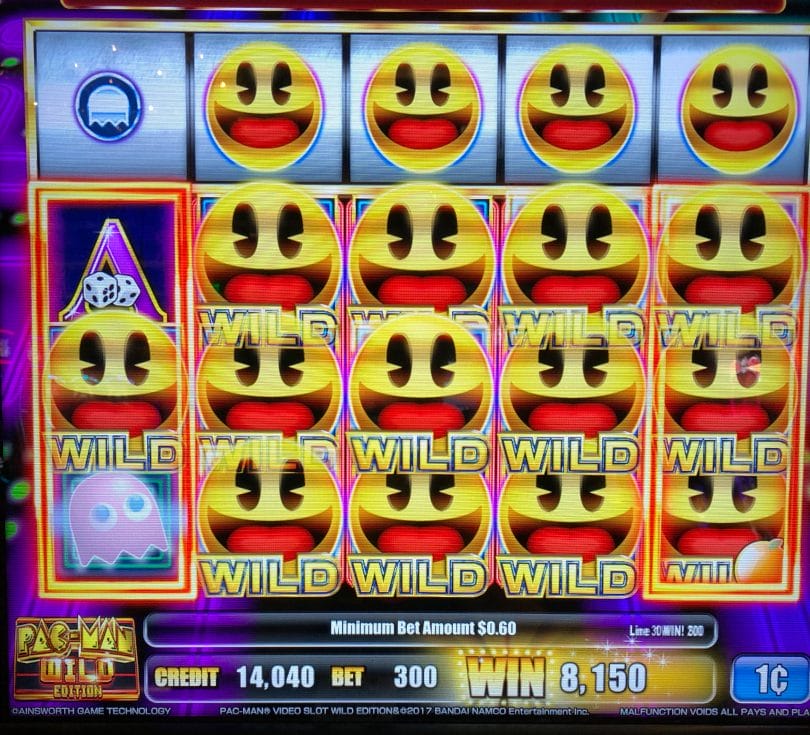 One of the fun features that also keeps down the volatility is the ability to get one or more wild reels if the forward facing Pac-Man appears in reels above the base game reel set. You can get more than one – in fact, you can get them in all five, which leads to a 50x win. The fact that the win isn't very large means these wilds come around frequently enough to keep it interesting.
Getting a bonus symbol on reel one, and a fruit symbol on reel five, gives you a small instant bonus payout of a small multiple of your bet, which can vary.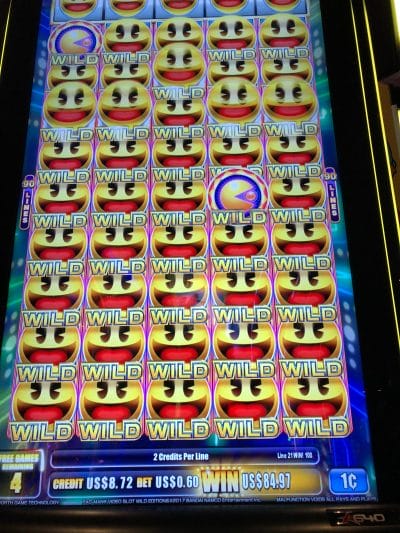 Three bonus symbols lead you into the bonus round, where the game's reels expand to triple the height, with 90 lines now available. Three Pac-Man bonus symbols can retrigger for five more spins, and those full wild reels remain available. Therefore a full screen with the additional lines offer a 150x line hit.
These full screens aren't horribly difficult to hit in the bonus – I've hit it multiple times, and I've seen my neighbors do it a few times as well. Even getting 3-4 reels can be pretty good, and retriggering can happen frequently as well.
Finally, there is an additional feature offered to those who max bet. Three key symbols in the middle three reels will trigger a wheel spin which makes available credit prizes as well as progressives.
The top non-progressive prize is worth 50x your bet, which I got in the example above. Because this is the only way you can win a progressive, this limits progressive availability to max betters only.
TheBigPayback got a Jackpot Game feature on the wheel in one of his videos (jump to 7:29 to see that example, which also shows that feature is predetermined):
This game is a fun one, although some casinos have already pulled it down in favor of newer options. I still play it whenever I see it, and find it a well balanced game overall.