In a previous write-up, I talked about how slot sequels can come about. There are generally two ways a sequel can differentiate itself:
Make changes and move pays around with the same bet level
Raise the bet level and add something new or different
My write-up of Huff N' More Puff is a great example of the former. They added all sorts of new bonus features and opportunities, but to do so had to heavily water down the line pays in the base game.
Today, we're going to look at the other variation, specifically comparing Buffalo to Buffalo Gold and Buffalo Gold Revolution. We'll look at what they left the same, and what they did differently, to each game. I compared the games based on the rules found on machines I reviewed in Nevada.
Comparing Pay Tables
First, let's look at the pay table for Buffalo, which started it all. This is presuming all lines and reels active – the pay tables do adjust when you bet lower.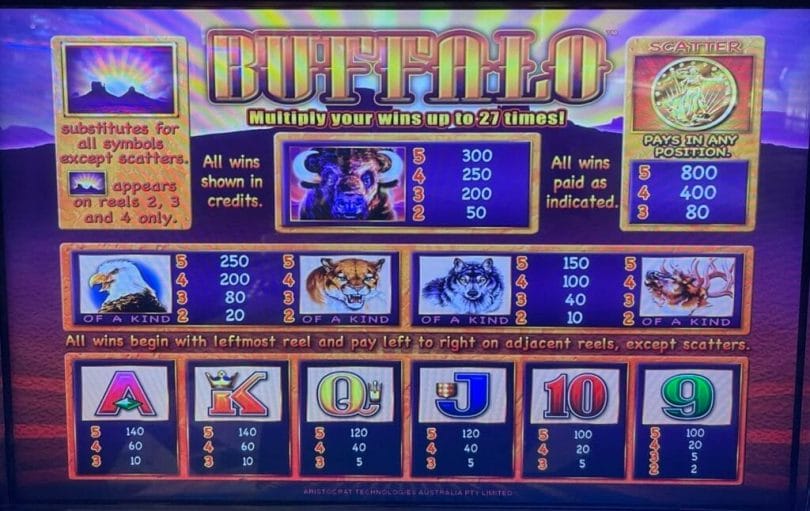 Now let's look at Buffalo Gold:
As you can see, if you focus on the reels 1-5 pays, they line up, except the coin, but the coin still lines up against the base 40 credit bet for reels 1-5 – it's just presented differently.
The same goes for the poker symbol pays. Note on both pictures some symbols share the row on either side, like the Ace and King and the Eagle and Cougar.
Finally, let's look at Buffalo Gold Revolution:
And you can see the same pays continue through on Buffalo Gold Revolution.
So a line hit on one vs. the other will work out to be the same – that's a nice consistency playing across all three games.
Comparing Bet Increments
The differences begin to come into play when you look at the bet increments for each of the games:
| | |
| --- | --- |
| Game | Bet Increment |
| Buffalo | 40 credits |
| Buffalo Gold | 60 credits |
| Buffalo Gold Revolution | 75 credits |
So if you get 300 credits for a five of a kind Buffalo, that's 7.5x your bet on Buffalo, only 5x on Buffalo Gold, and 4x on Buffalo Gold Revolution.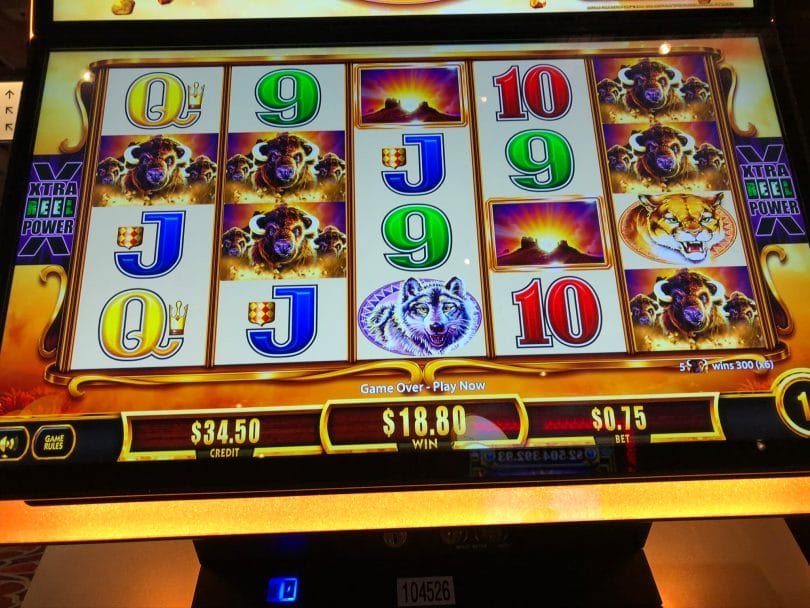 So take this example from Buffalo Gold Revolution. This 75 cent bet yielded an $18.80 win, a bit over 20x. However, this same screen would pay the same on a 40 cent bet on Buffalo, which would be over 40x your bet.
The additional spending on the newer game waters down the bet to payout ratios on these line hits.
So what are you getting for all this extra spending?
Comparing Bonus and Features
All three games share the basic structure, so we won't be comparing things like free spins awarded or 2x/3x wild multipliers in the bonus, which are the same on all three games, and instead focus on the main differences.
| | | |
| --- | --- | --- |
| Game | Base Game Feature | Bonus Feature |
| Buffalo | Base game | Free Spins |
| Buffalo Gold | Multipliers can sometimes appear on the wilds | Collect gold heads during free spins to convert other animal symbols to Buffalo |
| Buffalo Gold Revolution | Other animals can randomly turn to Buffalo | Wheel before free spins can award credits, progressives or gold heads to start the bonus |
So what you're investing in with those higher bet levels on the newer games is additional features. In a stroke of brilliance, Aristocrat adds one upgrade to the base game, and one to the free spins, which each incremental version of the games in this sequence.
So even if you don't trigger a bonus right away, you can benefit from better line hits in the base game. That's not always the case on many games that add credits for bonuses or more frequent bonuses.
That said, if you want a simpler experience, and lower bet levels, the original Buffalo is still out there. I enjoy playing the old school ones in Vegas which oftentimes have a $2 max bet, and can pick up some crazy wins on it. But I also enjoy having the gold head bonus and the chance to upgrade the free spins on the newer versions too.
So as you can see, in this case, they don't mess with what works, instead layering on some new to each version to keep things interesting and fun, unlike Huff N' More Puff, where they kept bets steady but you are playing for bonuses, effectively.
Do you like how the Buffalo series has progressed? Share your thoughts in the comments!