Game: Dream Cash
Manufacturer: Aruze
Advantage Play Potential: Medium
What Makes it Special: Not a traditional slot. Pop balloons for the chance to find prizes inside. Free picks act like free games for the chance to win without a further wager. Tickets can bring you to bonus rounds.
Dream Cash by Aruze is a game that truly breaks the mold. Instead of spinning a slot, you are simply picking cash symbols, hoping to find prizes. Layer on some additional features, including a persistent state element, and you have got yourself a game with some real potential.
Here is a look at what you should know about it when you see it on the casino floor.
Understanding the Game
The bet increments on the bet panel for this game looks an awful lot like another game that breaks the mold, Lightning Zap by Everi. And in a way it works similarly. One touch and you instantly find out if you win or lose. No wonder the max bet is at a very reasonable $2.00.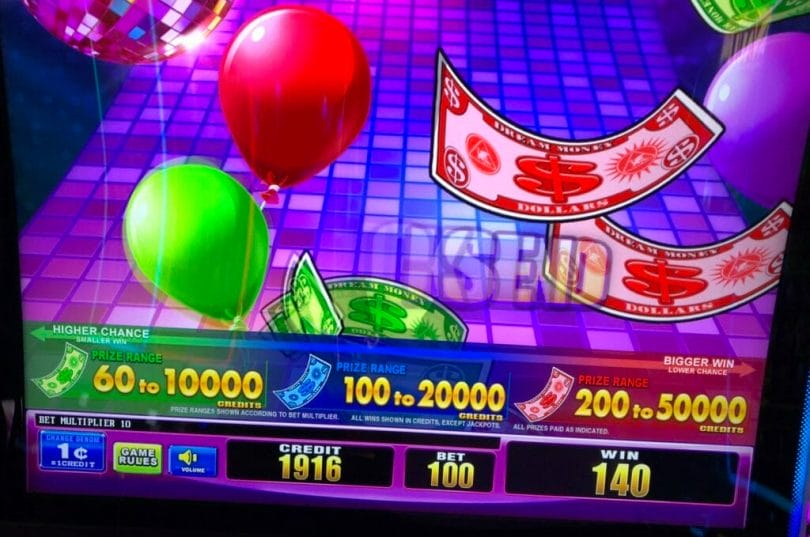 One way they differentiate is they have three levels of items, green, blue and red. Red is the most volatile, and green is the least volatile. You can choose which ones you wish to select for a chance at a prize, or on the bet panel you can select either a color or let the machine select a bill at random.
Balloons are window dressing – you can pop a balloon for free, and no prizes or wagers result from it.
Selecting a bill can yield the following:
Zonk – no prize at all
Credits – you are instantly paid the credits revealed
Free Picks – 5, 7 or 10 free picks are awarded, based on the same wager as the initial pick. In this mode only a Zonk or Credits will be revealed
Pink Lasso Money Bonus Ticket: Collect 5 of these to trigger the Lasso the Money Bonus
Blue Lucky Wheel Bonus Ticket: Collect 5 of these to trigger the Lucky Wheel Bonus
Gold Fortune Jackpot Bonus Ticket: Instantly trigger the Fortune Jackpot Bonus.
The credits are what come most often, but the free picks come out reasonably often. Tickets come and go, and each bet level has its own ticket accumulator count for the pink and blue tickets, working towards that 5 needed for the bonus.
Lasso the Money Bonus
Collecting 5 pink tickets at a bet level will initiate the Lasso the Money bonus at that bet level.
When started, three lassoes are thrown around three money characters and are slowly pulled towards the bottom of the screen. Each money character that reaches the bottom without the lasso breaking yields a credit prize.
That is all there is to it, really; each award can be between 10 and 1,000 credits times the bet multiplier.
Lucky Wheel Bonus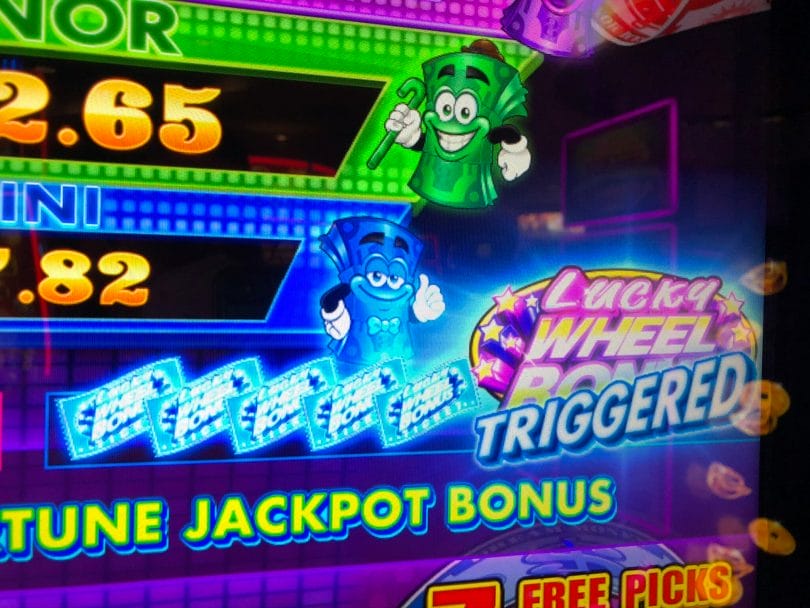 Collecting five blue Lucky Wheel Bonus tickets will initiate the Lucky Wheel Bonus, which features 12 wedges, three of them with a respin opportunity, although they happen to be the smallest prizes.
If you land on a respin space, the respin is taken off that wedge, although it remains on any others that have not been landed on yet. As such, you can get up to four spins in total.
Wedges contain between 100 and 1,000 credits, multiplied by the bet multiplier. The smallest prize you can win is 200 credits times the bet multiplier, based on the wheel configuration.
There is more potential here than on the Lasso bonus given in terms of the least you can win on this bonus. This bonus is also a bit harder to hit, which makes sense given that.
Fortune Jackpot Bonus
This is just like your 88 Fortunes/Dancing Drums/etc. style picking bonus. 12 symbols, four jackpots, and whichever one you reveal three of first, that is your prize. Mini, Minor, Major and Grand jackpots are available.
Understanding the Advantage
Since each bet level has its own ticket meter that is persistent to the bet, you can see how close to a bonus you are. Two ticket meters means two bonuses to potentially win at each bet level.
The opportunity is open-ended, meaning it could come in one pick or 100 picks, and some of the wager levels are small enough to be a minimal opportunity, especially at the 10 and 20 credit level.
That said, the bonuses can pay pretty well, so it is probably worth a quick look while you are headed to greener pastures.
Watch and Learn
Here is RandomSlots with an overview and bonus, including pay tables:
Brian Christopher played it during a live stream at Sahara Las Vegas starting at 1:02:15):