The proliferation of more/better bets was featured previously, and certainly has done a lot to attempt to drive up the bet sizes. But if you're a low roller, those are not only less enticing, they're not necessary. You don't have to bet higher to enjoy a slot machine.
We've previously looked at 5 Treasures and how you can bet low, and how you can lower your line count to bet less, but let's take a deeper look at how avoiding extra feature bets can help you drive the game wager down.
The Feature Bet's Been Around Awhile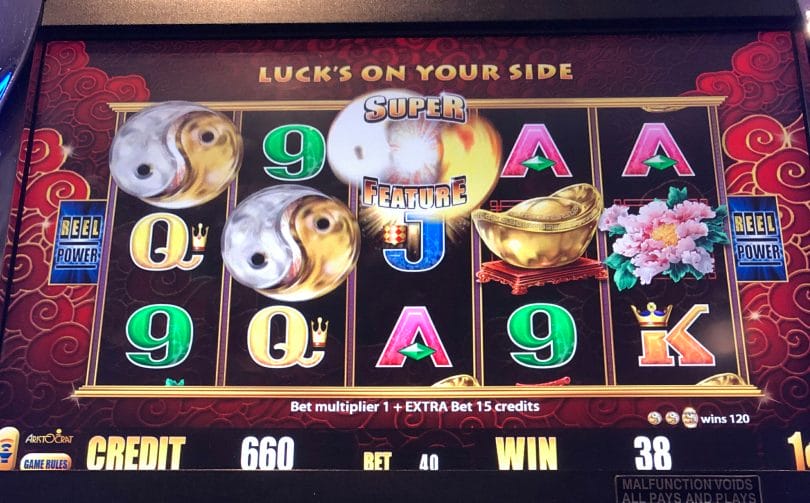 There's a lot of ways the feature bet makes its way into a game. Take 5 Frogs, a game based on 5 Dragons that offers a Super Feature if you get the right bonus symbols and land the Super Feature. But you can choose to not bet that feature and it plays a lot like 5 Dragons, and you reduce the minimum bet from 40 cents to 25 cents.
Hot Hot Penny, a WMS game that was released well over a decade ago, lets you bet a bit more to have a respin feature when two wild symbols appear. But you can play without and reduce the cost of each spin accordingly.
In the previous piece I mentioned some installations of Buffalo Gold let you turn off the Gold feature as well. And we've reviewed games like Ocean Magic and Dragon Lanterns where there's a distinct feature bet option that increases the bet.
Always Know Your Betting Options
When playing various slot games, it's helpful to look at how the betting structure works. Are you paying extra for a feature? Your long-term payback is going to be the same whether or not you have the feature on, but you're betting more every single spin and hoping for that feature.
The last time I played 5 Frogs I got a 200x bonus in part thanks to the Super Feature. But the previous few times I played it I blew through $20 pretty fast, making up for it.
Low rollers can make the easy decision not to bet those features and not only lower their per-bet spin, but also lower their volatility in the process. That's because since you're betting less per spin, and not relying on the feature to do heavy lifting, your line hits will mean more. On a 40 cent bet on 5 Frogs, the 5 Aces, a decent line hit, pays $2.50 – but if you lower your bet to 25 cents and remove the feature, that's a meaningful 10x hit vs. just a 6x.
Do you turn off the feature bet to lower your bet? Share your thoughts in the comments!