We've spent a bit of time talking about max betting – whether you can win more, for instance, or games like Quick Hit or old school reel slots where max betting can be important.
But what about if you're not a max better? What if you're trying to stretch a buck in a casino and are discouraged by the increasing numbers of machines that require higher minimum bets, such as licensed games, games with more/better bets or many advantage play games?
The good news is casinos haven't forgotten about you – they've just many times baked the choice into a more complex bet structure. Gone are the days where most machines offer choice of number of lines – although there are exceptions to that, which will come up in a future post on this topic.
For now, we'll look at 5 Treasures, a classic Shuffle Master game that is in the same lineage as 88 Fortunes, Dancing Drums and more. In the case of this game, you can play as low as 8 cents a spin, and still get to enjoy the fun and extremely volatile gameplay it brings to the table. And for those who want to make sure their bets match their bankroll, having games that are lower cost to play when bankrolls are limited ensure that players at any bet level can have some fun.
The Bet Options
5 Treasures features the same bet panel and options as its siblings, like Dancing Drums. On the top row you get to pick from the number of gold symbols you wish to bet, from 1 to 5. On the bottom row you get to pick your line mutliplier.
The gold symbols improve pays for a specific symbol each time you step up one. You also activate progressives based on the number of gold symbols you activate:
1 gold symbol (8 credits) – No progressives available
2 gold symbols (18 credits) – Mini unlocked
3 gold symbols (38 credits) – Minor unlocked
4 gold symbols (68 credits) – Major unlocked
5 gold symbols (88 credits) – Grand unlocked
This should look familiar to Dancing Drums players, and, like Dancing Drums, if you wish to try to #landthegrand, you don't have to max bet. A progressive chance can trigger any time a wild symbol appears; betting more generally increases your chances of winning a progressive. Progressives are predetermined and once in the screen, no matter what your bet level, the chances of winning any particular progressive remain the same.
What You Lose by Low Betting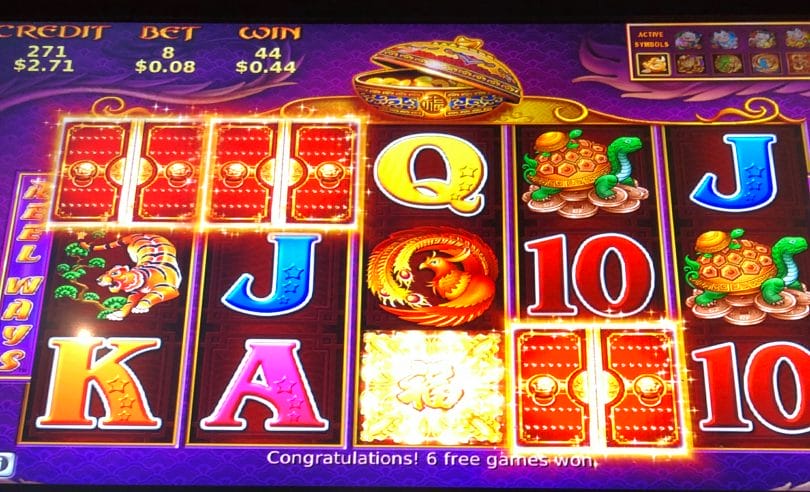 Aside from the loss of access to the progressives, since these games are designed to balance out based on bet level, 5 Treasures, like the others, has a bonus feature that's balanced based on your gold symbol options. As such, if you trigger the free games, you will get a payout proportional to your bet based on the number of symbols landed. Then you get to make a choice… well, unless you're betting low.
A quick look at the paytable shows how it works based on the number of gold symbols selected. Effectively, you can choose for the additional symbols on the reels based on the gold symbols activated – if you have all five, you can choose from any of the five. If you only have one, that's your only choice. And, because more gold symbols means a higher base bet, you get more symbols regardless of choice, rewarding those who are paying 88 cents vs. 8 cents, for instance.
But if you're a low better, what matters is the game is sufficiently volatile either way. This hit above is a 100x hit I got during the bonus while testing out the game at 8 cents to see how it plays. Like Dancing Drums and the one gold symbol bet, this can get pretty epic. If I was betting 80 cents and amped up the one gold symbol x10, this would be an over $80 hit.
What You Gain by Low Betting
Similar to other games in this series, you can amp up the pays of the one gold symbol easily with a still-low bet. You could make the line payouts 2x or 3x for 8 or 16 cents more, and if you line them up the payouts can amplify accordingly. Remember, this is an all-ways pays game so stacked symbols add to the volatility. Also, poker symbols are full pay at all bet levels, so the only diminished pays are the non-gold symbols.
You can also activate a second gold symbol and bet 18 cents a spin, giving you the potential for a mini that starts at $10, which is a good starting position for an 18 cent bet.
As such, it's a decent roller coaster of a game that can let low rollers have their fun. When you only have a small amount to bring to the casino, games like 5 Treasures can still give you a good higher-bet feel with a lower bet, given the chance for something pretty nice being able to still happen at that bet level.
Have you ever bet really low on games like 5 Treasures? Share your experiences in the comments!