Some links in this article include affiliate links, which provide a commission if a purchase is made. Affiliate links have no impact on our recommendations.
Anchoring one end of the Fremont Street area of Downtown Las Vegas, the Plaza has a proud and storied history. The property has in recent years gone through a series of modernization projects that has brought the hotel and casino forward.
I had positive opinions of the casino in brief visits in the past, but more recently I've had the opportunity to stay on property for a couple of nights in successive Vegas visits This gave me the chance to explore more and see if my previous visits' perception held up.
Casino Floor
The Plaza has a decent sized casino floor, and although it isn't the biggest in town, they make the most of the space they have. Their slot selection is a careful balance of classic machines and modern must-haves.
They've got some rare classic video Wheel of Fortune machines, but they've also got Wheel of Fortune 4-D. They have a bank of IGT three-reel machines near the hotel lobby, and they have Wonder 4 Spinning Fortunes. The slot floor offers a wide enough array that there should be something for everyone.
Video Poker is in plentiful supply, like many downtown casinos, and the pay tables are a big step up from what you'll find on the strip (including a number of full pay options, even at some bartops), and games (including full pay options) are available at lower denominations like nickels and dimes.
There is no high limit room; everything is out on the main floor. Some games that would be multi-denomination in many casinos are set to pennies only, such as Munchkinland. I had one of my biggest slot hits in Las Vegas on their floor, winning $750 on a 75 cent machine.
Plaza clearly understands fan service and player value, as they brought in two Silver Strike machines with four collectible $10 tokens available to capture. They also have a single 0 roulette table available at an accessible minimum.
Their table section isn't huge, but they have enough room for two craps tables, and some specialty games such as Face Up Pai Gow Poker. Table minimums are quite good, including $10 Blackjack the last couple of times I played there. Blackjacks paid 3:2 as well.
Hotel Rooms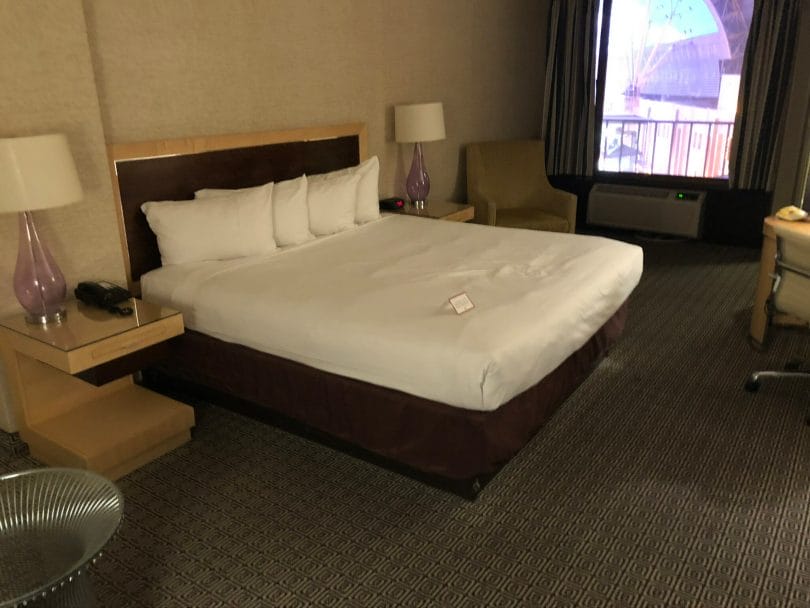 Plaza has done some renovations, but my rooms haven't been those. My first visit I was on the fifth floor of the North Tower, with a room that faced the Fremont Street Experience.
I was initially a bit bummed; while I don't need a renovated room to be happy, I had just checked out of the Wynn, which would skew things. And I was worried that facing Fremont Street on a weekend would be noisy.
I shouldn't have been concerned. The bed was incredibly comfortable, and I heard more noise from the air conditioner (which was working overtime during the hot summer months) than from outside.
My biggest real complaint as a tall person was the level of limbo I had to do to shower, since the shower head was so low. The bathroom area was also quite small; the door barely opened up in the room available for the toilet and the shower; the sink area was outside the bathroom itself.
On subsequent stays I was placed in the South Tower; interestingly the shower heads were taller, which was a relief, as it made all the difference. The rooms were otherwise similar. I had a wonderful view of the strip from my window.
The South Tower rooms felt newer too, although I don't know if that was just the circumstance of memory or time or what. But I've never had a bad stay at Plaza, and tend to sleep well there in fact.
Comp Program
Plaza has its own Plaza Rewards program. You earn a point per dollar on slots, and per three dollars on video poker. 250 points is worth $1 in comps, putting it on the more generous side for Las Vegas. They regularly tout their program as being "new" but really it's the same program tweaked periodically.
They regularly run promotions, many of which require a small amount of play to opt in, such as 100 points for things like pizza or a coffee and pastry. Their kiosks also regularly have promotions such as point multipliers or prizes when you earn some number of points. During one visit I won 5,000 points (worth $20) for reaching the level of a kiosk swipe. During another I got a 10x multiplier and racked up more than 10,000 points (worth $40) without trying too hard.
Points can be used as comps or free play, another nice touch – you have the choice of how to use them. They can also be used for purchasing Bingo or items at their Plaza Rewards desk. Like their casino floor, there is clearly an effort to emphasize value.
Bingo
Plaza offers Bingo, and I wanted to offer a dedicated section to this. While they had previously offered rainbow packs with multiple prize levels, at one point during the pandemic they were focused on a blue pack model that had most games worth the same prize. That has reverted as business has returned.
They have continued to run running Bingo Match Play promotions daily that could be used up to three times daily. This is above and beyond what was available in books like the American Casino Guide and Las Vegas Advisor, which I had but never tapped for Bingo. Effectively you get $25 match play; they have a package that costs $50 or so with the match play that gives a solid value.
I've regularly won at their bingos, including four sessions a row at one point. In one session I got a bingo during a special game that gave me a wheel spin to win between $300 and $3,000 (I won $600).
The turnout for some of the sessions wasn't huge, which works to your advantage as Bingo's a game that is against other players vs. the house. So keep in mind that when deciding when to play Bingo.
Other Thoughts
Their rooftop pool is one of the many cool features of the property – located on the fifth floor, the pool itself isn't huge but there's a large patio with a bar area (although with bars closed, the service was being done by cocktail waitresses across the property).
Their food choices are a good range of value (Subway, McDonald's, Pop Up Pizza) to sit down options (Hash House a Go Go, Oscar's Steakhouse). You can eat on a budget if that's your preference, but you could also get a sizable meal. For a property the size of Plaza there is a well struck balance there too.
Being close to other Fremont Street casinos is great for those who wish to have some variety, but I had some strong luck on the Plaza floor. I don't recall having a losing session there very often. But everyone likes to take a break or take a walk now and then, so it's great being so close to everything there.
If you buy the Las Vegas Advisor coupon book, you'll find some offers for Match Play and Free Play for the Plaza that can itself pay for the books.
If you're a fan of art, Plaza commissioned a trio of murals for the exterior of their property on the north tower, and they are absolutely phenomenal. You can learn more about the murals from the artists' own words on their website.
The Plaza does a lot of things right, and has players in mind with their decision making. The property isn't huge, but is big enough to be worth a trip. This was my first stay at a downtown hotel during a Las Vegas trip, and it left a good impression.
Based on my experience this trip, as well as my positive casino experiences in the past, this will be high on my list of places to return in the future.
Book Now
You can book rooms at the Plaza Las Vegas through vegas.com, which offers a Best Price Guarantee. If you find a lower price while booking or within 24 hours, contact them and they'll match it! Vegas.com routinely runs promotions on hotel rooms as well, making them a good place to check.
Plaza Las Vegas Videos
Here is a recent video from Travel Ruby:
Here's a previous look from Pompsie: