Last fall, as part of my extended Vegas trip that's become a bit of an annual tradition as of late, I got to visit Green Valley Ranch in Henderson for the first time. This is another Station Casinos property that serves the local market, and it's a sizable property.
Here's what I observed while visiting them on a weeknight.
Casino Floor
The nearly 150,000 square foot casino includes a sizable number of slot machines (more than 2,500, according to their website), and in my visit the casino floor seemed quite massive. There were quite a few of the newer games, but there was still a good array of old ones too – perfect for a casino of this size.
The bulk of the floor was slots, but they had a decent range o table games as well, with minimums in line with what you'd expect away from the tourist areas of the strip.
As a locals casino, they have a strong array of full-pay video poker, including some games over 100% (those that are expected to pay more than100% over time do not earn any points). The number of these machines has been reduced over time, and the comp program watered down, but you can still find them.
Hotel Rooms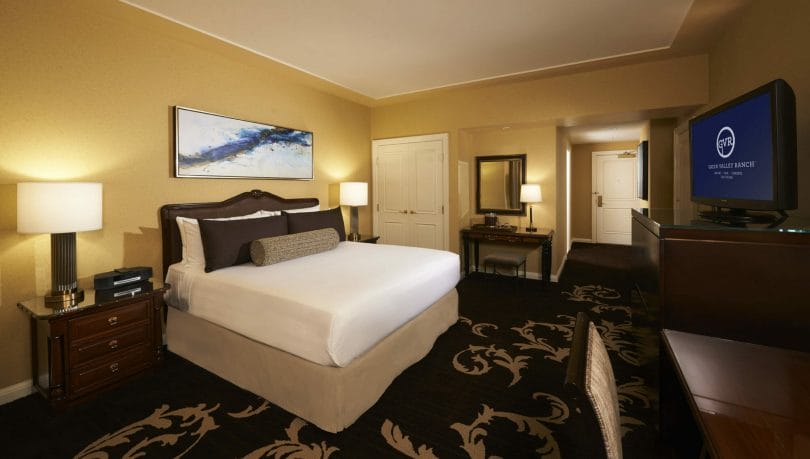 Green Valley Ranch was designed to be an upscale option, and so even basic rooms, at 500 square feet, are a strong size, although they look a bit dated given when they were set up.
There is not a large number of hotel rooms there, but the rooms are very spacious.
Comp Program
Green Valley Ranch is part of Station Casino's comp program, My Rewards Boarding Pass, the same program as at Red Rock and other Station Casinos. Tiering up is pretty darned easy – in short visits to Station Casinos properties in the past, I've tiered up to their second level, Gold. Their third level isn't particularly more difficult to hit than many second tiers of casino programs, and comes with a larger gift shop discount (but that's the only real difference between those two tiers).
It takes $1,000 of coin-in on slots to earn $1 in comps, which is the biggest drawback – it's very slow to accumulate. Point multipliers can take the edge off when they're running.
It's a locals program, and one way you know this is the six month tier cycles. Unless you're visiting Vegas regularly, your status is going to reset before you can get back out there, which can dilute the value of having said status.
Green Valley Ranch Food Options
The first thing I noticed was a sizable food court area, great for grab and go items. i was with a group that ate at Borracha Mexican Cantina, which had a Taco Tuesday promotion that went over well with some of the group. My food was fresh and tasty, and other than the atmosphere being a bit on the loud side for a conversation I enjoyed my visit there thoroughly.
Aside from the food court many of the food options lean towards casual dining, with a couple of more formal dining options available. Factoring in the standard casino food mark-ups, most options won't break the bank.