As shared here quite a bit recently, Scientific Games has been working over time to revive classic titles in some cases, and do fresh sequels in the spirit of other classic games, over the past couple of years.
The core reason this is happening is a lot of the hardware those games were built to be played on are past the end of their serviceable lives, and casinos are in a replacement cycle that is seeing a lot of these machines disappear.
One such series making a comeback to casino floors is the Hot Hot Super Jackpot series. There were a number of games in the series; I played the Double Easy Money version, but there are others, such as the popular Reels O' Dublin.
While many times I have seen instances of bet creep, the version I played did not have this issue. However, in the video section below, you'll see Brian Christopher playing a 40 line version with a $6 max bet, so it will certainly vary by casino as to how they set up the game (not unusual nowadays, as the games tend to be far more flexible in configuration).
The Hot Hot game lines have a mechanic that are apt to draw players in to play. It shares a relation to the Hot Hot Penny series in that if you get two bonus symbols, the remaining reels will respin, attempting to get you that third bonus symbol. In the case of this series, the sound it makes as the respin happens is loud and obvious to draw attention to the game and the respins.
The new machines do an incredible job of drawing in attention to what's happening with lighting that really pops. Of course, you'll get a lot of respins, but not a lot of bonuses, as the game offers a whopping 15 spins (with the chance to get line hits with an 8x multiplier) if you manage a bonus. It's one of those high potential, but difficult chances to actually secure, bonus setups.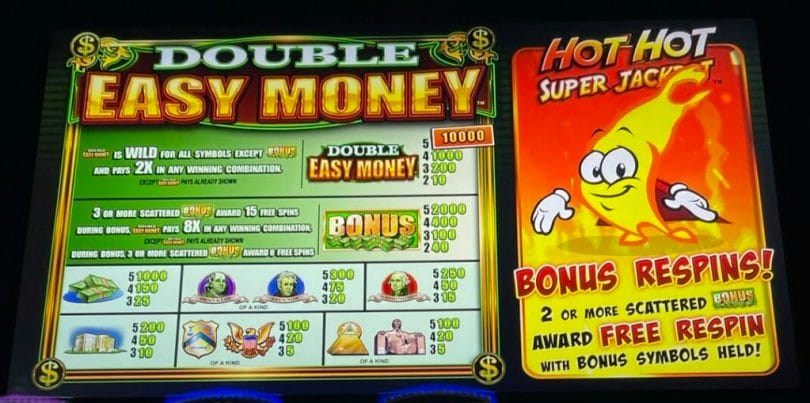 The game was built in an era when the pay table could largely be spelled out on a single screen, and the Double Easy Money symbol acts as a 2x wild, bumping the pays when they help secure a line pay.
During my most recent run on the game, I got a number of decent line hits keeping me going, even though I didn't manage to land a bonus.
These were fun games to play when they first came out, and it's nice to see them back on casino floors again.
Watch and Learn
Here Brian Christopher plays this version, starting at 16:44:
SlowPoke Slots plays the game and gets multiple free spin bonuses: