There are lots of changes happening right now in Las Vegas, and it seems to be confusing to many. Name changes, ownership changes, and so on are in the works for a number of properties, but when and how that happens, as well as what it means for players, seems to create a lot of confusion.
So today, let's go through some of those rumors and what's really happening
Bally's Las Vegas is Leaving Caesars
Some players, seeing another company called Bally out there now, are confused because they believe that means Bally's Las Vegas is also leaving Caesars. And there are things going on, but many times people simply get this mixed up.
The reason is the Bally company that exists now (formerly Twin River, and owner of Bally's Atlantic City among others) is in the process of buying a strip property, the Tropicana Las Vegas. Tropicana is a name now under Caesars ownership with the merger of Eldorado. So Eldorado owns a Bally's, and Bally's owns a Tropicana (Eldorado brand).
While legally they can keep going with their ownership and use of the names, they're going to untangle things soon. Bally's Las Vegas, which will remain a part of Caesars, will undergo a remodel and name change to Horseshoe. Tropicana will then likely be heavily redone (or even knocked down, they're not sure) and become the new Bally's.
Bally's Las Vegas isn't even new to rebranding – it originated as the first MGM Grand on the strip, before it was sold and rebranded, and a new MGM Grand built later on. So this isn't even something new to Las Vegas, but it certainly confuses players. (The name Horseshoe also has a Las Vegas history, as the previous name of Binion's on Fremont Street.)
So, to summarize – old Bally's gets a new name, stays in the Caesars family. Old Tropicana gets a new name, joins the Bally (new corporation) family.
Tropicana to be Demolished for Baseball Stadium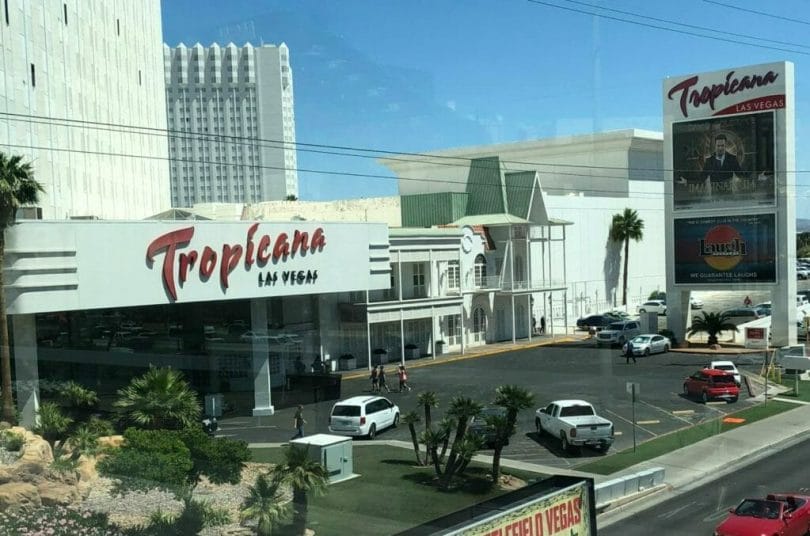 Now, given what I just said above, the second rumor is intriguing because it has been reported in newspapers and other local media: That the Oakland Athletics had eyed the Tropicana site for a baseball stadium.
Now, it was one of a few locations that had been noted the Athletics were looking at, and it seems that those rumors cooled off quickly, but that doesn't stop people from bringing them up on forums and social media sites constantly now.
And as shared earlier in this article, more recent notes about the Tropicana site have come from the soon-to-be owner of the land rights, Bally, and what they plan to do with it, and a baseball stadium is not in the cards, pardon the pun.
I'm sure if the price was right, the current land owners might be willing to hand it over to the A's, and perhaps Bally would then go for another opportunity, such as buying a Caesars property (they've been vocal that one will be sold; more on that shortly). But for now, it seems like Tropicana will remain the site of a casino, and one operated by Bally.
The Rio Will Be Knocked Down for a Baseball Stadium
Previously, The Rio, a 30-year-old or so property, was rumored to be facing demolition. However, things look more rosy for that property given its new ownership, and remodeling plans that are set to kick off soon. Yet this rumor continues to be brought up by some who I guess haven't been following along that a sale happened.
Caesars is set to continue running the casino until December 2023 at the latest, which should give them time to continue tidying up the property through room remodels and other updates, some of which have begun getting announced, such as an expansion of their relationship with KISS, which today includes the popular KISS mini-golf.
The fact that original Rio head Tony Marnell is involved should help, as there's someone with history going back to the beginning on the project. The hotel will also be linked to Hyatt at the other end of the renovations, making it more accessible for Hyatt's loyalty program members.
Like other properties seeing potential new life with new ownership, Rio is going to attempt its comeback. But we'll see what that looks like on the other side of the renovations.
Mirage Will Be Under Construction Very Soon
With the Hard Rock announcing it is working to acquire operations of the Mirage, and having announced some of its plans for the property, many are already presuming construction will be starting imminently. That's now how this all tends to work, however.
First, the deal has to close. Then, they have to actually do the remodel, which won't move forward until the sale completes. It's telling that Hard Rock will get royalty free use of the Mirage name for three years after the sale closes – this isn't going to be an overnight transformation, and it would be surprising if they didn't do it in phases, so they can keep things open and have some revenue coming in in the interim.
As far as the sale itself, it's expected to be completed later in 2022, so it is unlikely any construction will begin before the beginning of 2023. Just because plans are announced, doesn't mean they're imminent, and I see confusion along those lines quite often.
Much of the conversation I see is people fearing construction this summer or fall – based on that timeline, I wouldn't worry about that at all. Compared to the plans announced for Horseshoe which was clear in its timing of a renovation happening later this year, and more limited in scope, Hard Rock's plans are both a bit further out and much more transformative.
And just like Monte Carlo remained open during its transformation to Park MGM, I would expect something similar to happen at the Mirage, and there may even be enticements to players to visit during less than ideal conditions.
Are there rumors/plans you'd like see discussed? Share in the comments and perhaps there'll be a part 2!