I have friends who enjoy their time in the high limit room, but as a general rule I'm not one of those who play in there all that often. On a rare occasion, I might allow myself a bit of time on high limit machines, but my budget isn't built for a lot of high limit, so I most often stick to the regular casino floor.
That said, I've noticed examples of games that can be friendly to lower limit players in the high limit room. If you're not one to play high limit games as often, you can perhaps find these examples illustrative of how to stretch your budget while in the room.
Dancing Drums/88 Fortunes Style Games
I've written about how you can wager 8 credits, which works out to 8 cents for penny denomination, on an 88 Fortunes/5 Treasures/Dancing Drums style game. The high limit versions of these games are many times dime denomination; that same 8 credits works out to 80 cents a spin. You could also activate the mini jackpot at 18 credits, or $1.80.
The one gold symbol becomes what you aim to play for in this format, but the hits can be pretty decent, and the bonuses substantial, even at this level, so you can still have a lot of fun.
I previously shared this video from King Jason Slots where I did just this in high limit and got over a 100x bonus:
Multi-Denomination Games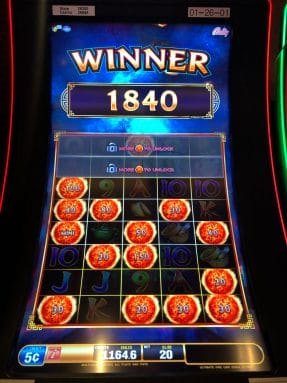 Sometimes multi-denomination games that find their way into high limit leave a lower limit option on the board. A great example of this was when I found the nickel denomination enabled on Ultimate Fire Link at Live! Casino Maryland.
I was able to play at $1 per spin, which is absolutely a solid betting option for a lower limit player, but within the high limit room. With the standard games heavily in use on the main floor, it was nice to have an option to play them somewhere else but at a betting level that doesn't break the bank.
This won't be the case for all games – a high limit Lightning Link is reconfigured to start at $5 a spin, for instance – but I have seen this in at least a couple of casinos over time, so it's something to watch for.
Mechanical Reel, Single Credit Options
Many times mechanical reel games are designed with 2-credit and 3-credit formats. Most often that final credit bumps up pays as an encouragement to bet the full number of credits. But this isn't always the case, and sometimes the bump is modest enough to allow for a bit of flexibility.
Double Diamond is one of the classic mechanical 3-reel slots. In its three credit classic form, the top pay bumps by a modest 100 credits. It's 800 credits for 1 credit wagered, and 2500 credits for 3 credits wagered (vs. 2400 you'd expect for a 3x bet). But I've seen the game in a two credit configuration with no bonus at all for the second credit, and even if a game is three credits, what you're giving up on that top payout isn't enormous.
So, find the game in $1 denomination and you can do $1 spins, or $5 and do $5 spins on a game that would be a lot less volatile than other $5 bets in the casino.
There are other examples where betting one credit won't penalize you, but certainly be careful – games like Wheel of Fortune many times require max betting (or at least betting enough) to get the wheel spin, for instance. So as always, be sure to review the pay table before playing.
Less Lines on Video Slots
You may find video slots at dimes or quarter denomination, vs. dollar, because of the number of lines they have, but have the line option enabled where you can downgrade the number of lines youre playing. 40 lines on quarters would be $10, but 20 lines would be $5 and 10 lines $2.50.
There are examples of Ainsworth multi-game options that let you choose the number of lines, and the denomination as quarters, 50 cents and $1. You could do 5 lines at quarters for a modest $1.25 bet. You could also do 20 lines at dollar denomination for $20 a spin.
Of course, less lines can be a tougher game since you have to line it up on those active lines, but for the benefit of lower wagers that can let your money last longer in high limit.
Video Conversation
I spoke with Matt at the American Casino Guide Book on this topic on his YouTube channel. Here's the video:
Are there games you play in high limit that allow a lower limit option? Share what you've seen in the comments!