Scientific Games has been slowly rolling out remakes of many of its older games, driven by the steady and recently speedy retirement of some of its older machines, particularly those built by WMS in its heyday.
For fans of those games, the remakes offer a fresh chance to get to play these old games again. During a recent casino trip I tripped across a game I haven't played in at least five years, Madame X.
The G+ era game was a bit different in that it featured stacked symbols that could line up for big wins quickly. Indeed, I managed a 100x line hit pretty fast when I sat down to play it.
Of course stacked symbols can create for some difficulty, so it helps to have more lines. I remember this game commonly having 30 lines, but the version I played as a 40 line version. One credit per line as always, so the minimum bet was an affordable 40 credits per spin.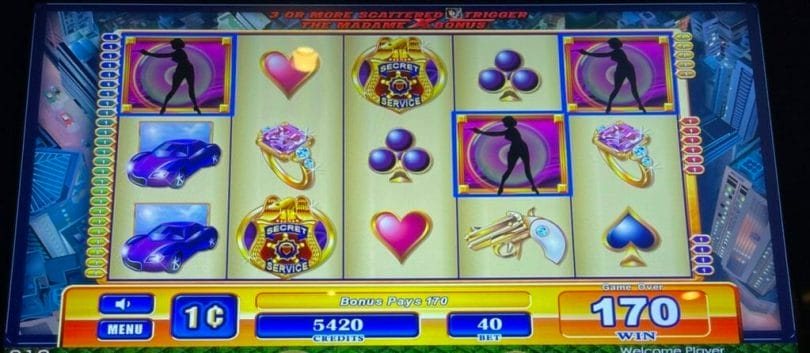 The stacked symbols also have the chance to become more valuable during the free spins. Three or more bonus symbols trigger the free spins, with more spins awarded with more symbols:
3 bonus symbols: 10 free spins
4 bonus symbols: 15 free spins
5 bonus symbols: 20 free spins
During the free spins the poker symbols are eliminated, reducing the number of overall symbols on the free spins reels (bonus reels in play, after all). This can improve the chance for big winds, but they can also still block each other enough to limit the bonus (I had a 4x free spins during my recent session). On the other hand, the free spin symbols remain on the reels, so retriggering is also possible.
It was a great example of a game at that era of slots adding some potential without becoming too impossible, and having some fun rides along the way! I'm glad to see this one reappear, and I look forward to getting some more time on the game in the future.
Madame X Videos
RandomSlots played the relaunched version recently, in this case as a 9-line quarter game:
Here's a clip from the original version, on a 30 line, 3 credit per line bet (90 credits total) and a bonus: