One of my local casinos has been very quickly taking out huge numbers of older machines, and my beloved 5-reel Quick Hit games are among the casualties.
Fortunately for me, though, Scientific Games hasn't forgotten about them as they continue to revive old titles on new hardware. I saw installed at my casino this new version of the 5-reel games, and they've got the game available in a number of the classic themes that players of Quick Hit know and love.
The biggest change is the inevitable bet increases. At my casino the game was a $2.50 max bet, vs. the $1.50 standard as before. This version was also structured as a 25 line game, so the interesting thing here is minimum bet was 25 credits/cents (not ideal given Quick Hit progressives are only paid at max bet, but if a player wanted a truly low-rolling option, it was nice to see that was still around).
Max bet was therefore a 10x line bet vs. a 5x, meaning truly lovely line hits would be amplified twice as much as a 5x max bet on the old $1.50 versions.
The progressives weren't messed with in terms of their structure, so the 5 Quick Hit starts at 10x the max bet, 6 Quick Hit at 50x the max bet, and so on.
The progressives were banked among all the machines at my casino; I don't recall seeing the old machines banked often, but Quick Hit progressives have certainly been banked in the past within the series, so it's not that big a deal, and makes it easier than needing to check which machine had the best progressives.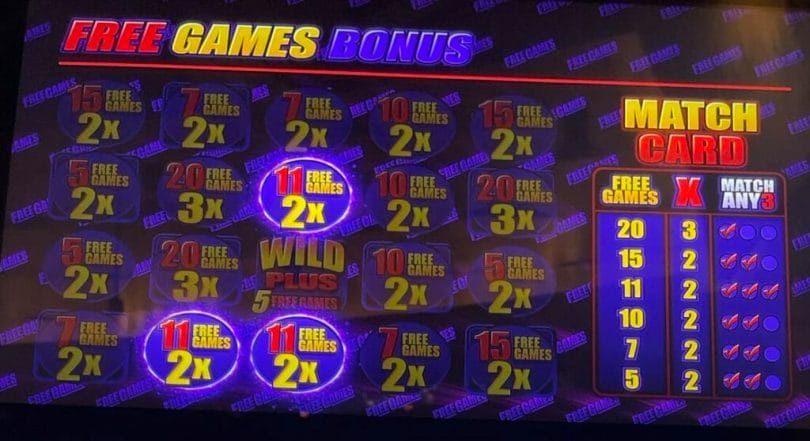 As this is a remake vs. a sequel, the free spin bonus is just as you remember it as well. You pick until you get three; wild adds five spins, and if you match the 20 spins you get a 3x multiplier (everything else is 2x), meaning your best opportunity is 25 spins at a 3x multiplier.
I didn't have the best run on my first outing on it, but it was still great to see the game maintaining its position on the casino floor. My casino took out about 25 of them so far and only replaced them with about a half dozen, so I hope that will be corrected (since they were still quite popular at the time of removal), but other than that it was great to see these machines when I visited recently.