In a previous post I talked about the "Must Hit By" progressives found on the G+ Deluxe line by WMS. They ultimately released dozens of games in the line across a couple of waves of releases, and so there's so many options to play, all of which sufficiently volatile to be a roller coaster ride.
Here are a few of my favorite in the line; on Friday I'll share a few more.
Robin Hood and the Golden Arrow
This is one of the first G+ Deluxe games I have a strong recollection of, in part because I got a 100x win on a line hit and it was both surprising and exciting.
The game has a mystery symbol element that both heightens the volatility and the potential pays when you line things up. The bigger symbols also pay well. Those arrows in the picture above are wilds and pay 100 credits for three of a kind; the 5x makes them 500 credits per line, hence the 100x win.
The middle wild symbol can be 5x on the base game, but increases to 10x in the free spins, which can really amp up the pays quick. This game can be tough, but also pays incredibly well at times too.
Watch and Learn
Here's a video from RandomSlots of the game:
Winter Wolf (and Clones)
Winter Wolf has clones in Sea Tales and Fairy's Fortune. Its main specialty is the five of a kind upgrade – the game pays for what initially lands, and then the symbols in the five of a kind (minus wilds, which stay put) are upgraded and paid again.
If it lines up wilds, or matches with symbols spun in the original spin, it can get quite good quite quickly. In the above example the five of a kind upgraded but also lined up with some wilds on the left to offer payouts on a lot more lines.
The bonus round is also on the generous side, with 15 free spins. That generally leads to a couple of chances to upgrade five of a kinds, although the bonus sinks or swims based on your ability to get those five of a kinds.
Sea Tales was the game I was first familiar with in my home casinos, but Winter Wolf was still available at Tropicana Atlantic City on my last visit, which is where I've played it most recently.
Watch and Learn
Here's another RandomSlots video featuring Winter Wolf:
Jungle Wild III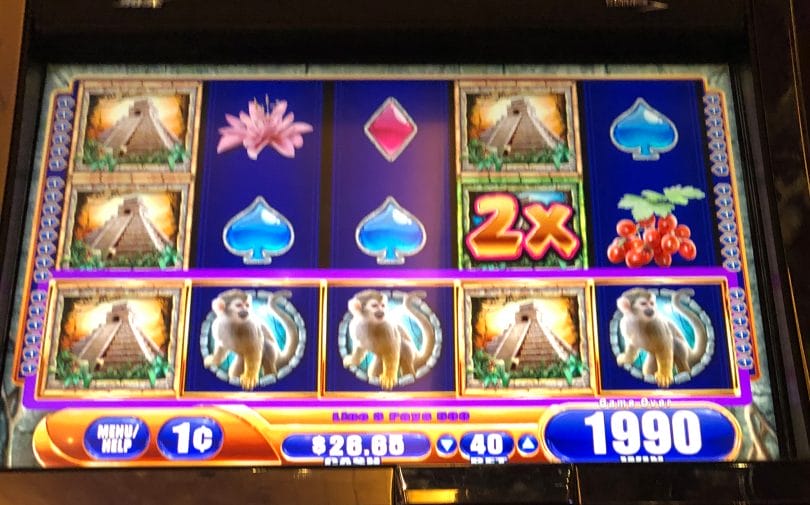 I recently wrote about Jungle Wild and the classic gameplay; Jungle Wild III was a more volatile, but otherwise quite faithful, successor to the original.
Multipliers were added in to the wild stacks to add some volatility, but the ability to get two wild reels each spin in the bonus remained, and the line pays on the premium symbols were incredible if you could get it to line up.
This is another one of those games where the base game could be just as crazy as the bonus in terms of pays.
Watch and Learn
Here are some videos from Slotman777 on Jungle Wild III:
There's More to Come
Move on to part 2 to see some games from the newer wave of G+ Deluxe games which are equally fun.
Do you have a G+ Deluxe game you call a favorite? Share in the comments below!