On Tuesday I shared a few of my favorite G+ Deluxe games by WMS. Today I pick up and share a few games in the newer wave of them. While the basic traits of the game are the same, they touched up the graphics a bit in terms of the areas showing credits and wins, and added some more 5×4 reelset options to the line.
King Midas
Like Robin Hood and the Golden Arrow, the trick to King Midas falls in the multipliers. But this handles it quite differently. Instead of a mystery symbol, a symbol can be turned gold on any spin. If you line up the symbol that turns gold, you win 5x the line. When you get to the bonus, it becomes 10x for gold symbol lins.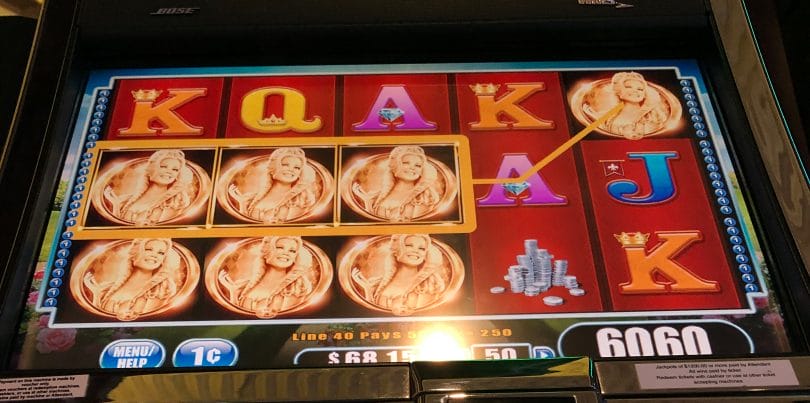 The queen symbol is the premium one, and it delivers on those 5x and 10x wins. Best of all, she pays with 2 or more symbols in alignment, so you don't need to get across the screen to rack up pays, although it certainly helps.
Watch and Learn
Here is a King Midas video from TheBigPayback:
Hercules
Hercules is a fun 5×4 reel slot that has a couple of things going for it. A stacked Hercules symbol pays well when lined up, including paying if you get only 2 Hercules symbols. Three or more coins get you the bonus, but if you get two it'll respin for a chance at more. You get five spins for three coins, and an additional spin for every additional coin.
In the bonus, where the coins land become sticky wilds. If you land another coin, it'll turn to a sticky wild for the next spin onward until the conclusion of the bonus. Landing a coin also gives you an extra spin.
Needless to say, if you get enough coins in the right places, it can lead to some consistent big wins. But if you don't get enough coins or they land too far to the right, it could be a dud bonus. That potential for a big bonus is what makes the game fun.
Watch and Learn
RandomSlots has a solid session and bonus in this video:
Mr. Hyde's Wild Ride
This game has a bit of a mix of Bier Haus and Hercules. Mr. Hyde pays at least two across and is stacked. Inside the bonus, if you get a bonus symbol, it locks and turns wild starting with the next spin until the bonus is complete. Landing a vial also gives you another spin in the bonus.
The bonus triggers like Bier Haus in that you need at least five bonus symbols (the vials) starting from the left most reel, on consecutive reels, to get the bonus. But if you get only four, you get a chance to respin and collect more to achieve the bonus. Unlike Hercules, what you get doesn't turn sticky right away, but you get more spins quickly with more vials to make up for it (and again, more like Bier Haus in that regard).
Watch and Learn
Here's a video from VegasLowRoller featuring a strong bonus on the game:
Carmen
Carmen's a pretty unique one. It's 5×4 with a music note on reel 5 that, when landed, can upgrade the lowest symbols to higher symbols by at least 1 step, but possibly up to a full screen of the top symbol.
In the bonus round, you get 12 spins, and each time it lands, the lowest symbol is upgraded one level. Get far enough along and you can get big wins from large amounts of premium symbols. (The bonus music is appropriately epic given the theme.)
Watch and Learn
Here's a RandomSlots video on the game:
What Are Your Favorites?
Share your favorite G+ Deluxe games in the comments! They're still plenty of them floating around, although the hardware that these games run on are slowly making their way out of casinos.
I've definitely played all of these games in Atlantic City and Las Vegas in the last year; bigger markets seem to be holding on to them longer.