There are certainly a lot of fans of Ultimate Fire Link, enough so that there are 10 versions on casino floors with four different bonuses, and now a sequel, Ultra Hot Mega Link, out there as well.
One thing though that I had never seen was whether you could trigger both bonuses in a single spin. There are games that can give you two bonuses with one spin, and I had seen visual confirmation of this in Lightning Link, but now I can confirm that this has been spotted on Ultimate Fire Link as well.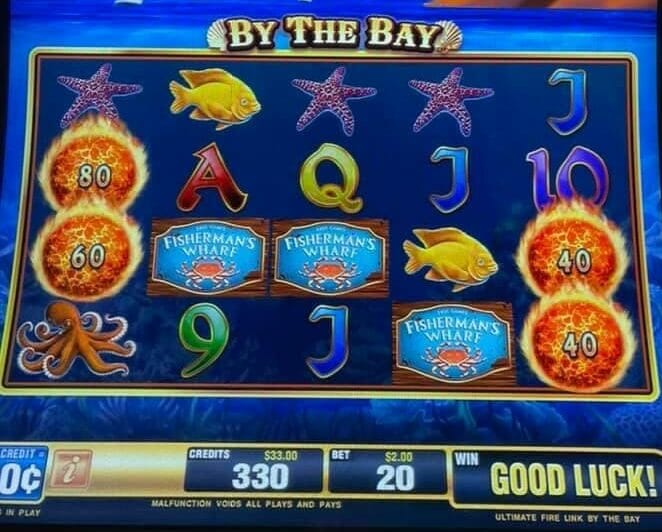 As you can see in this photo, this shows on the By the Bay version four fireballs, triggering that feature, as well as the three free spins bonus symbols in the middle three reels.
Like the Lightning Link example where six balls and three bonus symbols landed, this would be a pretty rare circumstance, given the fireballs are clustered only two per reel, and the bonus symbols only present on the middle three reels, so this would be unlikely to come across all that often, and perhaps why we have not seen a ton of examples of this cropping up since the game line has been introduced.
Presumably, since all the variations of Ultimate Fire Link have a similar setup, this should be theoretically possible on any version of the game. Certainly By the Bay and its cloned versions would support it, but since that format is similar for all the versions, I would presume it is possible in any of them.
For players who like the opportunity to potentially get multiple bonuses in a single spin, this is certainly not the best game to play given its relative rarity, but it certainly becomes an option, and the fact the game has both a bonus and a respin feature makes it popular among modern casino visitors today.