Some links in this article include affiliate links, which provide a commission if a purchase is made. Affiliate links have no impact on our recommendations.
Planet Hollywood started as the new Aladdin, a ground-up build-out replacing the previous Aladdin. Over the next few years it changed hands and became the Planet Hollywood, and is a part of the Caesars Rewards network of casinos.
It was among the first to be completely updated as part of a multi-year project by Caesars to modernize its room stock, and its casino floor remains one of the newest and most modern on the strip. Let's take a look at the property and what you can expect.
The Casino Floor
Like many Caesars-owned properties on the trip, the casino floor is not particularly huge. It features 1,000 machines and 100 table games.
The machines are largely weighted towards penny slots, although there is a higher limit area towards the back of the casino. Some games are also multi-denomination to attempt to offer some sort of diversity. The games are, like many strip casinos, a mix of older machines and newer ones.
Planet Hollywood has seen its machines get upgraded over time, but they do have some sections that feature classic games, so it is good for those who are fans of both newer and older games.
Video Poker is also grouped heavily a bit into the interior of the casino, and has the standard below-average pay tables you can expect from a Caesars property, and as such you can expect the slots to probably pay below average as well. But they do have a good variety, including 50/100 hand machines, which I enjoy playing.
The table games are clustered in the middle, and have a good mix of standard and more exotic fare. They also have the Pleasure Pit, which features female dealers in more sexy attire, for players who prefer that sort of thing. The table minimums were about average for the strip in the times I have looked around.
The casino floor itself has a quite modern feel to it – the lighting and so forth evoke a party atmosphere, and with loud music and a DJ spinning on weekends during the times I have been there, it fits the mood set on the casino floor.
Hotel Rooms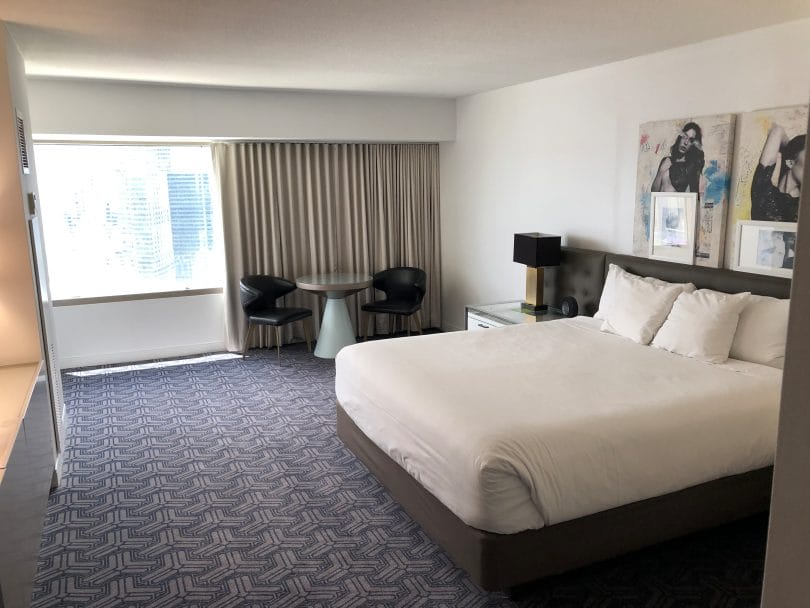 The rooms in Planet Hollywood feel larger than many other standard room types I have stayed in on the strip. The room isn't overly appointed, but it is comfortable and gets the job done well. The bathroom is pretty sizable as well.
Like many Caesars properties that have been renovated, the rooms are comfortable – nothing over the top, but you'll be satisfied more often than not (just avoid a room by the elevators if you can help it – I had one where you could constantly hear them going up and down).
You can have a view of the front or the back of the building; I've lucked out with a couple of front-facing rooms that look out towards the Bellagio fountains and Eiffel Tower, but a rear-facing room could get you a look at some beautiful mountains, so it's unlikely you'll have a poor view.
Like Harrah's, Planet Hollywood is wisely designed and you can be dropped into the casino floor right away, or into the hotel lobby. A walk from the elevators to the strip is very quick and easy as well, so it's a very accessible property, and anchors the lower end of the Caesars side of the strip, which begins at Planet Hollywood and stretches all the way to Harrah's.
Comp Program
Like the other Caesars properties, it's a member of the Caesars Rewards network, which has been covered extensively here in the past.
One nice thing about so many properties under one ownership is you can play at any of their nine properties there, and build offers there, as well as access to comp rooms. If you reach Diamond tier, you can also get your resort fees waived.
Planet Hollywood is towards the lower end of their line-up, as far as comp rooms are concerned, so it can be pretty easy to get in there.
Food Options
One thing that I've enjoyed about Planet Hollywood is the surprising number of affordable food options, such as Earl of Sandwich and the Ringer sports bar, which features quite a few good food specials.
The focus at Planet Hollywood also seems to be on casual options like Gordon Ramsey Burger, Chik-Fil-A, Pin-Up Pizza and P.F. Chang's. There is a steakhouse, like at many casinos, but this is definitely a property balanced a bit closer to the value end of the spectrum.
Other Observations
The casino is surrounded by the Miracle Mile shops, filled with shopping and other affordable food options, which cast an even broader net for those looking for various options to explore.
Planet Hollywood, like other Caesars casinos, has its slot machine inventory available via the Caesars Slot Finder, and a similar finder available for Table Games, to help you find what you want to play.
Book Now
You can book rooms at the Planet Hollywood Las Vegas through vegas.com, which offers a Best Price Guarantee. If you find a lower price while booking or within 24 hours, contact them and they'll match it! Vegas.com routinely runs promotions on hotel rooms as well, making them a good place to check.