Game: Reel Climb Prosperity
Manufacturer: Aristocrat
Advantage Play Potential: Medium-Low
What Makes it Special: All ways pays with the middle three reels growing; when the reel is fully expanded, the chance for full screen wilds.
Reel Climb Prosperity is one of a pair of Reel Climb games that uses persistent state reels to have growing reels, similar to Hexbreak3r, but they grow and collapse much faster, meaning much quicker cycles. Instead of chasing prizes, the goal is full reels wilds to get big payouts, or enough orbs to get a bonus round.
Let's take a closer look at how this game works and what to expect.
Understanding the Game
This is structured as a 60 credit bet increment, with an all ways pays format that starts at 243 lines (a 5×3 reel set). However, based on the way the game is designed it's probably a rare scenario to find it at the base 243 lines.
That's because with relative frequency arrow symbols can appear on reels 2, 3 and 4. When one such arrow appears, the reels grow by one space, until the reels reach a maximum height of 7 reel spaces. This 3x7x7x7x3 potential means a maximum ways potential of 3,087 ways to win.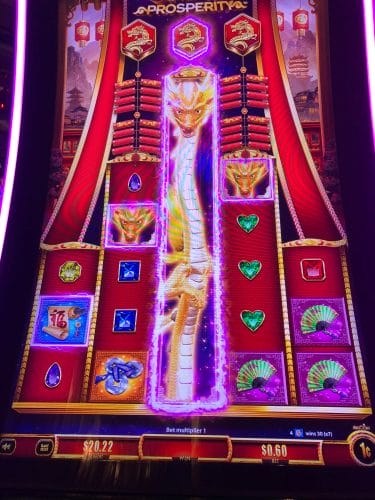 Once a reel hits its top height, a three-spin counter initiates. During these three spins, if you get a wild dragon symbol, it will fill the reel, making the whole reel wild. If you happen to have multiple reels at its top height, and get the dragons, because of the all ways pays format, that will yield a pretty significant payout. This is particularly so if you manage 5 of a kinds, as the payouts spike between 4 and 5 symbols across – more than triple for a 5 of a kind pay vs. a 4 of a kind, but the reality is if you get enough dragons/wilds, you will hit hundreds of ways to win and that will quickly rack up. Of course, you could get no wilds, and therefore no wild reels, as well. Good old volatile Aristocrat.
The game uses persistent state reels, so the heights remain active even after a player cashes out. And like other games with this sort of technology, each bet level has its own set of persistent state reels, so the heights will differ on each bet level.
Free Games Bonus
Collect six or more pearls to get the bonus of 7 free spins. During the free spins bonus, the middle three reels expand and activate full wild reels when a wild dragon lands. So the potential is there, as long as you can get those wilds to expand to full reels. You can also retrigger, getting more spins in this optimal configuration.
Understanding the Advantage
Taller reels are better, of course, and if you walk into a situation where you can have one or more reels at its tallest height, that is the best potential you can secure. Reels 2 and 3 will have more value than 4 since you need to get the early reels lined up to get paid, but reel 4 can certainly contribute if it all lines up.
This being Aristocrat, it's a volatile enough game, and so it also is going to disappoint with a higher frequency than some of the more reliable games. But the benefit of knowing how many spins you have before the reels shrink back down limit the exposure, and if you do land the dragons it can make it worth your while.
Watch and Learn
Here is RandomSlots' video featuring the game and pay tables, and a massive win that features two of the full reels turning wild:
Brian Christopher featured the game in a recent video, starting at 15:19:
Slots of Gambling features a bonus in this video: