You may hear slot enthusiasts talk about various tells when it comes to slot machines. Broadly, a tell is an indication ahead of the outcome revealing itself that something is happening.
Because the outcome of a spin is determined when you hit the spin button, the tell is baked in to the game's design – you'd have the same outcome without the tell. Some players love the excitement a tell brings, while others think it ruins the surprise, but either way they're a standard part of slot machine design nowadays.
Tells tend to come in two varieties, the intentional tell (which is effectively a manufacturer's way of announcing that something's about to happen, and the unintentional tell, which if you're attentive you know what's about to happen.
Let's review each in turn, and discuss a few examples.
Intentional Tell
An intentional tell is something built directly into the game that is designed to announce that something special is coming. It could be announcing a bonus (or a retrigger while in a bonus), a feature or even just a big line hit. But regardless of what's coming, you know it's not a dead spin.
There are a number of games with this sort of tell. Here are a few examples:
The Mighty Cash series uses a tell that can portend a Mighty Cash bonus, free spin (or retrigger), or a big line hit.
Fu Dao Le and its sequels and sister games (including Zhen Chan) have a babies tell that can announce a progressive pick, free spins bonus, line hit or the Red Envelope jackpot.
Newer Quick Hit games will send stars by on the screen ahead of a big hit or bonus trigger.
The old school Wizard of Oz games would start flashing Glinda on the top box before the animations on screen would officially announce Glinda's arrival.
Ultimately, they're building the excitement of something special coming your way.
Watch and Learn
See what King Jason Slots got with his babies tell in the video below, starting at 2:03:
The Unintentional Tell
Sometimes, the way games are designed, you can accurately discern before the reels are done spinning that something exciting is about to happen.
An example of this is above, on Wild Wild Nugget (although it works Wild Wild Samurai as well). The moment the second wild lands, if you see a nugget going by on reel 3, that nugget will come back around.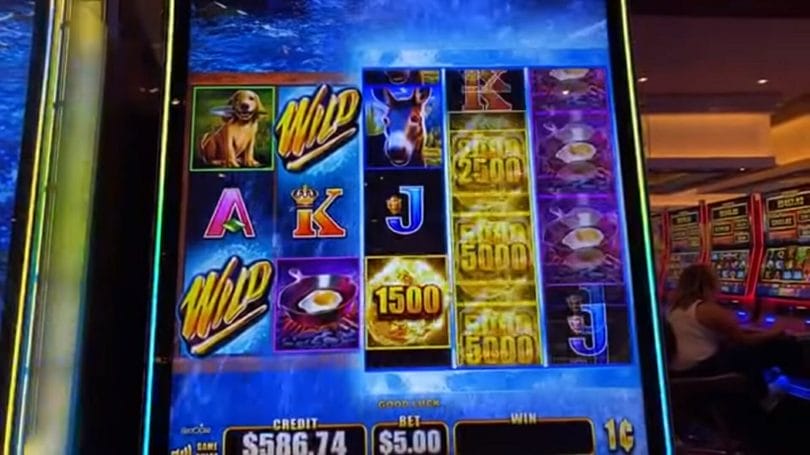 The same thing can then happen for reel 4 and 5 if you keep landing nuggets.
Similarly, once you land the first two free spin bonus symbols, if the third symbol goes by on the next reel just as the previous reel comes to a stop, you'll have a bonus in your hands. Once you get to know this, it becomes quite easy to predict.
Buffalo Grand has a similar scenario of if the Wheel symbol goes by on the next reel just a the previous reel lands, you're getting that bonus too. This tell works for each consecutive reel, just like on the Wild Wild series.
If you know the game Buffalo Gold well, and get to know the reel strips, you can predict with confidence whether the right part of the reel strip will come around in time to give you a bonus symbol. It's not a tell on the same level as the above, and is more just knowing the game and where the bonus symbols live on the reel strips.
Most of the time, these tells simply become apparent by regular playing of games, and is more our knowledge of the game than the game designers doing anything intentional, like the first batch of examples.
Watch and Learn
Here's a Wild Wild Nugget example from Jason, starting at 25:05:
Here is Slot Queen's bonus on Buffalo Grand, with the bonus symbol tell on four bonus symbols starting at 4:43:
What slot machine tells are you familiar with? What's your favorite tells? Share your thoughts in the comments!