One sometimes overlooked aspect of slot volatility is the symbol count. When game designers are looking to make a game harder while at the same time allowing for bigger wins or hits, one way they can do this is by adding more symbols to the reels.
With more symbols on the reels, lining up line hits can be more difficult because there's more symbols that can potentially get in the way. Conversely, when you have a game with a more limited symbol count, that can help to reduce the volatility of a game by increasing how often line hits can occur.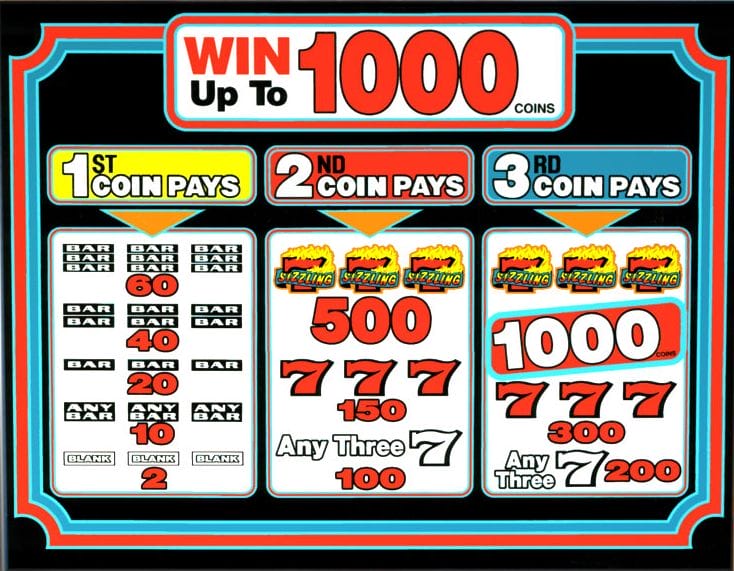 Connected to symbol count is how symbols interact with each other. Games with bar, double bar and triple bar may prove to be less volatile because mixed bars can pay. Other permutations of this sort of format exist but the end result is to make hits more common, likely with smaller payouts to balance it out.
Older games many times have less symbols than their newer counterparts. Many of the WMS G+ Deluxe games used the four deck of cards symbols as their generic baseline symbols, but newer games used the more common 9-A poker symbols, which gave them 6 generic baseline symbols to leverage instead. Semi premium and premium symbols get added atop that, and the overall symbol count crept upward.
Many Aristocrat games have more symbols as well – take a look at Buffalo, which has the buffalo symbol, four other animal semi-premium symbols, 6 poker symbols, a wild symbol and a bonus symbol – more than a dozen symbols in all, which combined with stacked symbols can make for a pretty volatile combination.
By comparison Quick Spin, a game by Ainsworth, has a lot less – three bar symbols, a fruit, a $, a 7, a wild and a bonus – 8 altogether, which means a lot more chances for things to line up.
You can see the pay table above – the three bars can pay mixed, which further reduces the game's volatility. You don't get as many big line hits, but you do get paid more often because it's easier to line everything up.
When evaluating a game, along with other tips shared here, a game that has a pretty straightforward pay table with a handful of symbols is likely going to be less volatile than those with more symbols.