Game: Little Green Men 3-D
Manufacturer: IGT
Advantage Play Potential: Medium-Low
What Makes it Special: Little Green Men will frequently bring down one or multiple reels of wilds, to be triggered on the following spin. The same feature carries into the bonus round.
Little Green Men is among IGT's older and more iconic game themes. With Little Green Men 3-D the game heads into the modern era and picks up a persistent state reel feature in the process.
Understanding the Game
Like many IGT persistent state games, Little Green Men 3-D is a 5×4 reel set. It I a 50 lines game, and has 80 cent bet increments, putting it with other games on a premium cabinet where the minimum bet is higher.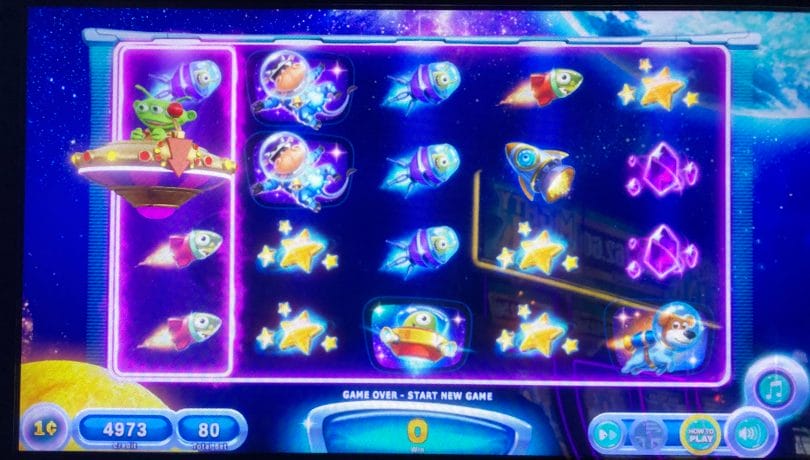 The game is similar to It's Magic: Amber, in that Little Green Men can appear in any reel and not only act as a wild symbol for that spin, but will then highlight the border of that reel.
The highlighted reel will turn wild on the following spin. So, it's important when that happens to play the next spin to get your use of the wilds.
The game has a similar paytable to It's Magic: Amber in that the top paying symbol (the Little Green Men yellow symbol) can pay in adjacent reels anywhere on the board.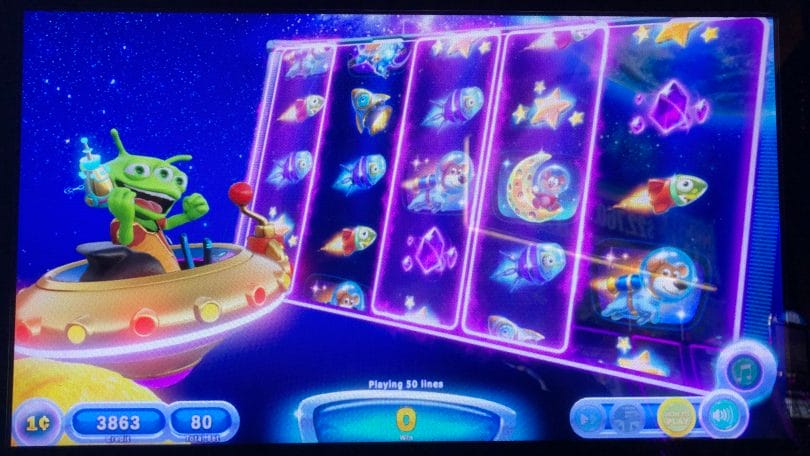 The higher bet increments is made up for by the fact that Little Green Men can also come out and highlight multiple reels to turn wild in the following spin.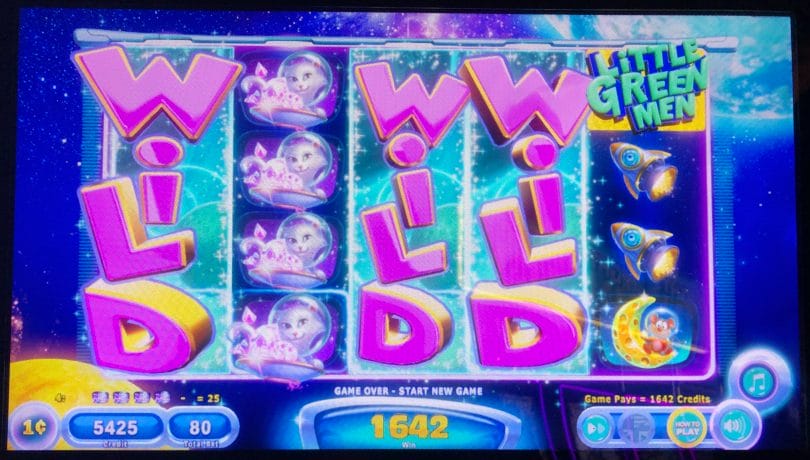 During my time playing with the game it was a very active game, with the Little Green Men coming out regularly and activating multiple wild reels. It made for a fun game.
Free Spins Bonus
Three or more bonus symbols will trigger the free spins bonus. Two or more free spins symbols will retrigger and add spins to the bonus.
Like in the main game, Little Green Men can land on the reels or come out to highlight reels.
Those highlighted reels will also turn wild on the following spin.
Two or more bonus symbols will retrigger and offer additional spins.
Wheel Spin Bonus
During any base spin of the game, a Wheel Spin Bonus can be triggered, bringing down a Little Green Man with a credit wheel, which will be paid and then the base spin completed.
Jackpot Bonus
Three Jackpot Bonus symbols will bring you into a picking game that will lead to a jackpot being awarded. Jackpots are available at all levels, but the odds of getting a higher jackpot increase with higher bets.
Understanding the Advantage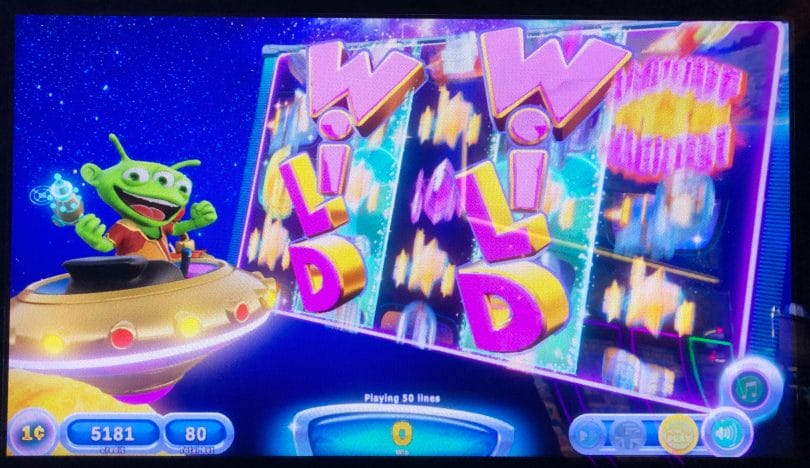 It's all about the Little Green Men and where the wild reels land. If you see a wild reel, it's gone the next spin, so like Icy Wilds or most of the It's Magic series it's about finding games with multiple border highlighted reels, which will indicate a wild reel on the next spin.
Watch and Learn
Slot Savant has a video featuring the game that includes a Jackpot Bonus feature:
Slotlady also featured the game on her channel fairly recently: