One of Everi's biggest hits in recent years has been Smokin' Hot Stuff Wicked Wheel, so it's not surprising that they're back with an extension that takes the concept further. I was able to check out the changes at G2E, as well as meet Coty Goodwin, who served as producer for both the original and this latest effort.
I thought it would be a great game to talk a bit with someone in the know to learn how a slot machine, and particular an extension, comes together. In a companion to this piece coming up soon, the Everi team graciously shared some insight as to how a slot machine comes together in the first place, and what roles are needed to develop a successful slot machine
But today, we'll look at a specific release, in this case the Smokin' Hot Stuff Wicked Wheel Fire & Ice extension, and how it came together, thanks to an interview with Dustin Dies, a Game Designer at Everi's Studio 7. The game, which has recently been released, is just starting to make its way to casino floors as this article is published.
Doubling Up the Fun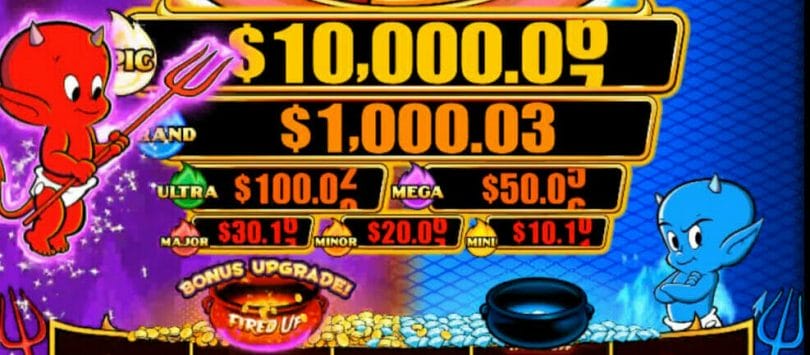 One of the most immediate observations a player will see when sitting down at this title is the addition of a second character, Freezy, with was a natural outgrowth of wanting to bring a second component to the game, starting with another cauldron, linked to a second way into the progressives.
"We wanted to introduce a second accumulator for an extra jackpot bonus," said Dies. "From there, many things fell into place. The game became about 'twos' with two pick bonuses, two nudges of the bonus wheel, and winning two or more jackpots at once. Adding Freezy as another character was a natural fit and made the game twice as fun."
Dies also noted that the addition of Freezy brings some other changes that fans of the original will likely enjoy, such as more classic throwback music to go along with the original "Hot Stuff" song.
"When Hot Stuff and Freezy get together, it is double the trouble," he said. "More wheel action! More picking bonuses! We don't want to bias fans, but Freezy's pick bonus is even better than Hot Stuff's bonus as players can win extra jackpots by finding Freezy's ice cubes. This opportunity to win big, paired with Freezy's own song, 'That's the Way (I Ice It),' is incredibly fun."
Another addition is a mode that activates across the bank, offering the chance to play for bigger progressives. As Dies said, "The extension also features a frequent bank-wide jackpot enhancement called Fired Up Jackpots, a limited-time boost that upgrades the final awarded progressive prize in the pick bonus by awarding the next largest progressive prize instead. We believe the extension is full of new content to delight players."
Fired Up Jackpots targets the cauldrons, and when activated indicates the progressive upgrade is available, enhancing that particular feature of the game.
How an Extension Comes to Be
The process of developing an extension tends to start with a look at what made the original game successful. That work begins as soon as the original game comes out.
Dies said, "For extension themes, we want to build on and in some cases enhance aspects that players enjoy about the initial game and trim away those that did not bring as much excitement. All these design decisions are informed by feedback we gathered on the initial game as soon as it hit casino floors."
They then begin workshopping ideas based on that feedback, and work to figure out what will make for a good next version of a game in the series.
"The biggest benefit in developing extensions is starting with a strong foundation which in some ways makes it easier to produce an extension versus an original game," Dies said. "We are experts on the original game's design and execution; however, we were constantly open to feedback from other game designers at Everi and players as we designed and produced Smokin' Hot Stuff Wicked Wheel.
"In some cases, we took that feedback and applied it to Smokin' Hot Stuff Wicked Wheel Fire & Ice. In other cases, those lessons learned were applied to other games which generated even more feedback. All this knowledge is helpful as we design our next game."
Indeed, the Wicked Wheel wheel design has cropped up in other ways in Everi titles, with their own twists, so you can see how feedback can be leveraged in a variety of games.
Respecting the Source Material
All along this process, one goal for Everi, especially with licensed characters such as the Hot Stuff character, which originated with Harvey Comics, is to tip the hat to the source material while leveraging it in creative ways. Indeed, Hot Stuff in its comic form is mischievous, and that works well when it comes to concepts like upgrading the wheel.
Dies said, "We care for the licensed content that we use as we want to represent the source material well. Our game teams do extensive research in selecting brands. Often, we're starting with content that works naturally well in a slot gaming experience."
In some cases, that means turning the source material around a bit so the game can feature the characters in ways that make them exciting to appear, Dies added.
"We prioritize fun and engagement over being 100 percent on brand. For instance, the Whammy element in the Press Your Luck television game show takes money from contestants and punctuates moments of misfortune, but our team turned that on its head in our Press Your Luck Whammy Riches slot game to make the Whammy's antics benefit the player and highlight good moments.
"With this approach, the Whammy can be the star of the show and used throughout the game. This stays true to the Whammy's impish antics, while also making a fun experience players enjoy."
What This Means for Players
Many times when extensions are developed, they can make a game harder. But the reality is the bonuses should come more often overall than before, Dies said.
"Getting any picking bonus will be more frequent in the extension than in the original," Dies said. "Hot Stuff's bonus will trigger less often to allow for Freezy bonuses, which can award multiple progressives through his ice cube prizes. He's really cool! As a result, the average picking bonus in the extension will award higher pays than it did in the original."
And these changes don't disrupt the wheel experience, which also has been enhanced with the addition of Freezy, Dies added. "The extra benefit Freezy brings to the wheel is adding a second jackpot to a wheel slice, which wasn't possible before. Apart from those changes, the wheel bonus plays like the Wicked Wheel players love."
I thank the team at Everi for sharing their time and thoughts around this extension, which I know many players of the original will be looking forward to playing, and stay tuned for part 2 where we talk about slot development more generally, coming soon to the site!
Smokin' Hot Stuff Wicked Wheel Fire & Ice Slot Videos
Here is an Everi promotional video showing off the main features of the game:
Here is a video shot by RandomSlots at G2E with a preview of the game:
Smokin' Hot Stuff Wicked Wheel and Smokin' Hot Stuff Wicked Wheel Fire & Ice are trademarks of Everi. Press Your Luck is a trademark of Fremantle.