I have to admit when I first saw and noodled with Super Buffalo (and its sister game, Super Dragon), I wasn't confident I'd like it. I had a bit of a rough first go on it and didn't really see much in the way of features.
On my recent cruise I gave the games more time and realized the potential of them, and found myself much more in sync with the concept. The 75 credit bet increments are quite reasonable given the amount of action this game tends to have, and when it's active it can get really exciting quickly.
The base game features reels that tend to favor one premium symbol per spin; that favoritism can help bring out some line hits when enough of the symbols come out at one time.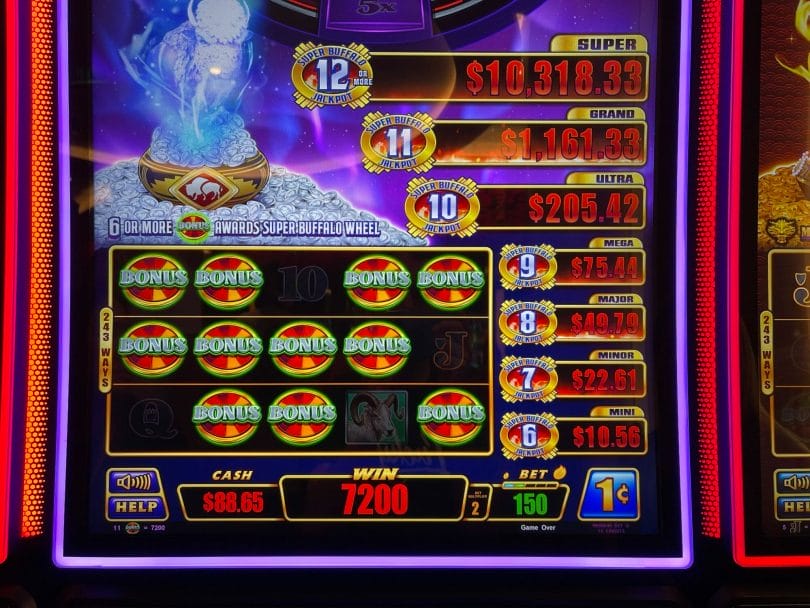 The game also has two other symbols that when they come out in volume can be helpful. One is the wheel symbol; similar to games like Quick Spin, six or more get you the wheel spin. On Super Buffalo, each additional wheel increases the multiplier by 1, up to 10x if you manage a full set of reels with wheels on them. (Super Dragon awards you an additional wedge, which is how the games differ.)
On one session I managed a 6x wheel spin, which yielded a pretty decent offering. Like most wheels the wheels tend to favor the smaller spaces, but getting that multiplier can offset that quite a bit.
The second special symbol is the Super Jackpot symbol. Similarly you need six to win a jackpot progressive, and each additional one awards a larger jackpot. Getting 12+ of the symbols award you the Super Jackpot, which is the game's top progressive.
Wilds are also important, as similar to other games with multiple progressives any wild can trigger a progressive feature. In this series' case, you get a wheel spin. Two wheels actually spin at once; the outer one lands a jackpot, while the inner one either awards it or issues an upgrade.
If upgraded, the one you landed and all ones below it are eliminated from the wheel, guaranteeing a bigger jackpot. You can upgrade up to three times, but it gets harder as each time you upgrade, that spot is replaced with an awarded space.
The variety of features and ways to win are well done, and the game itself is one you can play for awhile, as the line hits offer something helpful between the bonuses. Like any slot it can occasionally get tough, as that first session I had indicated, but there is definitely some real opportunities for some wins too.
Super Buffalo Slot Videos
Diana Evoni had a winning run playing both Super Dragon and Super Buffalo (where she had a first spin bonus):
TheBigPayback got a handpay on the game: