Ainsworth continues to experiment with different formats, and some of this year's games head in some new directions that I personally think have some real promise.
The games don't seem to follow in the path of other ones, instead offering some unique directions that can draw in players.
Here's some of the games I checked out at their booth during G2E.
Ultra Shot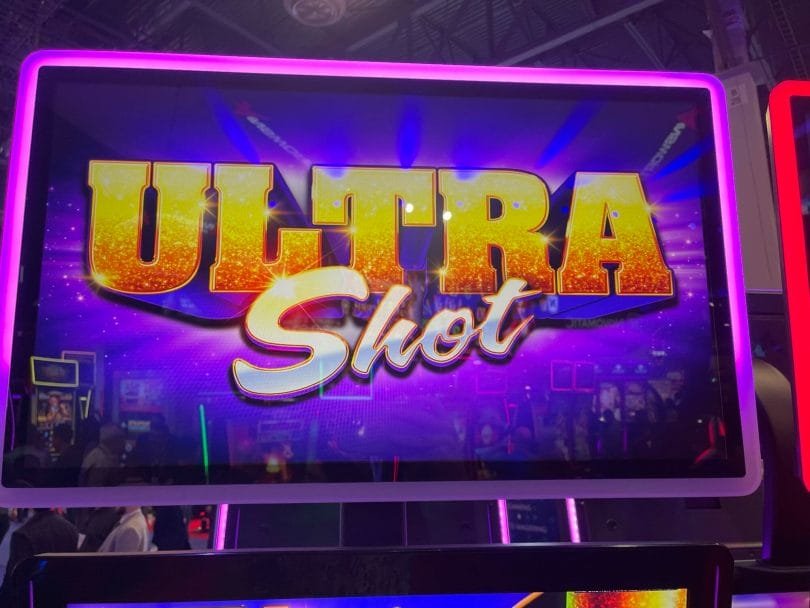 There are two themes, Tiger and Panda, that carry forward from the Double Shot games they previously released. It's a multi-denomination game that ranges from pennies to $2 denomination and feature two bonus prizes that scale with denomination. The games feature stacks of wilds across the reels.
Six or more coins trigger the Ultra Shot feature. It's a feature with levels, where if you fill the stack on the screen by collecting coins, you move on to the next level, which doubles the prizes, and so on. As you go along, you collect all the prizes, and if you manage to complete the triple level, which is the final level, you win the Grand jackpot progressive. Feature triggering averages every 40-50 spins.
Each theme has its own free games bonus, which is pretty standard for how game makers differentiate the games nowadays. Panda's may resonate as it has a volatility choice, similar to Panda King, another Ainsworth game, with a similar mechanic in the bonus.
Thunder Cash 3-Reel
An interesting scenario was on display at this year's booth, with a new Thunder Cash game, but in a completely different format and structure.
The game will be a high denomination and multi-denomination game, with two must hit by progressives on there.
The symbols are watermarked with multipliers, with the chance to hit up to 125x your prize if 5x appears on all three reels. There's no bonuses are features, so all the money is in the line hits.
They do have three colors of Thunder Cash, and they can mix and match. Same goes for three types of 7s and three types of bars. But each has a mixed ymbol pay opportunity.
Thunder Cash 3-Reel Video
RandomSlots got a walkthrough of the game:
Strike it Gold
The game that most caught my eye during my booth visit there was Strike it Gold, which appears to be a proper Megaways conversion for a casino floor. The six reels, the extra symbol above each of the middle four reels, and all the trademark scenarios are there. This game features cascading reels, so when a win occurs, those symbols disappear and more drop down.
I met the designer of the game at the booth, who told me this was based on a popular Megaways game that is offered through Novomatic's Greentube service. (Novomatic is a sister company to Ainsworth, as they own a majority stake of Ainsworth.)
The game adds a couple of key additions that will likely make it more valuable for casino floor players. One is the ability to make an additional ante bet of 50% that will triple the frequency of the free games bonus.
The other is a pair of Must Hit By progressives, another common Ainsworth feature. One must hit by $300, the other by $3,000, not bad on a penny machine.
The free spins is a pretty standard Megaways free spins bonus, with each win cascading and raising a multiplier by 1, so enough line hits and it can get pretty interesting fast.
Cash Stacks Gold Mustang Spirit
Cash Stacks Gold features a number of elements. One is the ability to instantly win cash on reels prizes when a dollar sign appears on reel five.
The main feature is called Hold 'n Stack, triggered by three or more symbols. You get five spins to land more orbs, or free games. Filling an entire stack will yield an additional prize, displayed on top, but those prizes grow with each spin, so winning them later in the bonus can make them more valuable. Each orb will also award a credit prize at the conclusion of the hold 'n Stack bonus.
Each Cash Stacks Gold theme also has its own free games feature. For Mustang Spirit the wilds have multipliers on them. You can also trigger the Hold 'n Stack feature within the free games.
The game features up to $2 denomination; the game originated in Australia but they added the higher denominations for markets like the US.
Mustang Spirit and its sister, Action Dragons, leverage themes from the Ainsworth library, so the free games features will be somewhat familiar to fans of those older games.
Cash Stacks Gold Mustang Spirit Video
Here is RandomSlots' walkthrough of the game:
Treasure Spirits
Treasure Spirits will look familiar to those who just reviewed the last game with me. This series shares the Hold 'n Stack feature that was in Cash Stacks Gold. The big difference is that this is an all ways pays format, whereas Cash Stacks Gold is a lines-based game.
As the prizes grow on the top reels, the Major and Grand can come out and be awarded with a full reel stack of symbols.
This game also shares a full fifth reel stacked symbol, and when a cash on reels prize (including the Mini and Minor) and that stacked symbol lands, you are instantly awarded the prize. So you can think of Treasure Spirits and Cash Stacks Gold as siblings in the same family, just with variations on a theme, as it were.
Treasure Spirits Video
RandomSlots got a walkthrough of this game as well:
Other Ainsworth at Global Gaming Expo Videos
Fantini Research got a walkthrough of a number of games, including Treasure Spirits, Ultra Shot and Cash Stacks Gold: