In my efforts to find mechanical reel slots on the casino floor I love to play, one has called me back repeatedly since I've been paying more attention. Sizzling 7s is a concept that is time tested and popular, but the Super Spin version adds on a whole bunch of random fun that livens up the proceedings.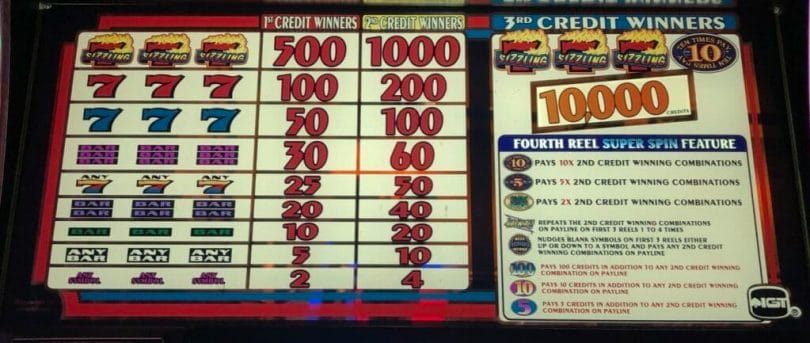 This is a really old example of a more/better bet – you're paying a third coin for the upgrade on that fourth reel (as well as the top payout of the game, which jumps substantially).
But that third credit activates a fourth wheel that includes:
Multipliers of 2x, 5x and 10x on winning combinations
Haywire feature that can repeat the win 1-4 times
Mystery Reel Nudge that will nudge the reels into a winning combination
Credit bonus prizes of 5, 10 or 100 credits
With all sorts of mischief possible with that special reel, it does quickly add some excitement to the proceedings, while also slowing down your betting a bit to factor in that fourth reel.
Because it's based on the Sizzling 7 format, you can win with mixed 7s or win more with matching 7s, which can bring some good pays as well, especially when added along with the multiplier.
The same can be said for the mixed bars vs. matching bars, when you can hopefully also pick up a multiplier.
The additional action certainly keeps the game a bit more interesting, but like video slots where you're betting more to up the ante on a feature, this is basically doing the same.
But for those who find standard three-reel slots a bit too dry, this is an example of the creativity slot designers had even back then to liven up the proceedings a bit within the format they had.
Certainly for me, this one has been a fun, active game with payouts that seem to come at a good clip, keeping the fun and excitement going.