One of the earliest pieces I ever wrote on this site was about the complex, unusual, yet fascinating betting options that exist on the Dancing Drums slot machine, and two years later it remains one of the most consistently read pieces on the site.
Other articles I've written on the topic have been popular, and given the game remains popular in casino floors, I thought it might be beneficial to tie all the posts together into a single location.
Understanding the Basics
My original post on the topic talked about the betting strategies, given the ability to select gold symbols as well as line bets, and how that impacts progressives access and line pays.
What Makes the Pot Close
Some players aren't always sure how the progressives work on games like Dancing Drums. What makes the pot close? I get into the basics of how this works, and why higher betters still get a lot of Mini progressives.
Extreme Low Rolling
Did you know you can wager as little as 8 cents on a penny denomination Dancing Drums Machine? Or 80 cents on the dime denomination high limit version? By saving 90 percent of your wager and extreme low rolling, you can up the line pays, or get a lot more mileage.
Low Rolling in High Limit
I go into more detail about that 80 cent high limit bet, and share a 100x bonus caught on film when I was playing next to a slot channel in the high limit room.
Dancing Drums Progressives vs. Denomination
A player asked about betting max on pennies vs. minimum on dimes – both are $8.80 but one has 10x the progressive sizes than the other. What does that mean for game play?
Are the Dancing Drums Progressive Picks Predetermined?
Yes. But it doesn't really matter. And you can also read this article to (generally) tell if a picking bonus is predetermined.
Beating Your Neighbor to a Progressive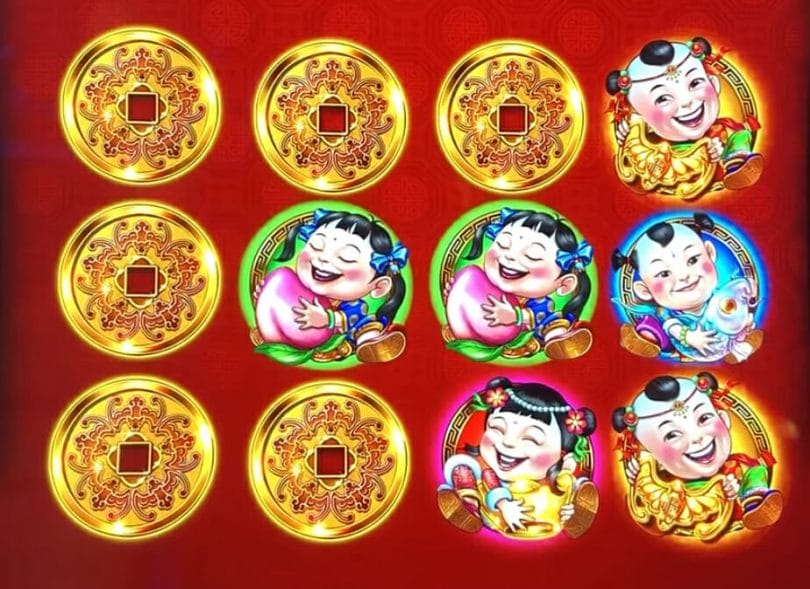 Games like Dancing Drums don't freeze and award the progressive until the third of a kind is picked, even though the bonus underneath is predetermined. So knowing that means you can beat your neighbor to a prize.
Sister Machine: Double Blessings
Double Blessings is a sister machine to Dancing Drums and many times is banked together in terms of progressives. But they do have some key differences that can make the difference in how you play them.
Original Dancing Drums vs. Explosion
The first true sequel to the game is Dancing Drums Explosion, where a gold symbol can enhance the progressive pick and the free spin bonuses. Learn more in this overview of the differences.
Dancing Drums Reels: Mechanical Reels Version
A bit more of an unusual sequel came out called Dancing Drums Reels, which plays on a five mechanical reel version. The bonus round can't have taller reels, so it shifts to using multipliers, similar to reel versions of 88 Fortunes.
Dancing Drums Prosperity: More Slot Sequel Issues
Dancing Drums Prosperity features the ability for the reels to go taller on base spins or the bonus, has the same bet panel options as Dancing Drums Explosion, and sees some pays watered down to make room for those taller reel pays.