Unlike the other two classic Wheel of Fortune video slot machines I reviewed last week, Classic and Lucky Spin, there's another version of Wheel of Fortune video slots on the same cabinets that doesn't share the pay symbols or anything like that, nor does it have anything after the name – it's just Wheel of Fortune.
But like the other two it does feature a couple of bonus opportunities, and one includes that classic wheel. One thing that maintains symmetry with the other games is the use of the Wheel of Fortune logo as a wild symbol, and it doubling the pays when present in a line hit.
As far as the wheel bonus itself, it's harder to trigger – you need five wheel symbols on a line. The other games let you spin with three symbols. But the bonus is structured differently than either of the other two games.
First off, you pick a letter in the world wheel. The letter picked will determine how many spins you get to start off with.
You can start with anywhere from 2 to 5 spins. Start with is the key word here, as this time out the wheel is set up a bit differently.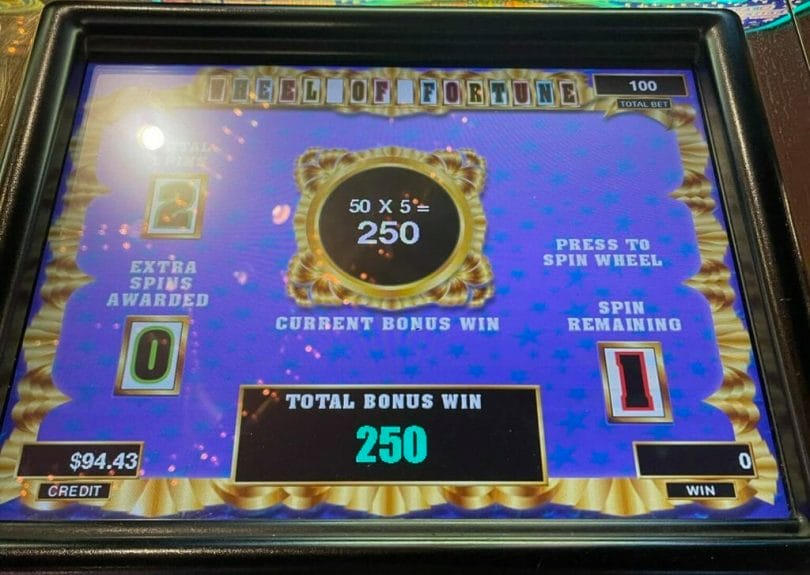 Most of the spaces have the standard multiples of your bet multiplier. However, two spaces have "Extra Spins," which will award you the same number of spins you started with, from 2 to 5 spins. This creates a more open-ended bonus if you keep retriggering, especially on a higher spin count.
Technically the game can go as far as 999 spins before it hits it limit, although that would be exceedingly rare. But this certainly creates a different opportunity than the other two games, and is why the five trigger bonus is likely there – it's going to be at times much more lucrative than either of the other games can be.
There's also a vault bonus – land three of them on the middle three reels to get a pick that awards between 5 and 25 times your total bet. It's easier to hit, and less lucrative accordingly, but it's nice that there's a bonus and a feature like the other two games.
Wheel of Fortune Video Slot Videos:
RandomSlots comes through with a video of the game, hard to seek out given the lack of a tag on this version of the game to differentiate it from the others. As always, he incorporates the pay table information, and has an example of the Vault bonus.