Articles about Lightning Link and its sequels, Dragon Link and Dollar Storm, have been a popular series here on the site. As part of celebrating one year, if you're new to the site and haven't seen all of the write-ups on the game, here's a round-up to help you find it all!
Lightning Cash vs. Lightning Link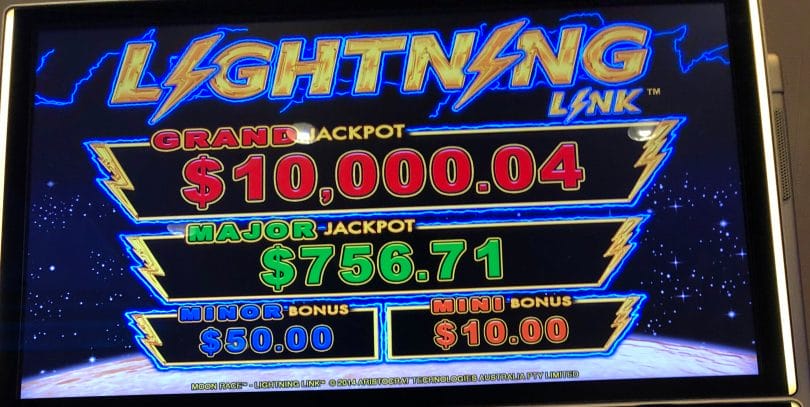 The games look identical, but they have a difference in name so something must be up. What's the difference between Lightning Cash and Lightning Link? It's actually quite simple.
Ways to #landthegrand or a Major
There are actually two ways to win a Grand progressive jackpot on Lightning Link, but it may not be obvious unless you take a look at the pay table. Here's a summary of how you can win the Grand or the Major on Lightning Link.
Does Seeing Balls in All 15 Spaces Guarantee a Grand Jackpot?
This one has come up a lot, and thanks to some recent slot channel uploads, we have a more concrete answer. See if balls spinning in all 15 spaces actually guarantees the Grand.
The Free Spin Bonuses
With a dozen Lightning Link variations out in the United States, and even more variations when you add up Dragon Link and Dollar Storm, there's a bonus type for every taste. Learn about each of the bonus round types and what each brings to the table.
Super Grand Sequel: Dollar Storm
Dollar Storm is the latest direct sequel to Lightning Link, but changes to the game make it tougher than its predecessor. Here's a rundown of what changes to expect when you play the game.
Does Changing Your Bet/Denom Have an Impact on Odds of Winning Progressives?
While not specific to Lightning Link or its sister games, a common question is how changing your bet or denomination impacts the possibility of winning a jackpot, especially the top progressives. Learn how progressive chances are impacted by bet/denomination changes.
The Latest Sequel: Lightning Dollar Link
Last fall Aristocrat introduced its latest iteration, Lightning Dollar Link, which adds in the potential for double or triple payouts for the Mini, Minor and Major, opening up a whole new field of opportunities.
Is the Hold and Spin Bonus an RNG-Driven Bonus?
Players have often asked me if the Hold and Spin bonus is truly driven by the random number generator. I confirmed with members of the Aristocrat team last fall that they are indeed RNG-based, so when you hit that button does make a difference.