Aristocrat has long been known for developing games that are sufficiently volatile, but balanced in ways that ensure the games are still fun. Their Buffalo series of games is a hallmark, and Lightning Link is a more recent example.
One of their most recent examples is the Wild Wild series, which features now four themes (two of which are recently released) and the premium game Tarzan, which uses an adjusted version of the model.
The themes in the baseline Wild Wild seriesare:
Wild Wild Nugget
Wild Wild Samurai
Wild Wild Emerald
Wild Wild Pearl
My review will focus on Wild Wild Nugget, which is the game that's seen virtually all of my play so far, but the other games in the series (excepting Tarzan, which has its own twists) pretty much follow the same format and math model.
Understanding the Game
The Wild Wild games are 5×3 reel sets by default with Aristocrat's Reel Power format, which means all ways pays. Combined with stacked symbols, this indicates some volatility. The game bet is in 50 credit increments; the highest I've seen is 500 credits.
In an unusual scenario, wild symbols only appear on the first two reels. They are a critical part of the Wild Wild feature, but also since they're on the first two reels and come out relatively frequently, can help provide some line hits.
Decisions like this create an interesting level of volatility in that there's a credit feature akin to a Lightning Link as well as a free spins bonus, but you can get some decent line hits as well, such as the 90x line hit seen above.
This ability to have some great stuff happen even at the line hit level makes the game pretty exciting even without a bonus, and why I tend to put $20 into a machine most casino visits where I find one.
Wild Wild Feature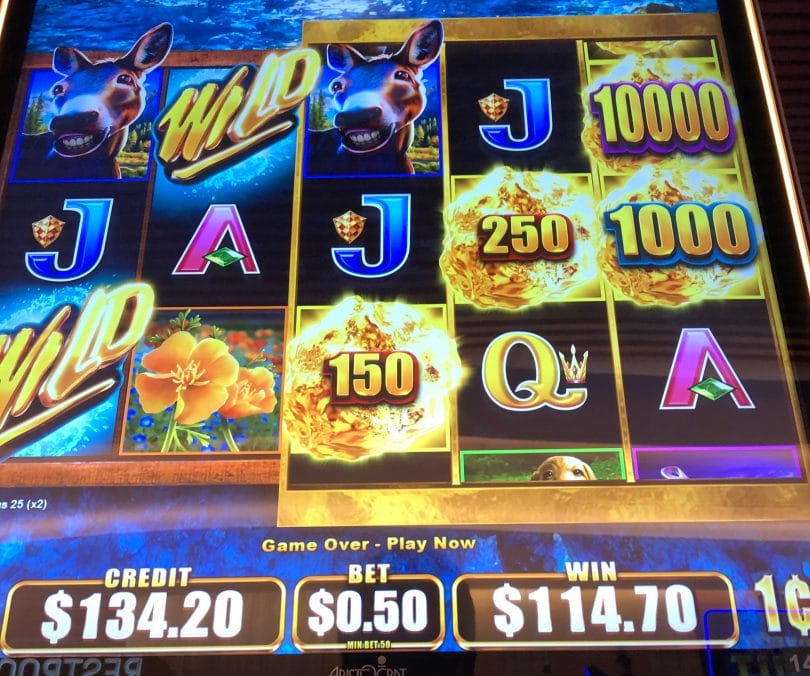 Landing the Wild symbol on reels 1 and 2 trigger the Wild Wild feature. The 3rd, 4th and 5th reels can grow taller to begin the feature. Then after suspense spinning, the third reel lands. If at least one nugget appears in this reel, the 4th reel suspense spins. If a nugget appears there, the 5th reel in turn suspense spins.
Any nuggets you land in consecutive reels in this feature are awarded as listed as credits. The nuggets in each reel have progressively larger credit amounts:
Reel 3: 100,150 or 250 credits times your line multiplier
Reel 4: 250, 500, 1000 or 5000 credits times your line multiplier
Reel 5: 1000, 2500, 5000 or 10000 credits times your line multiplier
The nuggets can be stacked as well, so you can land multiple on a single reel. Plus the wilds still can connect with other line symbols so if you end up with a stack of them, it could still be a nice consolation prize for that spin.
Free Spins Bonus
Three or more free spin symbols trigger 15 free spins. The two wild symbols on reels one and two become multipliers, which can be x2 or x3. Like the base game, two wild symbols will trigger the ability to land nuggets with credit amounts on them, and follow the same process as the Wild Wild feature above.
But, these nuggets, along with any line hits, are now multiplied by 4, 6, or 9 depending on which multipliers landed on each reel. This can make the bonus juicy quite quickly.
Watch and Learn
Here is a video from TheBigPayback featuring Wild Wild Nugget:
And here's a video from Diana Evoni:
RandomSlots has the pay table screen shots and some live play, as usual: