Continuing my tour of Atlantic City casinos, let's talk today about Bally's Atlantic City, which was one of the first casinos I visited when I first visited Atlantic City five years ago. The casino has certainly seen better days, but there's definitely things to like about the property.
It was recently announced it was being sold to Twin River, which could very well lead to some pretty drastic changes with time. I think this will ultimately be a good thing. But let's look at where it stands today.
Slot Machine Selection
This has been evolving, but not necessarily in a direction I personally favor. Five years ago they had a ton of classic machines and was one of the best places in Atlantic City to find them. Paradoxically one of the newest casinos, Ocean Casino Resort, now has more of them it seems, likely because the machines are just reaching the end of their life.
Sister property (for now) Harrah's still has plenty, but you have to leave the boardwalk zone to get there. What Bally's does have going for it (also for now) is two main slot zones – the main floor by the main hotel tower, and a side section in Wild Wild West, Coyote Kate's Slot Parlor. When Bally's sale completes, the Wild Wild West section will officially become part of Caesars. There's also a high limit room near the hotel lobby.
The Wild Wild West section is pretty small; there were a lot more slots but those were taken out in favor of a party pit vibe near the low limit tables. But the Slot Parlor section has a fun mix of old and new machines. The main slot floor has a large high limit mechanical reel section, a Lightning Link lounge, a couple of pretty sizable video poker sections and then some other slot machines.
There's a good mix of denominations so nothing to fear there.
Table Games
One selling point of the Wild Wild West area is a set of low limit tables, including craps and blackjack. Their main casino floor has a lot more tables, but at higher limits (for instance, craps is normally $10 minimums in the main section vs. $5 in Wild Wild West). There's a decent number of table games in a few clusters in the center of the casino floor.
I've found the environment on the Wild Wild West side to be quite fun – with the lower limits it tends to be more laid back. In the main casino it can vary – there's some serious players who get quite worked up in either direction and seem to be there quite often, and then there's those who are visiting or on vacation that are more laid back.
I've played table games quite a bit there and have enjoyed myself.
Hotel Rooms
There's so much diversity within this property because it's been built in stages. The historic Dennis Hotel were the original rooms to the property. They've certainly been modernized since the hotel was built, but as it stands today are probably among the oldest room stock in Caesars' Atlantic City inventory. I stayed in the rooms five years ago and they looked worn, and not much has happened to them since. They're in pretty dire need of a basic overhaul.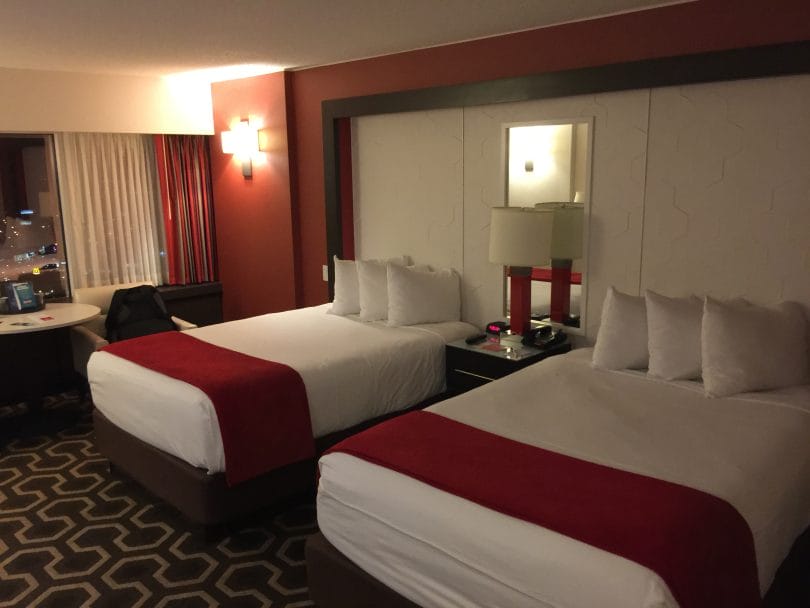 My second stay was in the Jubilee rooms, which are more recently renovated rooms on the upper floors of the Bally's Tower. These shared the name of the same rooms that had been renovated in Las Vegas at the time. They were definitely comfortable rooms and felt more modern.
My stays more recently have consistently been in the lower floors of the Bally's Tower, and those have been quite comfortable as well. I've been assigned corner rooms a couple of those times, and those are fantastic, with a bathroom with windows looking out too.
Casino Comp Program
Bally's Atlantic City is as of right now part of the Caesars Rewards program, and as a national program it has its pros and cons. The ability to reach a tier and get financial perks such as no resort fees and a celebration dinner is unlike any other program. But the need to earn $5 a point for slots or $10 a point for video poker is among the most difficult.
Fortunately, in Atlantic City multipliers are run quite often, taking the edge off of these requirements. Atlantic City's casinos tend to be run like local properties with rewards like bounceback offers, which can also make a visit a bit more welcoming.
It remains to be seen what this looks like once Twin River takes over, but I'm sure they've got ideas on how to manage it.
Overall Thoughts
The space is pretty underused, given it's also connected to Wild Wild West and Caesars, massive spaces in their own right. My hope is that Twin River can make the most of the property and breathe some new life into it, just as Hard Rock did the Trump Taj Mahal.
But having said that, it's still one of my go-to places to stay and play. There's something about it I enjoy, especially late at night; I don't mind the party pit atmosphere of Wild West on a weekend night and have spent many a late night in the Bally's section playing old favorites or camping out on a video poker machine.
It's likely going to change drastically in the coming years, and desperately could use it, but Bally's has an old school vibe that draws me in, all the way down to the buzz of the neon from the boardwalk entrance of an otherwise usually empty staircase. Like other AC properties that were due for a make-over, it's probably worth one last visit before the changes begin.