Gaming Arts has been building its brand in recent years with games like Pop 'N Pays, which featured a handful of themes with a prize mechanic that paid whenever certain symbols appear on the reels. With an extension, Pop 'n Pays More largely sticks to the success of the original, while adding a few new twists.
One twist is to offer a theme featuring slot influencer Brian Christopher, who at the time of release had a cumulative audience of about 1.5 million followers across his various social media platforms.
While slots have been made around popular themes in the past, this is the first initiative that partners with someone in the YouTube gaming space. The partnership comes with a roll out and set of events across multiple states, many of which are at casinos that have been popular with Brian Christopher's fans.
But you still need a good game, and fans of the Pop 'n Pays series will find a lot to like. The traditional base game feature of popping symbols returns, which need to fall on two or more consecutive reels. In this game it's Christopher's face; wilds, as always, can substitute. Each symbol when they come out successfully pops to award either a credit prize or a progressive.
One new feature is if you only have one on one of the first two reels, the game can surprise you and slap another one where you need it to be awarded the prizes. Another is that the reels can expand on any spin, which gives you more ways to win given this is an all ways pays game.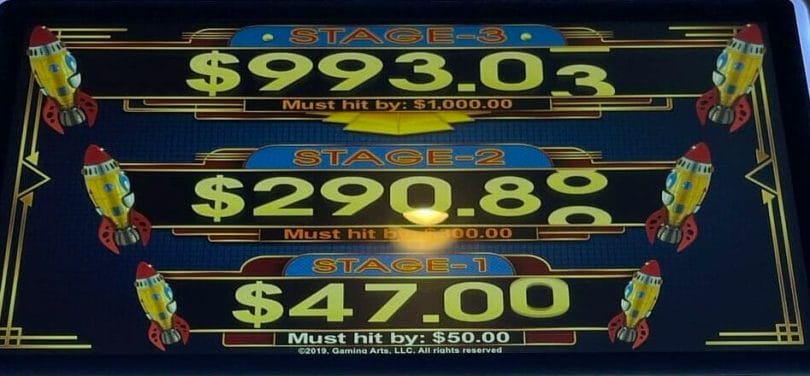 Like many Gaming Arts games, there is a mandatory ante bet that feeds the rocket progressives, which are three must hit by progressives that are linked among the bank of machines. They're set up that they come out relatively frequently, so they are a bit more important part of the payout potential than others of its type.
Three or more coins get you the bonus, and the bonus works effectively identically to the previous Pop 'n Pays games.
A popping symbol can yield two or three prizes; on Brian's face his hand pops up next to his face holding up two or three fingers to indicate the additional prizes.
Being that it is themed to Christopher, there are some additional Easter eggs. For instance, touching his animated face above the reel set will yield a quite appropriate response for him. He calls out prizes like the progressives. He roots you on when you get the second bonus symbol and are trying for the third.
In the settings menu, there's a coin with his picture on it. Clicking it will also yield some fun moments for fans, with a variety of sayings mixed in.
As far as game play itself, like the rest of the Pop 'N Pays series and Gaming Arts games in general it's a volatile one, so expect some ups and downs as you play. Pays are spread out across line hits, Pop 'N Pays features, the rocket progressives, the game progressives and the free spins, so there's a lot of money spread around – you just have to line it up.
The graphics are quite good overall, well executed by Gaming Arts. There's a lot of attention to detail, including on the animation of the expanding reels, the various reel symbols coming to life and so forth. There was definitely some effort put into making this a visually attractive game.
I was there for the world premiere at Plaza, and have seen the bank pretty busy consistently, so that is likely to bode well for the future of this game and the Pop 'N Pays series in general.
Brian Christopher's Pop 'N Pays More Slot Videos
Brian Christopher debuted the game live on his channel:
After his live he got his first handpay on the game:
Vegas Confessions Podcast played the game as well: