As this article goes live, I just completed my second cruise with Royal Caribbean. Last year, I sailed on Brilliance of the Seas, and this time I was on the much larger Oasis of the Seas.
Since I write a lot about Advantage Play conditions in casinos, I thought I'd take advantage of this latest cruise on a recently renovated ship to talk about the Advantage Play conditions I found while on the ship. It surprised me a bit at first, but after thinking about it I think what I encountered makes pretty good sense.
There Were Limited Options
With Oasis only having about 500 slot machines, I'm sure it doesn't come as a surprise that there were not a lot of Advantage Play slot options. That said, there were a number of them, including:
That last one was a nice surprise – Wheel of Fortune games tend to be popular, and the 4D version was one of my strongest Advantage Play slot machine options that I encountered in Las Vegas in December.
There Were Plenty of Opportunities
I found opportunities on a number of the machines. It was clear many of the players on the boat (which included a large group of slot players I was with) wasn't looking for these scenarios, and/or was leaving them behind. I of course don't mind hunting a bit, and found a number of them.
The Ocean Magic/Dragon Sphere pairings were pretty strong for me. In a number of scenarios I found a number of bubbles left behind in good positions, and as I was playing them off the machines started sending a lot more bubbles out, keeping the play alive.
There were a number of these games on the ship, so that also helped, given a diversity of options to select from.
There were only two Wheel of Fortune 4D games, and I did find scenarios where wilds were left behind, albeit not generally in the first two reels. A wild farther to the right can potentially derive value, but the game has to line up better. This leads to my next point…
Lower Paybacks Had an Impact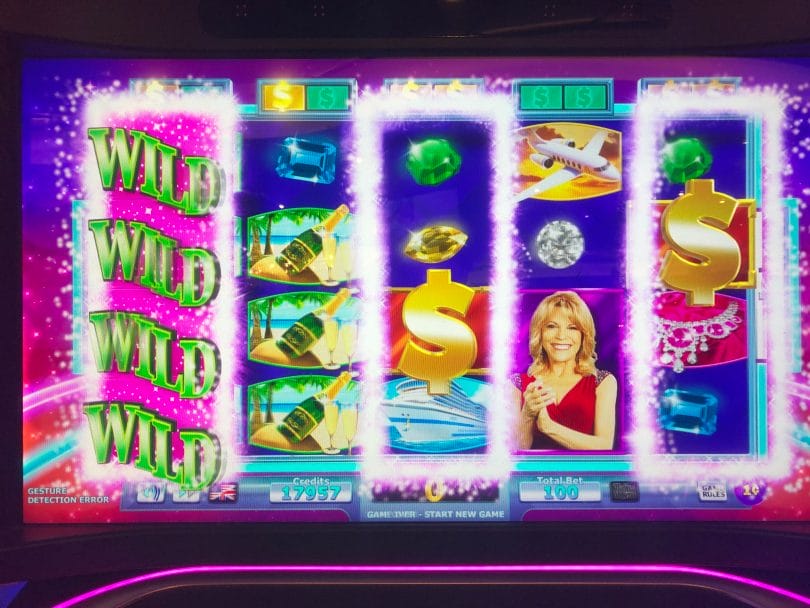 I've written about how cruise ships tend to have lower payback than their land-based casino counterparts. This has a meaningful impact on Advantage Play slots. For games like Ocean Magic, the bubbles act as wilds, so if they're in the right positions they can still derive value.
When you've got a scenario like a $ above each reel on Wheel of Fortune, it plays out differently in practice on a cruise ship vs. on land. I find I have the ability to convert that scenario into a decent play more often than not on land, but on the cruise ship it kept giving me one, and before giving me any others replacing the fifth reel's $ and putting it back where I started.
In the image at the top of this section, I didn't connect anything on reel 4. with the one spin with all three active. With wilds on 3 and 5, the second spin yielded no win at all.
Somewhat better scenarios like the above occasionally worked out, but I didn't even get 10x on either spin.
It's Still Worth Pursuing
My Advantage Play attempts still ended up above even for the entirety of the cruise, padding my bankroll a bit. That said, it wasn't nearly as successful as my recent trip to my local, or my trip late last year to Las Vegas.
But if you see an Advantage Play machine, it doesn't hurt to check and see what's going on. You still might find some opportunities to give you a bit more to work with on your trip.