My recent post on Fu Dao Le sparked a lot of interest from many players of the game, and as I noted in the write-up it's stood the test of time. So it's probably of no surprise that a sequel, Fu Dao Le Riches, popped up more recently.
All of the core features of the original Fu Dao Le game are still here:
The game is an all ways pays game with a base game of 243 ways to win on a 5×3 reel set.
A wild stack appearing somewhere on reel 3 will fill the reel, and potentially trigger a progressive pick bonus, which is predetermined (and says so on the pay table).
The Red Envelope jackpot is awarded if two spaces with the Red Envelope symbols land on a single spin.
The three coin bonus symbols are on reels 2, 3 and 4, but also act as wild symbols.
The babies tell is also here to let you know that Good Fortune has arrived.
Where the big changes occur is when you land the bonus. The actual trigger is the same, getting those three coins on the middle three reels. But the bonus round is new and different, and what makes this game stand out.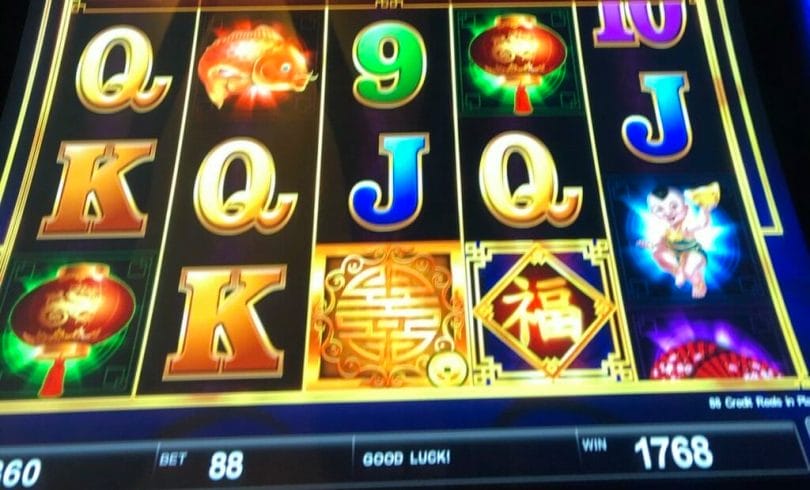 This time, you have a 5×6 reel set, but with the top half locked up. When a small coin symbol appears on one of the reel 3 spaces, it unlocks a reel. Three coins symbols will unlock the entire top half. It's a bit rare, but not impossible, to do it. The top half of the reels lock again before each spin.
Like the predecessor game, gongs on reel 5 add a spin, and you can get quite a few spins if they're generously landing – on a recent bonus I broke 20 spins.
As always, the game is all about the stacked/clumped symbols and getting a strong all ways pays win with a lot of symbols stretching across the reels, as is the nature of these style of games. With a bonus that extends the reels, it certainly enhances the bonus.
The quirky bet panel options continues here, but I've seen it in two forms, one that continues to list a 38 credit minimum bet, and one that starts with a 2x line multipler at 88 credits. The bet steps are uneven, like the previous version, and hte pay table says the probability of symbols appearing changes with bet, a likely need to rebalance things based on the fact that the bet steps vary in what goes into them.
But the game is fun, has a lot of potential like its predecessor and manages to enhance what made it special.
Watch and Learn
RandomSlots has a video with a bonus and the pay tables:
Brian Christopher had a good run on Fu Dao Le Riches:
Here is a solid session from TheBigPayback: