Gaming Arts is another company that has been building momentum in recent years. The Pop 'N Pays series has recently seen a sequel, Pop 'N Pays More, which includes a theme of Brian Christopher to go along with two existing popular themes, Big Top and Pinatas Ole.
While those games were prominently on display, they had other games being shown off as well, with some really unique directions. Here's what I saw at G2E.
Lucky Pick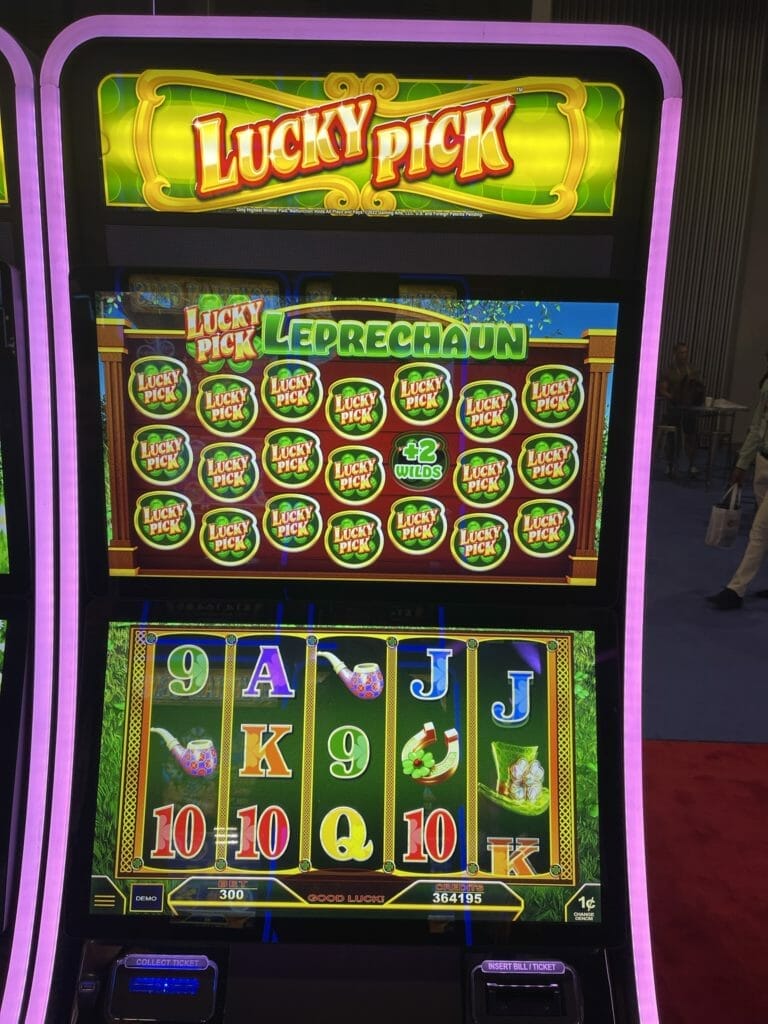 Lucky Pick has a unique true persistence feature at the core of what makes it special, in that when you get a Lucky Pick symbol on the screen, you get to go to the punchboard where you are awarded wilds, credits, free games or multipliers. However, they are not awarded until you get the free games.
So finding a machine that has some of those picks revealed and waiting for a free games bonus can be advantageous over one that doesn't have anything revealed.
Tic Tac Go
This one has a more unusual 3×3 grid for the reels, although it makes sense given the Tic Tac Go theme. Each space is its own reel. Xs and Os can appear, which then are placed in their corresponding spot above the reel set. Getting three in a row of Xs or Os pays out the credits in that line, and resets the Tic Tac Toe portion of the game.
It also features free games, which carry forward the Xs and Os format. If you have at least three at the end of the bonus, you get to pick for a chance to win one more bonus prize.
Tic Tac Go Video
RandomSlots got a walkthrough on this game:
Winning Wings Fairies
Gaming Arts is offering a hold and spin game model with Winning Wings Fairies, but there's a couple of differences. One is the game only requires five cash on reels symbols to trigger the bonus.
Another is that there is a true persistence element in that the cash on reels move down one space per spin, until they fall off the reels. By sticking around they give the player a chance to still complete the five and get the hold and spin bonus.
In the free games, the hold and spin chances increase, yielding a possibility of the bonus in the bonus.
Winning Wings Fairies Video
RandomSlots also got a walkthrough of this game at the Gaming Arts booth:
Jackpot Go
Along the same lines at Tic Tac Go, there's an element above the reels which are bingo balls. You can randomly select the bingo balls, or change them to your lucky numbers. If the game pulls up the balls that match your numbers, you win the prize connected to that number.
There are red, blue and yellow balls; red appears on reel 1, blue on reel 3 and yellow on reel five. You could set the numbers that if you get all three numbers, you win all three progressives. (Up to three numbers can appear on each of those reels.)
Quick Go is another feature, you can pick three numbers and attempt to match them. If you match, you also inherit the multiplier that appears above the reel where you matched.
Jackpot Go Video
Here is the walkthrough that RandomSlots did on the game:
Ocean Phoenix
This game is a truly left-field scenario, a not-a-slot slot that basically is an arcade-style shooter that can lead to power-ups and prizes for defeating mobs on the screen. You can rapid fire and each shot fired is a wager.
It's deemed a perceived skill game, although you do get to select the target you're aiming for. You can also set it to automatic shooting, at least you could on the demo that we saw. The game was already on display at Pechanga and was going to be introduced to more markets at the time of G2E.
Ocean Phoenix Video
RandomSlots got a demonstration of this tabletop style game:
Other Gaming Arts at Global Gaming Expo Videos
Fantini Research did their booth walkthrough, and featured Lucky Pick, Brian Christopher's Pop 'N Pays More and Ocean Phoenix: