I've written quite extensively about the Quick Hit series by Bally, now a unit of Scientific Games. The series tends to often times be a lower volatility play, with the chance to get at five different progressives.
But Bally didn't just create one game with that sort of structure; Hot Shot takes quite a different approach to the progressives, but with similar bet levels and regular features, it's another winning series from them that gets a regular revisit with new and updated variations.
But today, I'm looking at the five mechanical reel version, which is of the same era as the five mechanical reel Quick Hit machines. The version I played here had 20 lines and a $2 max bet.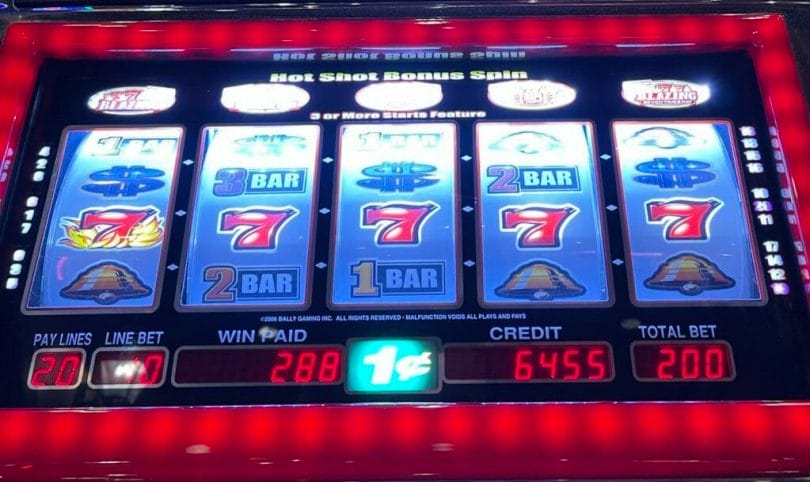 Like its step-sibling, there is money to be found in the base game. Five mixed 7s pays 25x your bet, for instance.
The key to this series is the frequent Hot Shot features. Three or more feature symbols (each which are a logo that goes along with one of the Hot Shot Progressive reel sets) will trigger a spin of each game whose logo appears. One game is connected to each reel, and so you can get up to five spins, one on each of the five games.
The feature game reels spin on a monitor above the mechanical reels. The pay table is displayed, and depending on what you land, it could be a winning or losing spin on each, so getting the feature doesn't guarantee anything (hence why it can come out a lot).
The progressives build in a similar way to Quick Hit – 10x starting stake for the lowest, then 50x, then 100x, etc. And you can only win them if you're max betting. In my session on this version I won the second progressive up, which was a bit over 50x my $2 wager.
Like Quick Hit, different variations existed, and was very flexible in configuration. The hit above was on a nickel denomination, 15 line, 45 max credit ($2.25) version for an over 100x win off of the feature.
This one's another that I enjoy playing on occasion when I'm up for a game that has a chance at some big wins, but isn't necessarily overly tough. The games have been built as mechanical reel slots, video reel slots and more but follow the same template.
Hot Shot Progressives Videos
Jon Jon Lannen played the game on a version with a $1 max bet:
Adam's Slot Channel highlights a couple of features on $1.50 max bet in this video: