Game: Joe Blow Gold
Manufacturer: Aristocrat
Advantage play potential: Medium-Low
What Makes it Special: Wild reels with three dynamites captured in a reel; getting another reel with three dynamites with wild active resets the count for existing active wild reels; persistent state reels for each bet
Joe Blow is a pair of Aristocrat games with persistent state reels. With Aristocrat being a generally volatile game design company, the Advantage Play here can be a bit tougher to realize a positive outcome from, but there's some potential for some awesome hits as a direct result of the persistent reels component.
Today's write-up covers the Gold version of the game, another write-up featuring Diamonds is available separately. While the persistent state mechanic is the same, there are some critical differences between the two, so they're not outright clones.
Understanding the Game
Joe Blow Gold is a 5×3 set of reels with 30 lines evaluated against a 60 cent bet structure. While it may seem like that should amp up the line bets, the line pays are actually more anemic than other Aristocrat games for poker symbols and so forth.
The main reason for this is it has a Persistent Wilds Feature that we'll explain shortly, that brings wilds to the forefront pretty often, and many times multiple wilds.
There is also a free spins bonus when you get three or more bonus symbols, which also link to the dynamite collection and the wild reels.
Persistent Wilds Feature
This is the bread and butter of the game's design, as well as the Advantage Play. In any spin, one or more dynamite symbols can appear in any of the five reels.
When you collect three in a given reel, the reel will turn wild for the three following spins. As you can see, you can easily land multiple wild reels quickly.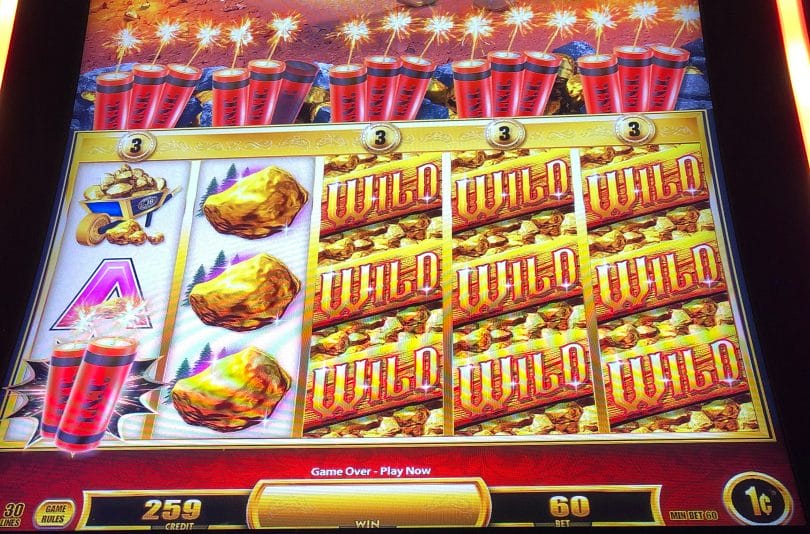 However, if during those three spins you manage to collect three dynamite in one of the remaining reels, you'll get three more spins, with all of the wild reels in play. So the original reels' counter reset to 3, and the new reel resets to 3.
The exception is if you manage to get all five reels wild through the dynamite. The game will instantly pay you 100x your bet, and then reset the counters and wipe them away. While 100x is a solid payout for such an occurrence, one might hope it happens on the last spin, as opposed to the first, with all the other wilds in play, as you're guaranteed some line hits before it happens.
Understanding the Advantage
Left behind wilds are certainly the best play, and with five bet levels with reels the opportunity is there. In the absence of that, like many games with symbol collection and wild reels, more symbols in reels more to the left is a better play.
There are a couple of things to note for those used to games like Golden Egypt:
You can get more than one dynamite symbol collected on a single reel at a time on Joe Blow, whereas with Golden Egypt you collect one coin at a time.
You get three wild spins when you trigger on Joe Blow, vs. two on Golden Egypt (although you collect four symbols, and get four spins, on Golden Jungle, for instance).
The practical outcome of this is wilds are easier to get, and stay around a bit longer, than Golden Egypt.
The line pays are more anemic on Joe Blow accordingly – you need the wilds to really make something happen. As such, dead spins without dynamites can be painful. And this is Aristocrat, so it's possible.
Joe Blow Gold also features stacked symbols, which can make spins with wilds even better… and spins without them harder to convert into anything special.
So it tends to be a bit more of a feast or famine game – usually it either it converts easily, thanks to wilds present or a quick landing of dynamite, or it sucks your money away quickly when it doesn't cooperate. I haven't really encountered much in between.
Free Spins Bonus
Getting three or more JB symbols on the reels will trigger the free spins bonus. You get more spins for more symbols, but you'll get a minimum of 10.
You collect dynamite in the free spins bonus, just like in the main game. Any dynamite or wild reels collected in the base game carries over into the bonus; similarly, any dynamite or wild reels left over in the bonus carries back into the base game. If at any time you manage to get all 5 reels wild in the bonus, you win the 100x, just like before.
However, another counter is activated in the bonus. Each time you collect a stick of dynamite, the counter increases. If you get to 15, you will win the Grand Jackpot of $1150. However, at any time once the counter is at 3 or above, a wild explosion can happen, with one reel space turned wild for every unit in that counter. The counter resets to 0 and you have to try to get 15 from scratch.
So you have effectively two things you're trying to achieve: The counter of 15 for the Grand, and wild reels through the same Persistent Wilds Feature mechanic.
Two or more bonus symbols in the free spins bonus is a retrigger.
Watch and Learn
TheBigPayback has a great video featuring free spins, a full screen of wilds and more!
SlowPokeSlots has a video featuring both Diamonds and Gold, as well as the paytables. The Diamonds write-up is also available on Know Your Slots!