Jungle Wild II makes up a part of the Money Burst series of games, one of many waves of games released by the former WMS, now part of Scientific Games.
While Money Burst is seeing new life in a series of Big Money Burst games being released recently, the original games are a bit simpler in focus than the newer games.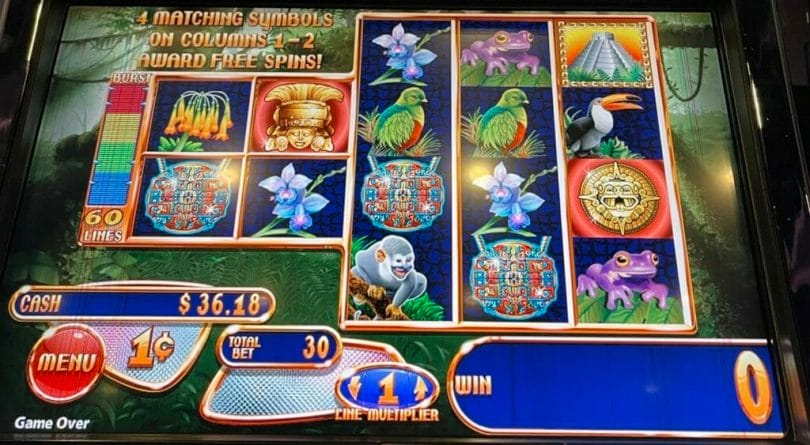 The reel set is still a 2-2-4-4-4 structure with 60 lines, but it's 30 credits for 60 lines, a lower cost for that structure. Columns 1 and 2 have each space with its own reel, while 3-5 have a single tall reel.
Stacked wilds help bring out some line hits, with the high line count helping to bring out bigger wins if you get enough lines involved.
The Money Burst series is unique in one way in that it traditionally has three ways to get a bonus. The first, and most traditional, is three bonus symbols (found only on reels 3, 4 and 5). For Jungle Wild II, it does the traditional two randomly selected reels wild for each spin, which can get interesting if they fall more to the left, similar for most versions of the series.
The second, if you get the same symbol in the four reel spaces in columns 1 and 2, will also give five free spins, but with those symbols held. So if you get wilds or that symbol in reels 3 and beyond, it can be an easy win. On both of these first two, you can retrigger with three bonus symbols in reels 3-5 to get 5 more spins. One thing of note: Wilds can match the symbol, and wilds will freeze in those places when the bonus is triggered, opening up the potential for more/easier wins.
The final, and most special, is having the same symbol in all four spaces in the first two columns, AND three bonus symbols in reels 3-5. In that instance, you're given 20 free spins with those four symbols in the first two columns held. If you retrigger, you're given 20 more free spins. And you still get two wild reels, which can shift in and overlay the frozen symbols, which, if you get it in the first two reels, guarantees a win.
Money Burst has some volatility built into it, but also some decently good wins regularly as a result of its structure, making it a fun game to low roll since wins come around often enough to keep things interesting most of the time.
And of the Money Burst options, Jungle Wild II is among the better thanks to its carryover of traits from the original, such as the wild reels in the bonus round.
Watch and Learn
Slotlady had a session on the game starting at 13:33 of this video:
Albert's Slot Channel has featured the game periodically in the past; here's a bonus from the game featuring a great bonus on a $1.50 bet:
And here's an example of the rare 20 spin bonus on YouTube (which wouldn't embed to due age restrictions).