Scientific Games has been on a tear the last couple of years, reviving a large variety of old formats, predominantly of the WMS vintage, but also from Bally, as casinos continue a major life cycle overhaul replacing many of the classic slot machines that have seen 10-20 years of service with more modern equipment, an inevitable step as some machines move beyond their serviceable lives.
Other companies like IGT and Aristocrat did a better job than WMS or Bally, for instance, of carrying their classic titles forward onto new equipment. You'll be hard pressed to find a casino without games like Buffalo or Cleopatra. But some of the classic WMS games were disappearing off floors as old machines were retired.
So, in some cases, games have finally been getting re-released, like the classic Goldfish or Quick Hit Platinum. But in other cases, the game series are getting re-envisioned for a modern casino floor. The Big Money Burst series is definitely in the latter camp, being an evolution of WMS' classic Money Burst line of games (which previously had a sequel in the Double Money Burst).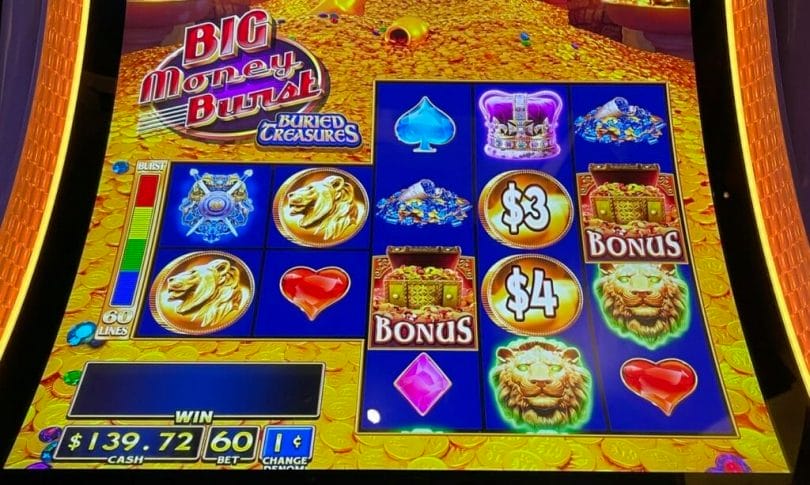 The 2-2-4-4-4 reel set is retained for the base game, with 60 lines evaluated. This is a unique layout that opens the door to some fun features, some of which are carried forward from the original Money Burst line.
One major change is that instead of 30 credits for 60 lines, it's now 60 credits for the 60 lines, a nod to the growing cost of playing on today's casino floors. However, the game has more features than before, which aims to make up for the bet creep, including the new Big Money Burst feature, as well as the addition of progressives.
The Big Money Burst feature is one of them – get the words Big and Money on reels 1 and 2, and then you're trying to land coins in adjacent reels from here to win them. In this way it's similar to how in the Jinse Dao series the money balls must be touching in adjacent reels to win them. Miss a reel, and the winning stops.
The Big Money Burst feature is also how you win progressives. As you bet more, the chances of winning a progressive increase, as they become more available on the Big Money Burst coins, and in more reels.
For instance, on a 1x bet the Mini is available in reel 3, but the Minor becomes available starting at a 4x bet. On reel 5, the mini is the lowest available progressive on the first three bet levels, but is bumped to the Minor starting at 4x. The credit prizes of course evolve with higher bets too.
On this feature, if you land 3 or 4 coins in the first two reels, vs. just the two required, you get a 2x or 3x multiplier, respectively, on the feature for any coins collected.
Aside from that feature, there's the free spins bonus, which like the earlier games can be triggered in multiple ways:
4 matching symbols on the first 2 reels, which join to become a giant symbol for 5 free spins.
Free spins bonus symbols on reels 3, 4 and 5, which yield 5 free spins with reels 1 and 2 combined into a giant reel for the duration of the bonus (but is not a locked symbol).
Get both of the above together, for a locked giant symbol on reels 1-2 and 15 free spins, vs. the normal 5.
When the free spins symbols appear on reels 3 and 4, reels 3-5 will grow 1-4 spaces, with 15 lines added for each expansion. If the free spins are landed, the expanded reels stay for the duration of the bonus. Even if the bonus isn't triggered, you've got a spin with expanded reels that could pay well if everything lines up.
One note about the giant symbols – if 2-3 wilds appear in reel columns 1-2 as part of the triggering combination (with at least one in each column), instead of a giant symbol, the wilds will stick around instead, helping with guaranteed wins.
If a symbol under than the coins are in reel 1, than they'll be taken out of the reels for the bonus to avoid being blockers, and the bonus symbols are taken out as well.
All of these improvements help to make hits more frequent for the free spins, helpful because that's the biggest issue with this game. It has so many competing features (Big Money Burst coins, bonus symbols, stacked wild symbols) that frequently the end result is that one blocks the other to lead to a dead spin.
The Money Burst series was a bit of a volatile beast at times, but designed to open the door for some bigger wins. This seems to be the case here, but my sessions on them showed potential, but did not deliver on a big win for me. My largest win on the coins with a 60 cent bet was $7, for instance, and I didn't get the free spins once.
That said, there's some great videos already out there on the series showing some of its potential, and it was still a fun game that I'll give another try.
Watch and Learn
Diana Evoni played the Dean Martin theme of the game (an ever present throughout this series), which shows a lot of the potential of the game:
Starting at 8:33 in this video she gives the same version another go: