With this being my first year at G2E, I did my best to check out every booth, and when possible speak directly with members of the manufacturers to learn what was new and exciting.
Konami was quite accommodating, not only walking me through their booth at the conference and what's new, but they also allowed me to come visit their showroom, where a few other games were on display.
Here are some of the games that caught my eye, as well as videos captured by Youtube channels during the event. Thanks to Tashina Wortham at Konami not only for the tours, but also providing some of the images seen in today's article.
Panda Power
Konami has been known to bolt on some interesting additions to existing themes. This year, Panda Power is one of those new additions, and takes advantage of the fact that there are three working screens on the cabinet it was built for, the Dimension 27.
Built on themes such as Dragon's Law Twin Fever, it takes the bonus symbols out of primary position on the base reels and instead places them as subsymbols. Three or more Panda Power subsymbols takes you to the middle screen to spin reels to see how many games you'll get. The dragons can bring down Panda Power symbols now as well, extending the opportunity to bonus on this game.
The more Panda Power subsymbols you get on the base reels, the more the free games are worth on the middle monitor spin.
Then, once it's determined how many free games you'll get, you go up to the top monitor, where you spin the wheel for either a multiplier for the bonus or a progressive.
Another interesting thing I saw on this was the choice of 30 or 40 lines; you don't often get to choose your lines anymore, so I thought that was a nice touch to offer some additional accessibility or lower betters.
Like many old Konami favorites like China Shores, this game has the potential for retriggers and high spin counts. As such, it's a fun Konami throwback in that way, and makes nice use of all three screens on the cabinet. And they've caught on to slot fans' loving cute cuddly characters on screen; the panda is adorable.
Panda Power Video
RandomSlots got a preview of the game in the Konami studio:
Coin Streak
Coin Streak is the first release from new game studio Junto Creations, which has a series of games coming out from Konami. There are three themes in all, and the set of games takes a very unique take on the coin collecting model.

One thing that separates this from many other link games is that the number of lines is consistent on all bet levels, from pennies through dollars. No matter which denomination, you're getting 25 lines. This changes up the volatility balance vs. other games of its type.
You'll see instead the bet panels award 25 lines for a set number of credits. The pay table adapts accordingly.
The game awards progressives through a different sort of hold and respin feature. Three or more coins awards the Coin Streak feature. You get seven total spins to start, and each spin you aim to land more coins. Coins that land in the same space you previously won a coin pays again, one major difference over the traditional hold and spin – you're no longer blocked by previously landed coins.
Another difference: Each time you land a coin in a new space, the background turns blue. Fill a whole reel, you'll get an extra spin, which can take your total spins up to 12 if you get all five.
Fill enough reels to complete one of the picket fence patterns on the progressive screen, and you'll win the best progressive your pattern will award upon the conclusion of the bonus, on top of the coin prizes you won.
The first few spins, more coins are added, so when you get those extra spins you're getting it with the most coins available, which increases your chances of filling more reels, getting progressives, etc. It's a nice build-up and changes how a traditional coin collection game feels.
I played the feature in a non-demo format a number of times – it's not particularly easy to fill a reel, but you can still get a decent bonus even without it. But filling the reels does amp up the excitement as you work towards a progressive.
I'll be chatting with the team from Junto Creations once the game is starting to make its way out to casinos to dive deeper about this very intriguing game series, as well as what else to expect from them.
Lucky Envelope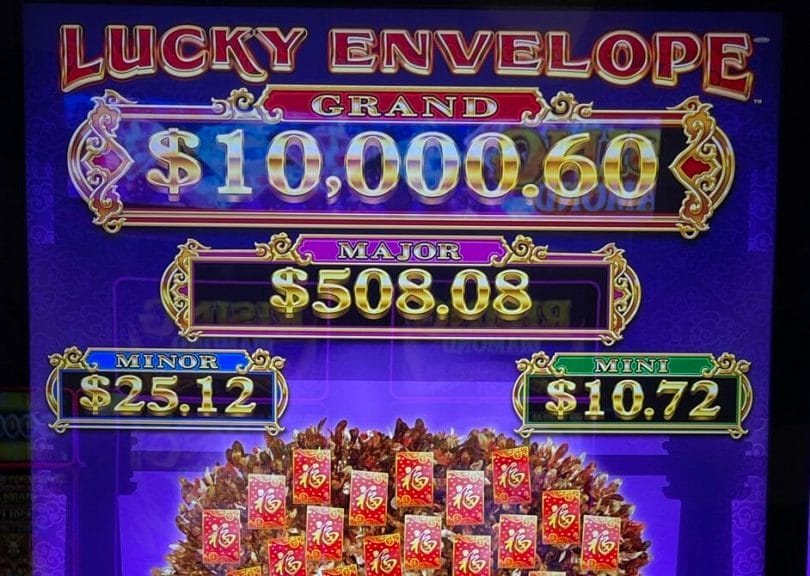 Lucky Envelope is a game that draws some inspiration from the Aristocrat Wild Wild series, in that if you land Wild envelopes on the first two reels, you can win prizes on the last three.
The game uses an Asian theming, so not surprisingly the bet increments are 88 credits, vs. 50 credits on Aristocrat's format. But there's additional differences.
Their wrinkle on the format is you win any prize that appears on the last three reels, not just adjacent reels. So you'll notice some other adjustments like the prizes don't escalate in size nearly as much as they get closer to reel 5, as you can win prizes anywhere, but there does seem to be some escalation still in play.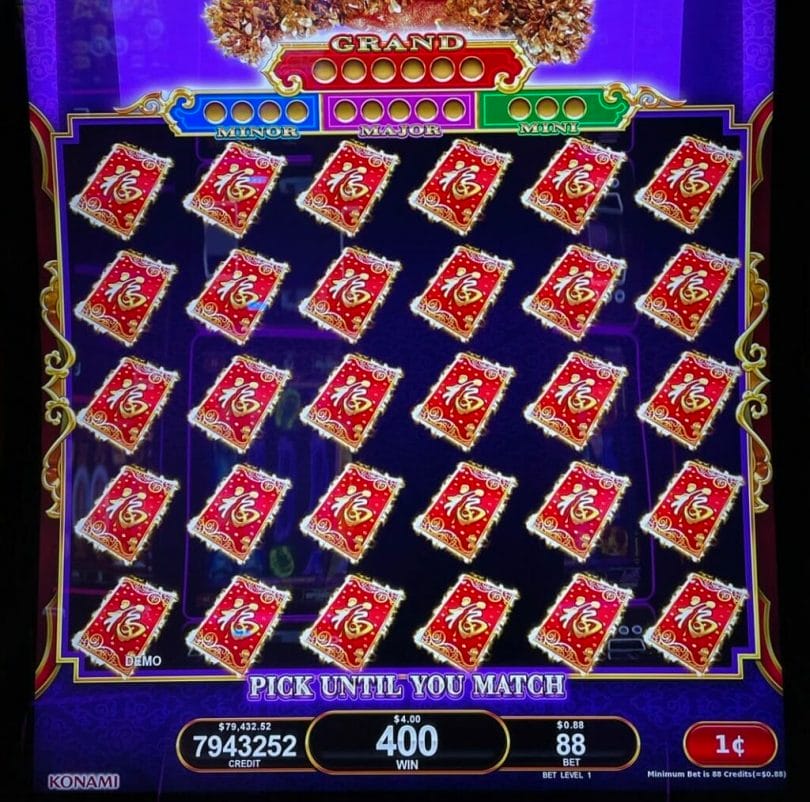 Any envelope that appears can trigger a progressive pick, which is unique to this game vs. the Wild Wild series; the progressive pick is a predetermined one but is structured a bit differently, which at least shakes up the progressive pick model.
There are two themes, and each theme has its own free games bonus. Plum Riches expands the coin drops to the last four reels, only requiring a wild envelope on reel 1. The other theme has the more traditional two envelopes required, but multipliers are in play, so it's likely the more volatile take between the two.
Bull Blitz
Konami knows what they had in All Aboard as a hit, so they have been quick to follow that on. There are new All Aboard themes out/coming for fans of the game, but Bull Blitz is another game that is coming out, and while very similar in the hold and respin feature, adds a new wrinkle in the Extra Hit feature.
Traditionally, when you play All Aboard, no matter how many trains you land on a given spin, you collect the prizes once. So if five drop during the feature on a single spin, the win would be no different than if you had one.
Bull Blitz corrects this with the Extra Hit feature. If you get two or more on a single spin, you are paid for all the coins previously landed for each symbol that lands. This basically rewards players now for every symbol landed during the bonus, not just each spin with symbols. You can continue to land coins with jackpots, just like before.
So the potential is now larger (and probably makes the bonus tougher as a result to get), but fixes what some were less thrilled about in the All Aboard bonus.
Like All Aboard, Bull Blitz launches with two themes; the Bull Blitz feature is identical on each, but the free games differs.
Cash Parade
Fans of the Cash Express Luxury Line game series by Aristocrat will likely sense the similarities in Konami's Cash Parade. The game is an all ways pays game with two themes. The graphics are lush, and takes advantage of the cabinet's large screens to have a very visually arresting impression.
But the game play is what you'd expect for a game that finds inspiration from Luxury Line – if you get numbers on reels 1-4, and a star on reel 5, you get a Repeat Win Bonus. It adds up the coins, and then you get an opportunity to repeat the win up to 10 times, except a jackpot. Their visualization is that of fireworks, and each time a prize appears, it repeats the win, until there's a set of fireworks with no prize.
The Parade Bonus gives you the ability, when tickets are landed on reels 1-4 and a start on reel 5, with tickets color coded based on what progressives you're eligible to win. Their wrinkle is a minor ticket can be eligible for a mini or minor, for instance. Each float has three prizes; 1-3 prizes can be awarded, up to 50 character vehicles in total. If you win more than one ticket, a Next Ticket being revealed and landed will move you on to the next parade, with another set of up to 50 character vehicles with prizes. When you land a Collect, the Cash Parade is over.
Similar to Bull Blitz, the features are the same on both themes, but like others written about here, the free games structure does differ between the themes, giving each theme its own something special.
Celestial Sun/Moon Riches Eclipse
Another sequel I was happy to see was the sequel to Celestial Sun/Moon Riches. With Eclipse, a few changes occur:
You still have various "upgrade" zones based on your base wager, with 200 credits still being the top end of that range, but now instead of just having the middle three reels upgraded with wild multipliers and bonus symbols with wheels, the entire reel array is upgraded.
There is a hold and respin feature added as another aspect to the bonus, which occurs if you trigger it on the wheel, and precedes the free spins. You still have the ability to also spin various upgrades, such as bigger multipliers or additional spins, along with credit prizes on the wheel.
Fans of the game will enjoy the enhancements, and it will be a nice familiar game with some steps forward for those who enjoyed the previous ones.
Rising Diamond
An intriguing game to me in the Konami line-up is Rising Diamond, which features reels that expand when the Rising Diamond symbol expands. Then there's a countdown before the reels contract a level. It's an all ways pays game, so having taller reels can certainly make a bit difference.
Get enough Rising Diamonds to reach the Bonus and you'll trigger the bonus. You get a pick screen and start with a 7×5 reel set and a 1x multiplier. You can add multipliers, more free games, a taller reel set, or get more picks. The pick is predetermined, so don't stress too much over that.
During the bonus, if you get the Rising Diamond symbol, it resets your spin counter to the amount you earned at the beginning (which starts with 3 but can get as high as 6). This can mean a theoretically unlimited bonus by the counter getting reset, so like many Konami games there's some great potential in the bonus.
Rising Diamond Video
RandomSlots has a video preview from the Konami showroom:
Other Konami G2E 2021 Videos
Here's a video from Fantini Research featuring three of the games Konami was showcasing this year:
Slot500Club has a video from the Konami showroom during G2E week, where many of the games were on display:
I didn't spend too much time on Mystical Peral, but RandomSlots got a look at it: