With another lengthy trip to Las Vegas in the works, I made the decision to try to select some new places to stay for the trip and try something new.
Although I had regularly stayed at Mlife properties, going back to my very first Vegas trip, most of my stays had been concentrated at a couple of them. This trip, I booked stays at three new to me properties, and Nomad, which consists of the top floors of Park MGM (formerly the Monte Carlo), was the first one.
I was excited for this stay in part because Park MGM is the first (and as of this writing only) strip casino to go fully non-smoking. While MGM has made portions of their properties, including some casino floor sections, nonsmoking, This was a step much farther than any of the others.
The Casino Floor
Park MGM's casino floor is pretty sizable, although definitely not the largest out of the MGM properties. They tout 900 slots (50 in their high limit room), and it's largely in one somewhat long, open room. There's a little cubby of slots by the elevators to the rooms, but most games are on that main floor.
Many of their oldest machines were culled around and after the renovation, so fans of older games will want to try some of their other properties. They have a mix of many of the popular modern and relatively recent games, with a handful of older mechanical and video reel slots still kicking around.
Their table game section similarly isn't the largest out of the Mlife properties, but they did have a reasonable number available. The minimums were a bit high from what I remembered in the past, but minimums have tended to be elevated overall ever since the reopenings after COVID.
I didn't notice all that many video poker machines; many were at the bar in the center of the casino, and were pay tables that I wouldn't write home about (not unusual for Mlife strip casinos). The high limit room is where you'll want to head, with $1 denomination and up being the spot for games that are more playable.
Hotel Rooms
My review will be specific to the Nomad rooms; I have not personally stayed in a standard Park MGM room but the size and amenities will be somewhat similar.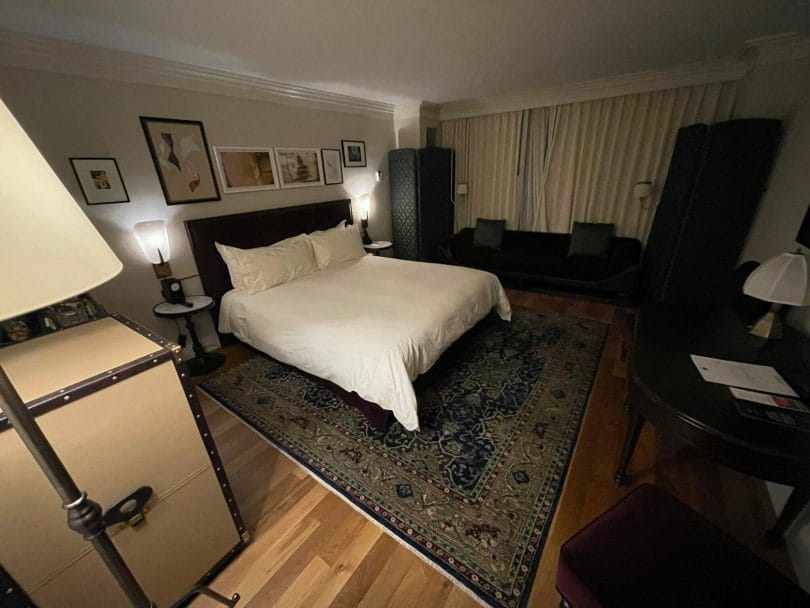 While I give them points for trying something different, the room felt off to me. I liked the hardwood floors and some of the touches to make the room a bit different, but some of the decorations, like whatever those things are covering the air vents over in the back, had no useful purpose and just looked odd.
The containers on the left were drawers and housed the minibar (there was no fridge, just chilled drinks for purchase, something I saw at every Mlife property I stayed at this trip).
It was nice to have a full desk, but the chairs that accompanied it aren't particularly comfortable for a long stint working at it.
The bathroom was nice, a step above a standard Mlife bathroom in overall decoration, albeit no different in function.
Being on a high floor allowed for a pretty decent view out the window; I had a view of the Aria and Cosmopolitan from my window.
Overall, my vibe of the room was one of trying too hard, especially for a mid-range room, as there are far more elegant places in Vegas that will gun for those looking for a luxurious feel, even within the MGM portfolio, such as Aria and Bellagio, not to mention the likely coming soon to MGM Cosmopolitan of Las Vegas.
Comp Program
This is an Mlife property, and follows the standard Mlife Rewards program. Park MGM's casino follows the same format, including their specialty slots and video poker giving out less points/tier credits than normal slots.
Last visit I had a bit of an issue with a couple of machines being specialty slots that weren't at other Mlife casinos; this was not an issue this visit, so I can only presume they fixed those issues since my last visit.
Other Notes
For the first time at a Las Vegas casino I did room service at the property; it took roughly the time promised, and the food was good, but honestly the menu wasn't particularly exciting to me.
They have a number of good food concepts to choose from on the property, including a variety of choice within Eataly. They also have a (standard for Mlife casinos) Starbucks on site.
Park MGM is linked to Bellagio and (indirectly) Aria by a tram; you can also walk directly to Aria completely indoors via a walkway.
Overall it was nice to stay here once, but I wouldn't put this very high on my list of places to stay again. That said, I'd be open to trying a standard Park MGM room in the future just for contrast.