Game: Kool Kat
Manufacturer: IGT
Advantage Play Potential: Low
What Makes it Special: Hats collect and build bonus credits, which are won when the crown appears and is collected.
In an effort to expand the number of mechanical reel slots I play right now, I have been trying a bunch of games that are at my local casinos. One such game caught my eye because of the extra screen over the game, a bit unusual for a mechanical reel slot machine of that vintage, but as it turns out it has a banking feature that makes it worth covering here.
It is also a good reminder that banking games predate the current persistent state bonanza happening on casino floors today, so you should always know your casino floor. And in this case it happens to be made by IGT. So let's take a look at Kool Kat.
Understanding the Game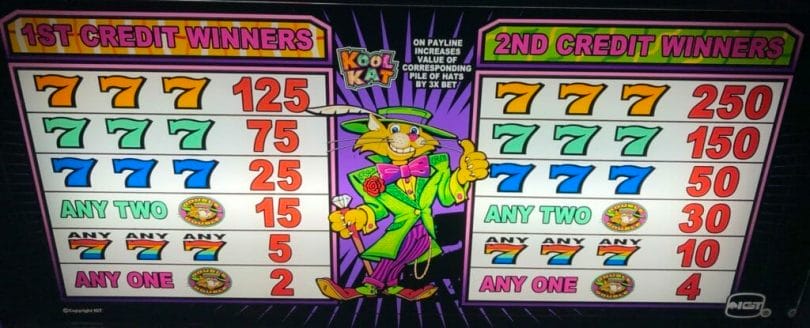 The version of Kool Kat I encountered was a $1 denomination, two credit game, for a two dollar max bet. Betting two credits gets you maximum payout, as the top prize is more than doubled for double the bet, as you can see from the picture at the top of the article. However, all pays are accessible at the $1 bet if you choose.
A couple of symbols take particular importance. There is a double symbol that doubles line pays. The Kool Kat symbol relates to the bonus game on the top screen; there are three piles of hats linked to their own mechanical reel. When Kool Kat appears, whichever reel or reels it lands on adds 3x your bet to that particular pile of hats. So a 2 credit wager will add 6 credits, while a 1 credit wager will add 3. This bonus is available regardless of bet.
The other symbol that matters, and only matters on the bonus screen, is the crown. If the Kool Kat is wearing the crown, the next Kool Kat symbol that lands will award the credits compiled on the pile of hats connected to that reel.
Understanding the Advantage
The hats continue to bank, regardless of cashing out or new money going into the machine, so they can grow, and so larger numbers can mean a larger potential advantage. If you see the Kool Kat wearing a crown, you know the bonus is about to pay out.
Of course, with a 1 in 3 chance of a given pile being awarded depending on where the symbol lands, you might not win one that has been built up if another one is smaller, so it is not the greatest opportunity on the casino floor, especially if it takes awhile to achieve. But as the numbers get bigger, the opportunity will grow.
Watch And Learn
…well, sort of. This is the only video I can find of the game, which appears to be the same exact machine from 8 years ago at Mohegan Sun, where I saw it.